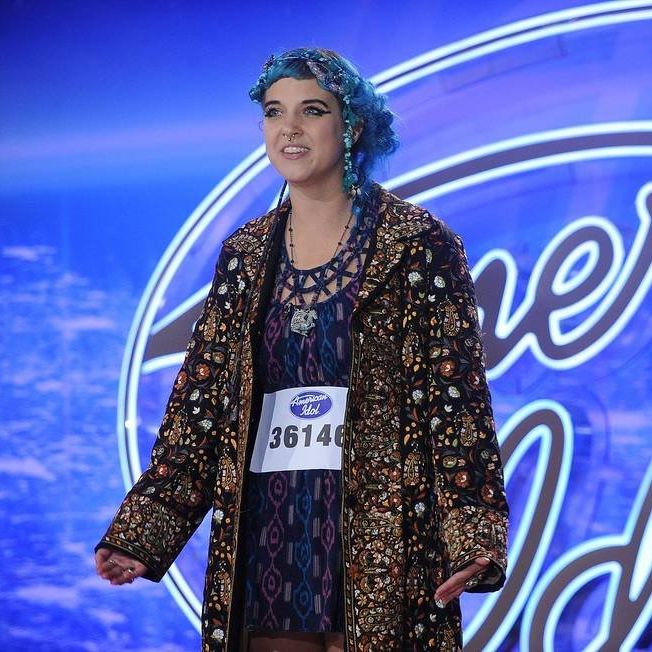 Leann "Blue" McIsaac.
Photo: Fox
This installment of American Idol is a special, supersized, two-hour audition episode, because the best thing to do with the part of the show where nothing really happens is … supersize it? All night, we ping-pong back and forth between Little Rock and Denver, the auditoriums and the audition rooms, Bearded Ryan and Ryan Classic. The continuity is all over the place, but wherever and whenever we are, Jennifer Lopez is taking a careful selfie or having a FaceTime conversation with someone who doesn't want her to talk. Maybe smizing over a Wi-Fi connection is her version of singing a lullaby to her twins? It'd work on me.
Our first young hopefuls are a pair of hipsters from Provo, Utah, named Amber Lynn and James VIII. (Yes, those are Roman numerals.) They drove in together, and they're good ol' pals in that When Harry Met Sally… kind of way, except you for sure don't want to see them kiss. She sings Allen Stone's "Unaware" while James accompanies her on guitar a bit too quickly (according to Harry, who can hear speeds and frequencies that others cannot). Then he sings a John Legend song, and she accompanies him by doing nothing at all. He's a little too tricky with his vocals and so flushed in the cheek area that we're sure nobody touched these kids up before they went in. They both make it through and they're congratulated by their friends, who must have made the drive from Provo with them. They're in for a long, brutally adorable ride home.
Emily Wears is a button-cute professional auctioneer from Solon, Iowa. When you read the words professional auctioneer, do you wonder if Ryan will ask her to talk very quickly, and then will try himself, but will not be able to talk as quickly? If so, (1) you understand comedy, and (2) you are absolutely right. She certainly can speak quickly, which is an important skill for a singer if that singer is going to try an Emancipation of Mimi or later Mariah Carey song. Emily doesn't. Instead, she sings "Bring on the Rain" by Jo Dee Messina, and is flat throughout it and is the rare case of someone with an interesting backstory who doesn't get through.
Chris "CJ" Johnson is wearing a Thurtene Carnival T-shirt, so either he went to Washington University or once visited a thrift store in St. Louis. He's a legitimate touring musician with a lived-in voice and regrettable tattoos and good arms and a porkpie hat and a soul patch. He's in! We could be looking at the FAREWELL SEASON Bo Bice.
Ethan Kuntz is from Nashville, Arkansas, and he raises dawgs or brings in the sheaves or whatever other goddamn folksy thing everybody has to do this year. Oh, but does he talk all down-home and cornpone and whatever? You betcha: "Me n' American Idol, it goes together like pie n' ice cream!" He is 15, but he looks like a Dave Berg drawing of a 7-year-old, and when he sings some blues song or another, he sounds like a 10-year-old trying to sound like a 55-year-old. Harry speaks the truth and says American Idol is the wrong place for a kid like him. He says no, Jennifer says yes, which leaves Keith to decide, and since he refuses to be the bad guy, little Kuntz is through. They do this over a commercial-break cliffhanger, and I wrote the last part of the sentence before I knew for sure it was true, that's how certain I was. (I was right.)
Mary Williams is a world mule-riding champion, because why wouldn't she be? She has a style of dress that I can only describe as "Supercuts greeter," and the ageless face of a no-nonsense rural gal, by which I mean: You could tell me she was 19 or 47 and I would believe you. (She's 24.) She sings Tammy Wynette, and her closed eyes flutter like she's in REM sleep, and she makes it through.
Xavier Soller is the in-game host for the Denver Nuggets, so immediately you know what kind of personality you're in for. He brings props for the judges — a tiny basketball and a children's hoop — which is never a good sign. This is supposed to be good, family fun, as signified by scene's score: a ripped-off, homemade "Yakety Sax." That's how cheaply made American Idol is: They won't spring for the real "Yakety Sax." I don't even think you have to pay for "Yakety Sax" anymore; you just get it in the mail like an AOL CD-rom. My boyfriend recoils. "Wackety Sax," he says. Agreed. Xavier Soller has a wackety voice, so off he goes to be aggressively charming somewhere else.
Terrian — just one name because Terrian means business — lives in North Memphis, which is a rough neighborhood where she regularly hears gunshots. I don't mean to diminish her struggle, but gunshots are kind of a hot thing everywhere in America right now. She comes prepared with a stump speech about how she wants to inspire children to know that their upbringing doesn't define them, and that they can do good with their lives. Here's how inspiring she is: She sings Pharrell's "Happy," and I don't even pick my television up and throw it into my driveway. Harry praises a vocal trick of hers, which she immediately confesses she did by accident. Terrian needs to learn how to lie. She's through anyway.
Leann "Blue" McIsaac is a busker with blue hair and creative eyeliner and a tattoo of the car-dashboard hula lady, so she has gone all in on quirk. Her story is scored with Edie Brickell & New Bohemians' "What I Am" because, in 2016, there isn't a more current female hippie reference than Edie Brickell. Leann "Blue" McIsaac's deal is that she invents songs for people, which she does for the judges, like, as her actual audition, which seems like a foolish choice. Her made-up song sounds a lot like a made-up song, with lyrics like "Haaaarry, what do you caaaarry," and the judges pretty much tell her: "You know how you told us you sleep in a tent? That feels right for you. Go back to sleeping in a tent."
Tommy Stringfellow is no fewer than four cast members from Teen Wolf smashed into one person and handed a guitar. He is gorgeous. If American Idol still has the power to pull young girls through puberty, as it did in its David Archuleta days, Tommy Stringfellow is the young man to do it. He sings Ed Sheeran's "Give Me Love," and has that weird singing accent that so many kids are doing now, where if you sing the word shirt it comes out like "shaaww-eeehhht." His voice is pretty much flawless, but a kid who looks like this could take a nap as his audition and make it to the top 10.
Some guy named Tank brings in our second boom box in as many nights and does a quick dance routine to Jennifer's "Get Right," which puts him out of breath for his actual singing audition piece. The judges love him anyway, and he makes it through, and I guess you had to be there.
John Wayne Schultz tried out in season 10, and the judges threw him overboard in favor of Scotty McCreery. And here's the thing: They have similar skill sets, and while John Wayne Schultz is a full-grown man (if you didn't see the show, close your eyes and imagine what a John Wayne Schultz would look like; you're right!), Scotty McCreery was a little boy, and the little girls who like to watch and vote are crazy about little boys, which we know because McCreery ended up winning the whole thing, so I guess the judges were right. In the years since that audition, John Wayne Schultz's mom died, and he redoubled his commitment to dad jeans. He does a version of Garth Brooks's "The Dance" that he must have done a million times by now, and he makes it through with ease. It's 2016, and we're finally giving adult white men a chance.
One thing this show doesn't do as much anymore is openly mock people who are maybe not right in the head, and for a moment I allow myself to believe that they won't do it at all, but then I see Leah Harbert, and I adjust my expectations of American Idol's maturity level. She says her singing inspiration is Britney Spears, which right there is reason enough to turn her around and point her toward home, but instead the judges let her sing. She is a mesmerizing disaster. She is bad, but she is a kind of bad I've never heard before. She is an American Idol version of the Shaggs, and I'd listen to her over most of the boring belters they put through. Harry lets her go in the gentlest, most diplomatic way he can: "You should see a vocal coach, because there are some unanswered questions there."
Then we're shown a package about Tori Kelly, who made it to the top 36 ten years ago but was cut loose by Randy Jackson, which is kind of perfect, because what a jerk. From there, we go to Jordyn Simone, who is 15 but looks and acts like she's 35. If you stuck her in the middle of the Klymaxx episode of Bands Reunited, she would fit right in. She sings "Who's Loving You" flawlessly, and it's as though the producers are telling us she'll make it to Hollywood Week and then be a huge pop star in ten years (when, at age 25, she'll look like the Oracle from The Matrix).
Kassy Levels and Rhea Raj sing "Call Your Girlfriend" and "How Will I Know" respectively, and the judges must be pleased with their talent, poise, and overall Kassy levels, because they are both through.
Jake Dillon got married at 18 and started having kids right away, and though he doesn't explicitly say he's eager to get the hell out of that situation, you get the sense that if he had to bail on fatherhood to be a pop star, he'd find a way to endure it. His audition piece is "Danny's Song," and it's gentle and lovely, but not overwhelmingly great. If you show up looking like the lead singer of Band of Horses, you'd better be overwhelmingly great. He doesn't get praise from Harry, and seems genuinely shocked about it, but the other two let him through.
Ashley Lilinow is an infinite soul from Hawaii who has "been around the sun 20 times" and sings "Black Velvet." You know what? I don't feel like talking about Ashley Lilinow anymore, except to say that when she gets her golden ticket, she says she has "manifested" it.
Question: Does television exist in Narnia? If I went into one of my closets, or dug myself way down into the middle of my couch, or got into the fetal position on my floor and stayed there, would I find myself in a world with no televisions? I mean, I know I'd find myself at the center of an epic battle between good and evil, and my Jesus lion friend would die or whatever, but these are things I'm willing to take on if I can go a month or two without hearing someone do runs all over "House of the Rising Sun." I'm going to work on this over the coming week. I'll let you know what I find out.
Andrew Nazarbekian is a very dramatic boy from Los Angeles with the artistic vision to hear Bob Dylan's "Make You Feel My Love" and think, What if a Broadway kid sang it while masturbating at an audition for Wicked? He's through.
Elvie Shane is one of these guys who got involved with drugs at an early age, and now he's clean. He married a woman, he's got a son, and now all he wants to do is be a good father. I wonder whether the producers still have to coax these stories out of people or if Elvie just showed up like, "I CAN SING, AND I'M COMMITTED TO KEEPING MY STEPSON OFF OXYCONTIN. WHERE'S MY GOLDEN TICKET?" Either way, he makes it to Hollywood, and his speaking voice sounds like a banjo.
Next week: Somehow, even more of this!