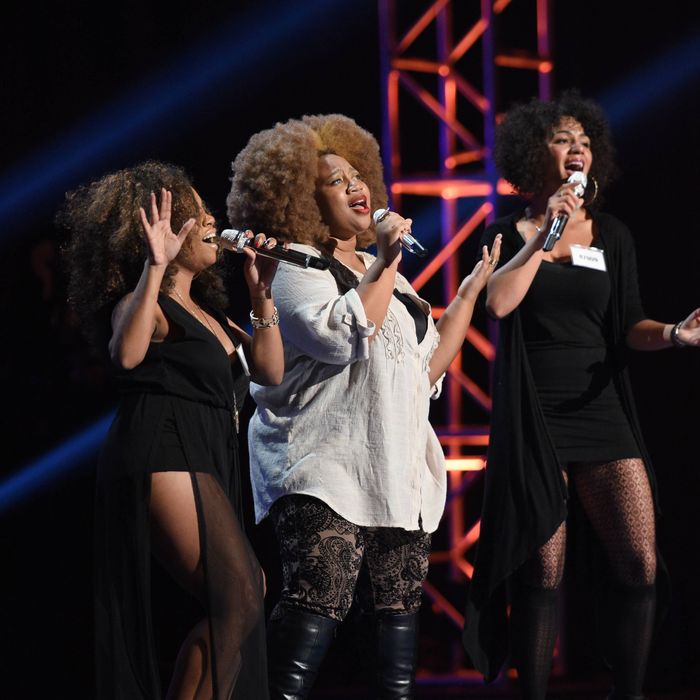 Contestants in the "Hollywood Round #2" episode.
Photo: Michael Becker / FOX
At long last, it is Hollywood Week: Group Night, the latest installment of the beloved "Hollywood Week" horror franchise that still stars way too many people. Somehow, 108 singers still remain, and they must team up and harmonize and do rudimentary choreography and hone 50 other skills they'll never use on American Idol ever again. Harry throws down some hot Debbie Allen at them as the show starts: "Y'all need to get real. Y'all got to lay it out!" Before he can pound his cane on the ground and burst into song, though, Jennifer tells them, "Go home. Get some sleep."
We have seen Hollywood Week: Group Night before. There will be no sleep.
Right away, there is drama. Shelbie Z. leaves the group she put together, and Poh just up and quits the whole competition. "I'm not ready," she says, looking every inch the mass-appeal FKA Twigs she yearns to be. I think her sister — who made the top 24 last year and accompanied her to Hollywood — read Mike Albo's The Underminer and put that strategy to work. Either way, Dalton Rapattoni and Kassy Levels are left high and dry.
Jordan Sasser and his topknot team up with Jenna Renae, Jordan Something, and Kory Wheeler, who looks like he should be comparing facial scrubs in a Birchbox Man video. Together they form Team Blue Eyes, all of whom slaughter Bruno Mars' "Treasure." They're through to the next round.
Team Milk and Cookies are Lynnzee, Sara Sturm, someone who might actually be named Blu-ray, and Jenn Blosil, who reminds me of early Go-Go's Belinda Carlisle in the face and "Vogue"-era Madonna in the hair. Hello, I am a homosexual. They do a perfectly nice job on One Direction's "Drag Me Down" and are all safe.
And then things start moving quickly: Team Ooh x2, featuring Amelia Eisenhauer, Tristan McIntosh, and Lee Jean, are far better than their name would suggest. Avalon Young does her thing with two other people who immediately recede into the background. Jeneve Rose Mitchell's hats keep getting bigger and bigger, to the point that she now looks like something you'd serve guacamole from one of those big, crowd-pleasing Mexican restaurants where all the bachelorette parties go. Chynna Sherrod, Terrian, and everyone else seems to be doing well. Nobody gets cut. This is nonsense. We come to Hollywood Week: Group Night for tears and blood and vicious moms.
I will say this: A genuine surprise from Hollywood Week: Group Night is that the kids still have, like, four song choices, and one of them is still Blu Cantrell's "Hit 'Em Up Style." That song is officially older than most of the kids singing it. Here's how old it is: Blu Cantrell stopped recording, made a brief stop in the world of porn, had a psychotic break that was documented on TMZ, and, we must imagine, is now well on her way to redemption. Blu and "Hit 'Em Up Style" have lived a million lives.
Trent Harmon still has mono, and his doctor says he can't be around other people. Trent will have to go live in a tree for a few weeks until this thing passes, but first he must navigate Hollywood Week: Group Night all by himself. He sings "Rather Be" alone, and though to me he sounds like a witch doing some kind of incantation, the judges love it. And just for the record: When you have mono, breathing near people in a large room is too risky, but bathing a microphone in hand-sweat is A-okay.
Michelle Marie, Ashley Lusk, and Lindsey Carrier are Team Singing Out Loud (as opposed to … just walking out onstage and contemplating the lyrics?), and Shelbie Z. joins them just in time. They actually sound far stronger when she's singing lead, and all of them make it through, except Lindsay, who is Patient Zero of tonight's Loser Virus. Michelle goes in for a hug, and Lindsay Carrier is not Lindsay Carrying it.
Elvie Shane botches his parts, but his teammates Jessica Cabral and Dad-Jeans Country Guy are safe. Teen Earth Mother Ashley Lilinoe is paired with Mackenzie Bourg, who has an emo spaz-out that would even embarrass Something Corporate. Only Bourg makes it through. Cajun Cameron Richard, so memorable in his initial audition, evokes that kid who danced at a Nevada mall opening two years ago and doesn't make much of an impression vocally. Out.
And at last, we reach the Pushy Mom level of Hollywood Week: Group Night. Anatalia Villaranda gets blackballed by Team Envy — a.k.a. Sonika Vaid, impossibly shiny-haired Stephany Negrete, very theater-y Andrew What's His Face — because of her bossy mamacita. "They just threw me off the curb," she says, which is not exactly how that expression goes, but she's under a great deal of stress, so I'll let it go. Mama Villaranda sees Dalton and Kassy and tells them her daughter needs a group, which is actually a pretty smart move. The three of them whip together a version of "Treasure" that has impressive Kassy levels, and they're all safe. Envy does Ariana Grande's "Problem" right afterward, and Andrew unleashes a terrifying soprano that kind of detracts from the whole thing, but they're all fine, too.
Josiah Siska, with the crazy low voice? Jaci Butler, with the green hair and the band that looks like anime characters? Brian, who auditioned ten times and finally made it to Hollywood? Will you please! Go! Now! (Yes.)
The all-male group of newly sober Kayce Haynes, a guy named Kylle who looks like Nick Ashford, and two other dudes all make it through, despite being styled like the geeks in an episode of Saved by the Bell.
Joy Dove gets to show some real personality. "I was gonna do this real cute, y'all," she says, kicking off her high-heeled boots, "but I got to let my feet loose." She, Daniel Farmer, and Lindita attack Jessie J's "Domino," and I'd swear Joy turns the first line into "I'm feeling sexy and free, like litter's raining on me." So … it's like you're being pelted with trash from above? Is it like this?
Anyway, they give Lindita the big finish, and here's what she does with it:
She's through anyway, as is Joy. Daniel is eliminated, but helps them down the stairs because he is a gentleman through and through.
Eliz Camacho unilaterally chooses "Hit 'Em Up Style" for her group Las Boricuas, despite — or because of? — the fact that she's the only one who knows the lyrics. Gianna Isabella and Dana Ordway go up on their lines through the whole song, yet only Eliz is eliz-minated. A whole lot of people forget their words, or stumble on their choreography, or fail to even look up from the floor of the stage, and Jennifer admonishes them: "If I fall on my ass, I bounce back up." And then either Harry or Keith launches into the obvious joke, which the producers mercifully edit out. But definitely safe: early favorites Tommy Stringfellow and CJ Johnson.
The last two groups sing the Bee Gees' "Stayin' Alive," despite it being very old, not particularly relevant, and a poor showcase for singing ability. Nobody remembers the words, unless the song goes: "Whoa! Oh no! Whoa, no, oh no," as Marlene Johnson sings for what seems like forever. Yet all of them are through, including flirty Manny Torres, raspy radio personality Malie Delgado, some cheerleading coach, and cover of Funkadelic's "Maggot Brain" LaPorsha Renae. In this FAREWELL SEASON, you can kind of just do whatever.
Next week: The thing with the three rooms!