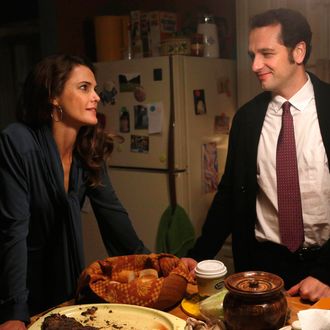 Photo: Craig Blankenhorn/FX
On the heels of the news that The Americans stars Keri Russell and Matthew Rhys are expecting a baby together, the cast and executive producer Joel Fields gathered at the TV Critics Association press tour in Pasadena. Russell is "now incredibly effective with a blow dart from a seated position," Rhys cracked. They also shared some tidbits about season four, scheduled to premiere March 16 on FX. For one, bioweapons will be a key story line this year. Plus, who can forget season three's bombshell — Paige discovering her parents are Russian spies — which will be dealt with as the new season opens. "The secrets have been unleashed in the house," Fields says, "and they have to be dealt with." Here's what we learned:
Elizabeth will have to face herself.
Elizabeth will run a longer operation that challenges her in new and difficult ways. "The interesting thing for me is about opening Elizabeth's perspective," Russell said, "and the emotional cost these choices have had over the past three seasons."
Martha is still confused.
"For Martha, she's still living in the grey area," Alison Wright said. "She doesn't know what she's decided. Philip (Matthew Rhys) continues to care about her, Rhys notes, "in a way that's human and appropriate."
Pop culture moments will be peppered into the season.
Including the TV movie The Day After, which Fields says really holds up upon re-watching, and Ronald Reagan's Star Wars speech.
The full story of The Americans will take "five or six" seasons.
Fields says that in terms of a three-act structure, the show is nearing the end of the second act, and it will take five or six seasons to tell the complete story.