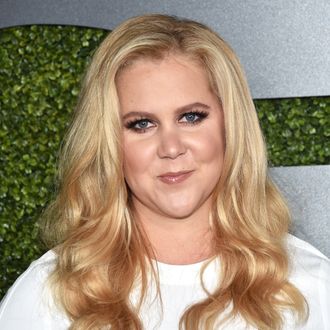 Schumer promised to take a polygraph on her show.
Photo: Mike Windle/2015 Getty Images
After a recent video surfaced comparing Amy Schumer's material to other comedians' work, Schumer went on Jim Norton's SiriusXM Radio show today to deny any allegations of joke theft. "I wanted to come and talk to you about [these accusations] and clear my name, because I would never ever do that and I never have," the comedian said, adding that she is "literally going to take a polygraph test and put it on my show this season."
The video collects allegations — some of which surfaced this weekend, others older — that Schumer copied material from Patrice O'Neal, Tammy Pescatelli, Kathleen Madigan, and Wendy Liebman. Talking to Norton, Schumer said that she had not seen any of their jokes before she performed her own and that any similarities were a result of parallel thinking, not plagiarism. She previously addressed similarities between O'Neal's punchline and a line from her stand-up special on Twitter last fall.  She also said that Madigan and Liebman do not hold the similarities against her. "They know me," She said. "And they don't believe that I would do that." Liebman has already posted a tweet in support of Schumer.
Schumer went on to explain how she, and in some cases her writing team on Inside Amy Schumer, independently arrived at the jokes people have alleged to be similar to other comics' work — including sketches about paying someone to slap food out of your hands and an exercise program that works you out while you sleep, a description of a sex act mixing hair and semen, and a punchline about how it's cool when a guy pays … for sex. "I have to come up with so much material," Schumer said, citing the demands of her show, stand-up performances, and her movie, Trainwreck. "I'm so careful and none of these things had ever reached me."
In a separate part of the interview, Schumer also discussed why she might be a target for such accusations. She argued that Pescatelli, who has tweeted her frustrations with Schumer several times over, may be jealous of her success and "trying to get something going" (a claim that Pescatelli has rebuked on Twitter). She discussed the difficulty of being an immensely successful performer, especially as a woman, using recent anger against Jennifer Lawrence as an example. But Schumer promised she would change the narrative around herself. "I'm not a little weakling," She said. "This stuff makes me upset and angry and then I just get stronger, and I'll fight back. I am not going to become one of these other comics who's been accused of stealing jokes. This will not be a part of my name."