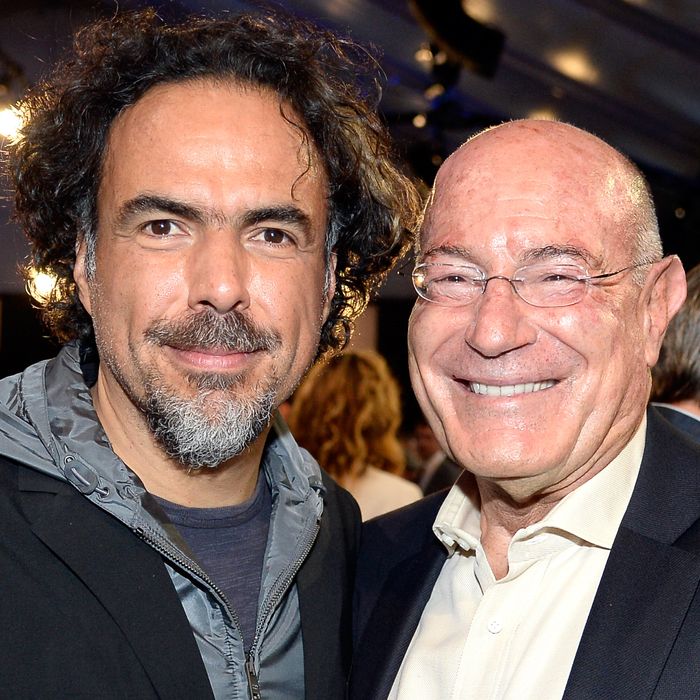 The man behind the camera with the man behind the scenes.
Photo: Kevork Djansezian/Getty Images
Sunday night, as he was accepting the Golden Globe for Best Director for The Revenant, Alejandro González Iñárritu said something interesting, something you don't often hear in these sorts of speeches: "I want to thank first the hero of this film, which is Arnon Milchan, the financier and producer, who believe in this film, bravely didn't flinch one second when we struggle with tough decisions to make."
Now, if you've seen The Revenant, you probably would assume the hero to be Leonardo DiCaprio, who suffered in mind, body, spirit, and beard to play the part of Hugh Glass, or Emmanuel Lubezki, the wizardly cinematographer who shot the entire movie using only natural light. While Iñárritu did go on to thank both men, Milchan's involvement in the production of The Revenant was as pivotal as its director would suggest — and the 71-year-old Milchan himself proves to be a character worthy of an epic.
Milchan's mark on Hollywood is almost comically huge. An Israeli billionaire, Milchan began producing films in the 1970s. The only way to really understand his influence is to view the full breadth of his filmography, which starts with The King of Comedy and goes on to include Once Upon a Time in America, Brazil, Pretty Woman, JFK, Natural Born Killers, Free Willy, Heat, Tin Cup, L.A. Confidential, Fight Club, Mr. and Mrs. Smith, Fantastic Mr. Fox, 12 Years a Slave, Birdman, Gone Girl, The Big Short, and The Revenant.
The fun doesn't end there. In 2011, an unauthorized biography of Milchan by Meir Doron and Joseph Gelman, Confidential: The Life of Secret Agent Turned Hollywood Icon Arnon Milchan, alleged that Milchan was the one who introduced Brad Pitt and Angelina Jolie. After they started an affair and Jennifer Aniston kicked Pitt out, the book says, Milchan let Pitt stay at his home in Malibu.
So, Milchan's fingerprints are on a raft of Oscar-winning movies and one of the highest-profile relationships in the world. Not bad for a financier, right? It gets better. As suggested by the name of that biography, rumors dogged Milchan that his money hadn't just come from the inherited chemical company he'd turned into a titan, or the myriad other businesses he acquired afterward. A 2000 profile by Los Angeles Magazine collected many of the reports from media and people in Hollywood that Milchan dealt arms for the Israeli government:
Throughout the 1970s, '80s and even up until the Gulf War in 1991, Milchan was Israel's foremost weapons procurer, brokering deals for such prized super weapons as the Hawk missile and the famous Scud-foil of the Gulf War, the Patriot — "everything from nuclear triggers to rocket fuel to guidance systems," according to NBC News.
Milchan clarified to the magazine that he was more of an "agent" for Israel than an out-and-out dealer, helping to secure weapons only for his home country. Milchan's adventures in international intrigue also included helping the apartheid regime in South Africa buy newspapers — he said he withdrew from the arrangement once he better understood the nature of apartheid — and associations with an individual who was indicted by the U.S. government on charges of smuggling timers with a nuclear capability into Israel. (Milchan was never charged.)
In 2013, this strain of Milchan's career came to a head when he admitted to Israeli investigative outfit Uvda that he had worked with Israeli intelligence, including efforts to boost the nuclear program, confirming the major accusations made by Confidential. Milchan also said that Sydney Pollack, the director and producer, had operated along with him, telling Uvda, "Do you know what it's like to be a twenty-something-year-old kid [and] his country lets him be James Bond?" Robert De Niro, who worked with Milchan on The King of Comedy, Once Upon a Time in America, and a few other films, said he even asked Milchan about it once, and Milchan told him that "he was an Israeli and that of course he would do these things for his country."
While his secret life was a hot topic in Los Angeles, it tended to prove as romantic as it did off-putting. (James Bond is a character in movies, after all.) As shown by its stellar catalogue, New Regency has long been a major player in the industry, and Milchan's company, enabled by his wealth and holdings, often tends to operate counter to the logic of a more conventional Hollywood studio. Such was the case with The Revenant: As the costs ballooned from $95 million up to a reported $165 million before tax credits, Milchan gave Iñárritu the safety net he needed to pursue the totality of his vision. The Wrap reported that New Regency covered nearly all of the overages, with their producing partners on the film, Brett Ratner's RatPac, China's Alpha Pictures, and Abu Dhabi/Brazil-based film fund Empyre, protected contractually from the excess.
Considering his body of work — both in and outside of film — Milchan's idiosyncratic legacy is already beyond assured. But with The Revenant's win at the Globes and its success so far at the box office, it looks almost certain that Iñárritu's film should at least be nominated for Best Picture, even if it still might not be the favorite. While a victory for Iñárritu would be historic, it would be significant for Milchan as well: He produced the last two Oscar winners. It may not be spycraft or statesmanship, but in Hollywood, that's power.