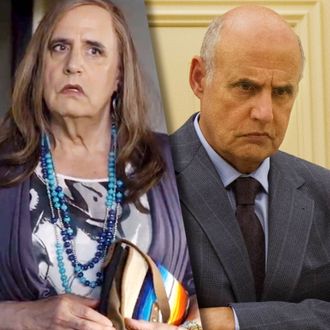 Jeffrey Tambor in Transparent and Arrested Development.
Photo: Amazon, Netflix
It's taking a while for Mitch Hurwitz to get Arrested Development's fifth season off the ground, not just because of scheduling issues but also because, as Hurwitz told Deadline, real life keeps stealing his ideas. Take, for instance, one idea for Jeffrey Tambor's George Sr.: What if the Bluth family patriarch revealed that she was trans, throwing her relationships with her immature adult children into disarray? Then came Transparent, with literally the exact same actor in the exact same premise and, hell, even the exact same setting. George will remain cis in season five, but other plotlines are already locked in: Lindsay's plan to build a giant wall on the U.S.-Mexico border was a humorous satire of anti-immigration rhetoric when it was introduced in season four; now it's the most important plank in the platform of the Republican presidential front-runner. Likewise, Buster's arrest for the murder of Lucille Austero came years before the current true-crime frenzy, but in the wake of the genre's massive buzz, Hurwitz says season five will be heavily influenced by Making a Murderer. Tony Hale had better start growing that beard.