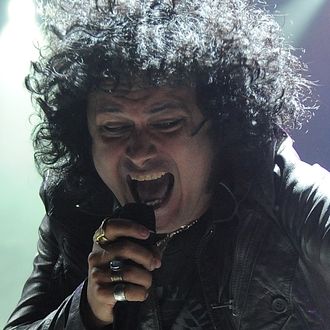 Cedric Bixler-Zavala.
Photo: Matt Roberts/2012 Getty Images
Another entrant in the recent-reunion phenomenon: The members of At the Drive-In are coming back with new music and live shows in 2016. The hard-rock band from El Paso teased the announcement across its social-media accounts earlier in the week, and have tipped Fuse off that this year's material could potentially go toward its first fresh studio album since 2000's Relationship of Command. "Fifteen years ago, [our ambition] was, Man, this shit sounds cool, let's make a record and go on tour," guitarist Omar Rodríguez-López told Fuse on Thursday, noting he and his bandmates have been sharing partially and fully formed songs with each other again. "That's our motivation now, too."
The inventive quintet (Rodríguez-López, Jim Ward, Cedric Bixler-Zavala, Paul Hinojos, and Tony Hajjar) took a prolonged, differences-and-exhaustion-fueled hiatus in the '00s — fracturing into nearly half-a-dozen other projects including the Mars Volta, Sparta, Bosnian Rainbows, and Antemasque — before reuniting briefly in 2012. That year was not much of a comeback; it involved only a handful of fest appearances and gigs, but the necessary seeds were sown for something grander this year.
"Ever since 2012, any of the interviews we have done in between, we've said that the door's always open," Rodríguez-López added. "We all have other projects and families, so we're constantly sending riffs back and forth, but never putting pressure on ourselves, never feeling like this is something we have to do. We're just letting it be natural." Other details about the new tunes haven't been released, but scope out the world tour dates below in preparation and celebration:
More dates are on the way, too, so if you don't see your area covered, have faith, pucker up, and kiss the asphalt now: