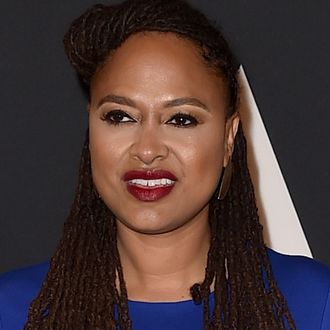 Ava DuVernay.
Photo: Kevin Winter/2015 Getty Images
Not long after the Academy enacted hasty moves aimed at ameliorating its diversity issues, Ava DuVernay damned the very 'D' word at the center of the #OscarsSoWhite debacle. At a Sunday Sundance luncheon co-hosted by her Array film-distribution collective, DuVernay told the New York Times that she hates the term "diversity" because it's neither powerful nor accurate. "I feel it's a medicinal word that has no emotional resonance, and [under-representation] is a really emotional issue," the helmer explained. "It's emotional for artists who are women and people of color to have less value placed on our worldview." Rather than diversity, Hollywood suffers from a belonging or inclusion problem, she added, noting the "very body who dictates [who belongs] looks all one way."
She's pretty spot-on, seeing as a 2013 survey pegged an overwhelming portion of the Oscar voters as old, white men. Her words, of course, come on the heels of a sweeping organizational overhaul to widen the net of inclusivity for future awards contenders and members, a move she had approved of as "one good step in a long, complicated journey for people of color + women artists":
But DuVernay's latest remarks add to the discussion a more intense sense of urgency, a desire for less waiting and more immediate results that others, including the likes of Steve McQueen and the Academy's own president, fortunately seem to favor, too. The Selma director also pointed to recent pushback and confusion tied to Academy membership updates as other indications that the decisions were necessary and that the time to effect change was now. "It has to happen with the people who dictate who belongs," she told the Times. "It's disconcerting to hear people say that shouldn't change. That's the very reason it should." For more from the Array luncheon, head here, and for the latest #OscarsSoWhite coverage, head here.