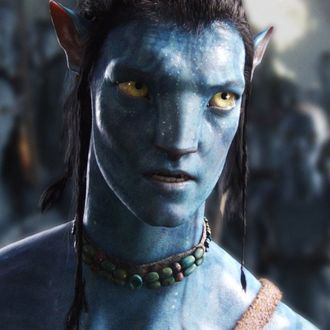 A character from Avatar that we all know and love.
Photo: Twentieth Century Fox
Pay no attention to that wailing you hear in the distance — it's just the mournful cries of Avatar fans learning in The Wrap that Avatar 2 has been delayed "indefinitely." The much-awaited film had been scheduled for release on Christmas 2017; this move coincidentally comes after Star Wars: Episode VIII was pushed back to December 15 of that year, thus averting a box-office clash between the sequels to two of the highest-grossing films of all time. As all #Naviatics know, Avatar 2 will be the first of three planned Avatar sequels, and Fox CEO Jim Gianopulos has been forced to plead patience with the desperate fans, all of whom just can't wait to follow to the further magical adventures of Jake and Neytiri. "James Cameron has his own pace," Gianopulos said.