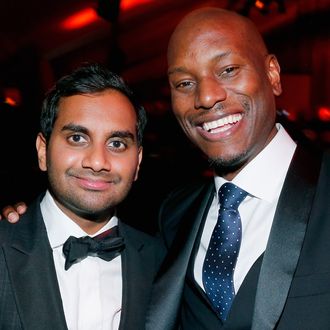 Owner of Gibsihana with satisfied customer.
Photo: Rich Polk/Getty Images
Where to begin? For starters, did you know Tyrese Gibson has a fully functioning Benihana-style restaurant in his backyard in Los Angeles? And did you know it's called Gibsihana (which makes us like Tyrese Gibson even more!)? And did you know that Aziz Ansari's brother Aniz told him about the restaurant in 2013, and ever since then Aziz has really, really wanted to go? Update: Aziz finally got to go! And he brought his brother Aniz, and his friends from Lonely Island. As you can see in Aziz's Instagram videos, it looks like the best time of all of their lives. Gibsihana looks so cool, we bet they don't even make you wait until your whole party is there to seat you. Now that is fine dining.