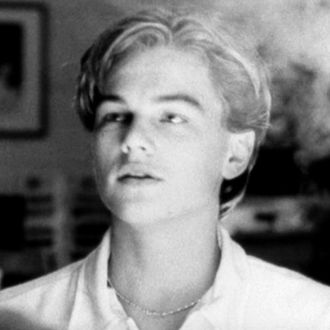 DiCaprio in Don's Plum.
Photo: Polo Pictures Entertainment
In 1995, two up-and-coming actors named Leonardo DiCaprio and Tobey Maguire ponied up some cash for their friend R.D. Robb to make a movie. The film, Don's Plum, starred DiCaprio, Maguire, and the gang of associates that would later be dubbed "the Pussy Posse,"  as a bunch of obnoxious young Angelenos hanging out at a diner. Nothing much happens in the film, which is almost entirely improvised, and it would have been quickly consigned to oblivion had DiCaprio not, shortly thereafter, become the most famous young man in the world.
Exactly what happened next is a matter of dispute: DiCaprio and Maguire said they only agreed to take part in the film — which, they add, was originally supposed to be a short — on the understanding that it would never be released in the U.S. (Robb, who was cast out of the Posse after he began meeting with distributors, disputes this.) According to a lawsuit filed by one of the film's producers, Maguire was concerned that "improvisational comments" he made during filming would "undermine his public image," and got Leo to use his influence to prevent it from every being released. That lawsuit was settled with the filmmakers agreeing never to open the film in the U.S. or Canada, though it did get a European release in 2001.
Portions of the film have made their way to YouTube over the years, but now, two decades after the movie was shot, producer Dale Wheatley has made the film available for streaming — for free. "Although the film remains banned in the U.S. and Canada," Wheatley writes at FreeDonsPlum.com, "as a writer and producer I am making the film available under my copyright for the sole purpose of promoting my work as an independent filmmaker." Sounds loophole-y enough! 
You can watch the full movie below. (The password is "fairuse.") How many future famous people can you spot?
Update: Not anymore. The long arms of the Posse have gotten the video blocked again, which makes this post kind of pointless. Sorry!