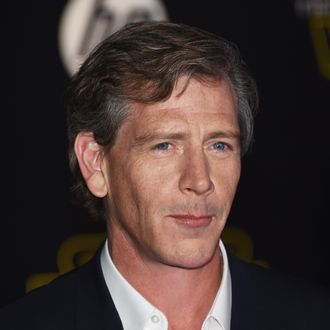 Now he could be a bad person who did a bad thing.
Photo: Ethan Miller/2015 Getty Images
Okay, trendsetters, now is the time to determine how much cred you get for first getting on board with Ben Mendelsohn, because he's about to be real big. You get 20 points if you first saw him in an Australian project, ten for an indie film, five for Bloodline, and one for Rogue One. And if your first exposure to Mendelsohn is in Steven Spielberg's Ready Player One, for which the actor is in talks to play the villain? Zero points. Sorry. That's like discovering Hugh Laurie from Tomorrowland.
Anyway, according to The Hollywood Reporter, Mendelsohn might just play a black sheep once again in Spielberg's adaptation of Ernest Cline's 2011 novel, which is set in 2044 and centers on a virtual-reality game known as OASIS. The book follows the teenage Wade Watts (a role that hasn't yet been cast) on his quest to win a treasure hunt set up by OASIS's deceased founder. Mendelsohn is in early negotiations to play an executive for a corporation with designs on the program, while Olivia Cooke (Bates Motel, Me and Earl and the Dying Girl) is already set to play Wade's love interest, Sam. Expect a lot of video-game jargon! Expect to be delighted by Mendelsohn's delivery of said jargon!
Thank you for playing this round of the Talented Actor Gets Discovered by Big Studios Game. Check back later for our retrospective on how many points you get for seeing J.Law in Winter's Bone.