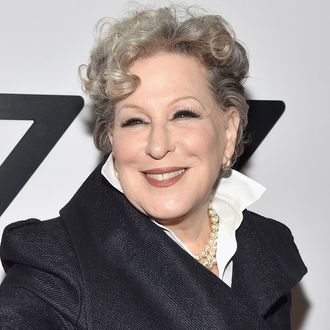 Hello, Bette!
Photo: Mike Coppola/Getty Images
It's a match! That must have been what popped up on Bette Midler's screen when she was trolling late-night Tinder looking for a classic Broadway play to revive. The Divine Miss M is returning to Broadway next year with Hello, Dolly! directed by Tony-heavy Jerry Zaks and choreography by Warren Carlyle. The play written by Jerry Herman won a record ten Tonys when it was first staged on Broadway in 1964 with Carol Channing as Dolly Levi, the matchmaking meddler. "Many times through the years I've been asked about bringing back Hello, Dolly! — and it has always been, 'Who would be my dream Dolly?'" composer Jerry Herman said in a statement. "Who is out there that has the necessary stature, warmth, the incredible talent and ability, and especially the singular, outsized personality that I was looking for in a 21st Century Dolly? Only one person: Bette Midler." And she swiped right, too! If it's awkward, just pretend to get a phone call from your friend saying something bad happened, okay?

Rehearsals begin next January, with Broadway performances starting March 13, 2017. Opening night is set for April 20.