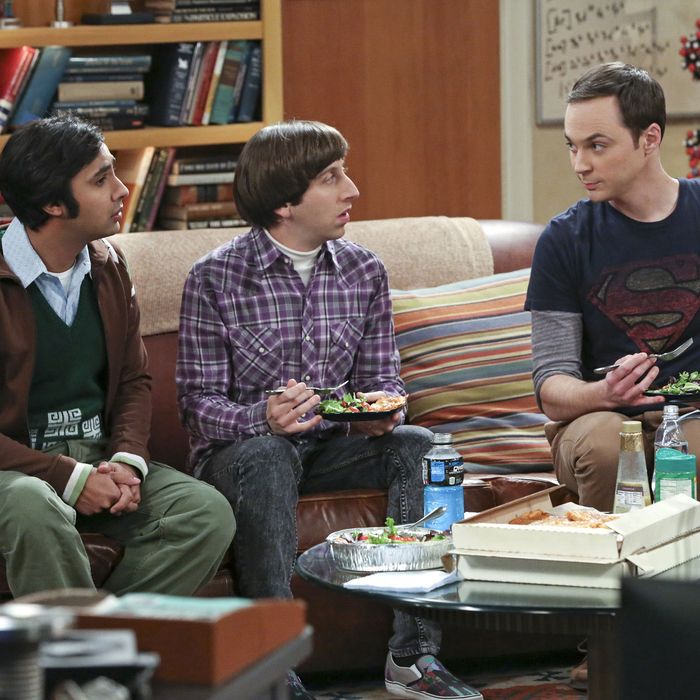 Kunal Nayyar as Raj, Simon Helberg as Howard, Jim Parsons as Sheldon.
Photo: Michael Yarish/CBS
Sheldon's friends know he and Amy had coitus, but it's no biggie. Or so The Big Bang Theory writers would have us believe.
The reactions of Sheldon's friends to finding out he had, you know, done it was pretty high on my "post–Sheldon Did It" wish list. Not in a creepy, give-us-all-the-details sort of way, but this particular installment does end with a shirtless Raj dancing on the stripper pole of a Vegas-bound party bus, so …
The point is, these characters would definitely want to have this information about their friend, and they're the sort of people who would have an animated reaction to that information. I mean, come on. Sheldon. Had. Coitus. The guy who doesn't like to be touched, who shows little interest in the opposite sex, who is so fussy he and his roommate schedule potty times, had coitus. This is a major event for Sheldon, not just in his personal growth and maturity, but also as proof for his friends that, yes, he is human.
If there was a major reaction from the gang, though, we didn't see it. Instead, Leonard, Howard, and Raj reveal that they know while complaining about Sheldon's most recent round of rude behavior. After Howard points out how Amy's time away from Sheldon helped their relationship, Raj tacks an extra provision onto the plan: "As long as it doesn't end with us having coitus with him, I'm in," he quips.
So, they know. We know they know, and that's (probably) all we're going to know about how they know. Barring a flashback story line in a future episode, this is a major missed opportunity to wring more funny and heart out of a momentous event in Sheldon's life.
Especially since we're already moving on to another fairly significant occurrence in the house of Cooper and Hofstadter: Sheldon has decided to be empathetic. When he fails to empathize with his fellow humans, he has decided he will apologize to them — which is how the Sheldon Cooper Apology Tour comes to be.
Here's some background: Sheldon had a nasty bout of the flu, which, he shares with Amy, he believed entitled him to be cranky with his friends without having to care about their feelings. The other humans don't go for that, Amy tells him, from roughly 2,000 miles away at a neurobiology conference in Detroit. (She chooses to stay there while he rides out his illness.) She suggests that he learn to be nicer when people try to help him, and when he isn't nice, he needs to express his remorse.
Okay, that's not exactly what she says. After Sheldon's less-than-halfhearted attempt at being empathetic, what she actually tells him is: "Great, now try it as if this isn't your first day as a person." The breakup clearly did both of these characters a lot of good. Sheldon learned how much he truly cares for Amy, and Amy boosted her confidence around her complicated bae. In Costanza-ese, she's got the hand in the relationship right now.
Sheldon takes Amy's advice to heart, partly because he wants to be invited on the group trip to Vegas — you know, the trip they planned to get away from him — even though he doesn't actually want to be in Las Vegas. ("America's urinal cake," as he calls it.) He apologizes to everyone, and everyone accepts his contrition admissions … except for Emily, Raj's once-creepy girlfriend who has proven to be so uninteresting that dullness is now her identifying characteristic.
Emily doesn't forgive Sheldon because his apologies are tinged with the opinion that her dermatology career means she's not a real doctor. (Or, in another Seinfeld nod — because everything in life can be tied back to a Seinfeld episode — he thinks she's "Pimple Popper, M.D."). This leads to a fight between Emily and Raj, which sadly does not lead to a breakup. After she eventually forgives Sheldon, the whole gang — minus Amy, but with the addition of Stuart — ends up on that party bus to Sin City, where Raj shakes his groove thing to "Disco Inferno" while Penny and Bernadette stuff dollar bills in his pants.
Raj needs a new girlfriend, and a real story line.
THEOR-EMS:
Bernadette brings sick Sheldon a care package, stuffed with the best pharmaceuticals from the drug company where she works. Sheldon: "I hope laughter is the best medicine, because this care package is a joke." And then he sneezes on Howard.
Howard tells Stuart not to take Sheldon's illness-related crabbiness personally. Stuart: "I'm on so many antidepressants, I couldn't if I wanted to."
The Sheldon Cooper Apology Tour includes commemorative T-shirts, and Sheldon's rendition of Brenda Lee's "I'm Sorry" on the pan flute.