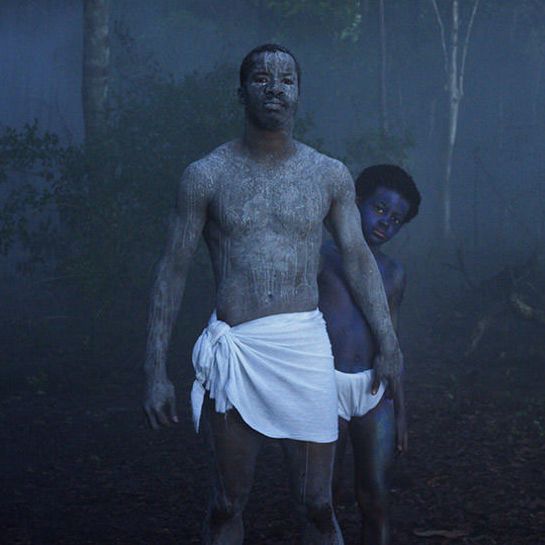 The Oscars may be so white (and so male and so straight), but at tonight's Sundance Awards — which took place as Idris Elba, Viola Davis, and Uzo Aduba were winning SAG Awards — women and minorities ruled. The Birth of a Nation, actor Nate Parker's writing-directing-producing debut and the result of a seven-year effort to bring the story of Nat Turner's 1831 slave rebellion to the screen, won both the U.S. Dramatic Grand Jury Prize and the Audience Award, following in the footsteps of Me and Earl and the Dying Girl, Whiplash, and Ryan Coogler's Fruitvale Station. In presenting the award, Black List founder Franklin Leonard said that Birth "challenges each of us to carry a riotous disposition for injustice and the systems that preserve it everywhere and, in doing so, it is both timeless and right on time." A visibly touched Nate Parker took the stage and told the audience, "This has been the greatest moment of my career." Parker developed the film as part of the Sundance Labs program and made sure to heap thanks on those at the Sundance Institute and Festival, "who believed in me when no one, it seemed, would believe in me … Making films is a very difficult thing, and you're left all on your own wondering what you're doing, and when you come across people who understand it, who embrace film making and embrace your voice, it means everything. Thank you, Sundance, for creating a platform for us to grow, in spite of what the rest of Hollywood is doing sometimes. Thank you for being a leader."
The U.S. Dramatic jury, which included Franklin, Lena Dunham, Jon Hamm (who sent a very sexy video message from L.A., having left the festival to attend the SAG Awards), casting director Avy Kaufman, and music supervisor Randall Poster, also handed out two individual acting prizes, one to Craig Robinson for Morris From America, about a black 13-year-old living in Germany ("I've got to go call my parents to see if they figured out the live stream," said an overjoyed Robinson) and Melanie Lynskey for The Intervention, who thanked "my love" Jason Ritter, and "my best friend — I'm going to cry, I cry in every Q&A — my best friend Clea DuVall," who directed the movie and wrote the part specifically for Lynskey. (Lynskey plays the leader of a group of friends who decide to tell two of their friends they ought to get divorced.) Joe Seo, who plays a gay Korean-American in Spa Night, won a breakthrough acting prize.
In other news, New York political nerds can rejoice: the undeniably juicy and very deserving Weiner, tracing Anthony Weiner's political downfall, through his failed mayoral campaign and second sexting scandal took home the U.S. Documentary Prize. The Audience Award went to Jim: The James Foley Story, about the captured and executed journalist, while Roger Ross Williams, the first African-American director to win an Oscar, for a 2010 documentary short film, won a directing prize for Life, Animated, about a young autistic man who uses Disney films to communicate. The prize for my favorite speech of the night goes to yet another female filmmaker, Penny Lane, who won a writing award for Nuts!, an experimental documentary about a crackpot doctor in the 1920s who built an empire on his "miracle" cure for impotence. "I don't know if they noticed, but it's a cartoon about goat testicles!" said Lane.
The ceremony's saucy host was Maori-Jewish, New Zealand–bred comedian-director Taika Waititi, who introduced himself as the guy who's sure to fuck up Thor. The unintentional comedy duo of Lena Dunham and Avy Kaufman stole the show, after experiencing more than a bit of confusion over who was announcing what and when. "I'm going to say this is a well-produced, but quickly thrown together show," said Dunham, before disintegrating further after a few more fumbles. "This is a fucking shit show! This is literally the worst night of my life. I have been taking Klonopin since yesterday. What is happening!?"
In the World Cinema category, both Grand Jury Prizes, in the Dramatic and Documentary competitions, went to women. Israeli director Elite Zexer got the Dramatic award for her tale of women going up against the traditionalist male patriarchy in a Bedouin village, while Rokhsareh Ghaem Maghami won both the Documentary top prize and the Audience Award for Sonita, the chronicle of an 18-year-old female Afghan refugee living in Tehran who just wants to rap. Also winning was Polish horror-fantasy The Lure, an actual fish-out-of-water story about lovelorn mermaids who join a band directed by, you guessed it, a woman.
Here's the full list of the Sundance 2016 winners.
U.S. Dramatic - Grand Jury Prize The Birth of A Nation

U.S. Dramatic - Audience Award: The Birth of A Nation
U.S. Dramatic - Directing Award: Daniel Scheinert and Daniel Kwan for Swiss Army Man
Waldo Salt Screenwriting Award: Chad Hartigan for Morris From America
U.S. Dramatic, Special Jury Award - Individual Performance: Melanie Lynsky for The Intervention
U.S. Dramatic, Special Jury Award - Individual Performance: Craig Robinson for Morris From America
U.S. Dramatic, Special Jury Award - Breakthrough Performance: Joe Seo for Spa Night
U.S. Dramatic, Special Jury Award: As You Are
U.S. Documentary - Grand Jury Prize: Weiner

U.S. Documentary - Audience Award: Jim: The James Foley Story
U.S. Documentary - Directing Award: Roger Ross Williams for Life, Animated
U.S. Documentary, Special Jury Award - Verité Filmmaking: The Bad Kids
U.S. Documentary, Special Jury Award - Writing: Kate Plays Christine
U.S. Documentary, Special Jury Award - Social Impact Filmmaking: Trapped
U.S. Documentary, Special Jury Award - Editing: Penny Lane and Thom Stylinski for Nuts!
Next Audience Award: The First Girl I Loved

World Cinema Dramatic - Grand Jury Prize: Sand Storm (Israel)

World Cinema Dramatic - Audience Award: Between Sea and Land (Colombia)
World Cinema Dramatic - Directing: Felix van Groeningen for Belgica (Belgium/France/Netherlands)
World Cinema Dramatic, Special Jury Award - Unique Vision and Design: The Lure (Poland)
World Cinema Dramatic, Special Jury Award - Screenwriting: Mi Amiga del Parque (Argentina/Uruguay)
World Cinema Dramatic, Special Jury Award - Acting: Between Sea and Land (Colombia)
World Cinema Documentary - Grand Jury Prize: Sonita (Germany/Iran/Switzerland)
World Cinema Documentary - Audience Award: Sonita
World Cinema Documentary - Directing: Michal Marczak for All These Sleepless Nights (Poland)
World Cinema Documentary, Special Jury Award - Editing: We Are X (United Kingdom/U.S.A./Japan)
World Cinema Documentary, Special Jury Award - Cinematography: The Land of the Enlightened (Belgium)
World Cinema Documentary, Special Jury Award - First Film: When Two Worlds Collide (Peru)