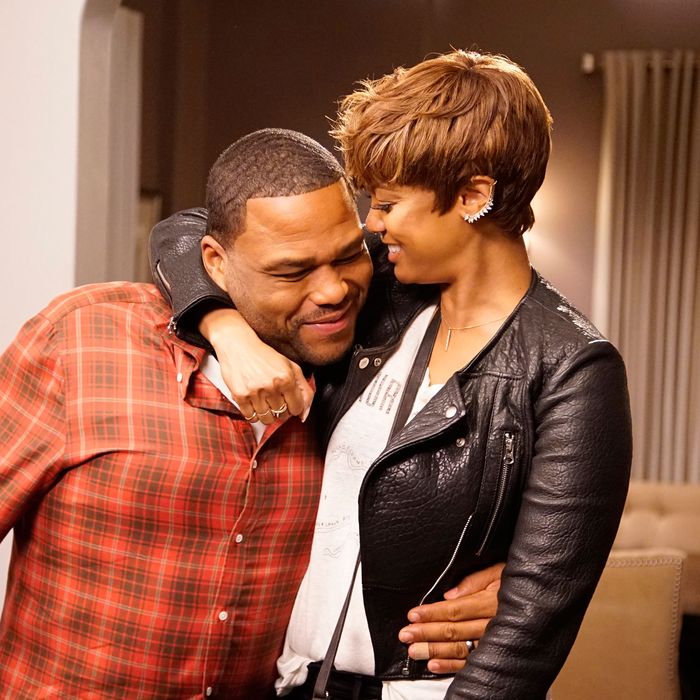 Anthony Anderson as Dre and Tyra Banks as Gigi.
Photo: Kelsey McNeal/ABC
Welcome back! Black-ish starts the New Year with an big question: Do spouses need to be best friends to have a healthy marriage? It's an intriguing one, right up there with "Men and women can't be friends because the sex part always gets in the way." Dre answers both with one best friend, Gigi Franklin (Tyra Banks).
In an homage to When Harry Met Sally, three couples praise their respective spouses as their best friends, but Dre is quick to point out that Bow is not his. He and Gigi have known each other since they were 2 years old, so she holds the title of Dre's Bestie for Life. Gigi is a pop star with the looks of a model — ahem — but Bow isn't worried about any misconduct between her husband and his best friend. However, she does get jealous of their intimate friendship. Bow confesses to her co-worker Pam (Mindy Sterling) that whenever Gigi is around, she feels like a third wheel in her own marriage.
It looks like Gigi may stick around for a while, too. She's thinking about a move back to the Los Angeles area to settle down with her new boyfriend, Napoleon, who thinks her friendship with Dre is weird. When Gigi uninvites Dre to a premiere to take Napoleon instead, Dre gets upset. He thinks it's the end of their 40-year-friendship, so Bow decides to step up to the plate and be Dre's best friend.
At this point, we've seen more of Dre's life than of Bow's. We've met several members of his family, friends, and co-workers, but we haven't seen much of Bow's past. In the first season, we met her parents (played by Anna Deavere Smith and Beau Bridges), but it'd be nice to learn about what she's like when she's not being a wife, mother, or anesthesiologist.
Unfortunately, Bow isn't cut out to be Dre's best friend. She's not good at trading playful insults and doesn't enjoy his constant texting. When they go out for mani-pedis, Dre cracks jokes in Vietnamese to the nail technicians about Bow without translating for her. When Dre sees a picture of Gigi and Napoleon at the nail salon, though, it's all too much for him to bear. He drags Bow back for pedicures to confront Gigi. While the two best friends yell at each other in Vietnamese, Bow and Napoleon bond. Napoleon admits he can't stand being Gigi's best friend any more than Bow can tolerate being Dre's. The two leave, and Dre and Gigi realize they're (platonically) made for each other.
We've met two of Dre's friends from his neighborhood who are enjoying significant success in their fields. Sha is an artist with a MoCA residency, and now there's Gigi, an international pop star. It's refreshing to see that Dre's story of making it out of the hood isn't an exception. It speaks to the larger notion that more "success stories" would come from impoverished and marginalized neighborhoods if access to resources wasn't a major hurdle. Positioning Dre and his family as being more common than expected is one of the show's subtle triumphs.
The Johnson kids, enamored by Gigi's fame, meanwhile, decide to create a music video. Junior's lack of singing talent makes him the producer: "Phil Spector without the wigs and murder." Jack is the dancer, hype-man, and soul of the group. Zoe declares herself the lead singer because of her pretty face, but soon reveals herself to be tone-deaf. Diane belts out a few lines from Alicia Keys's "Fallin'" and surprises everyone, including herself, with her ability to sing. She's the new lead.
It doesn't take long for Diane to become a diva. When her brothers and sister don't take rehearsal seriously, she snaps at them, then goes to Gigi for advice. Gigi tells her that success is nothing without someone to share the ride with. So Diane decides to go solo. As she walks around the house in sunglasses, drinking tea and wearing a scarf to protect her voice, she sees Zoe, Junior, and Jack dancing and having a good time without her. She wants back in the group — until she hears their new track. She'll remain solo, thanks. During the credits, though, we see her and Gigi performing together.
Black-ish easily could've written Gigi as a homewrecking diva who threatens the sanctity of Dre's marriage to Bow. Instead, Dre sings her praises to his colleagues, letting them know she helps provide him with perspectives that keep his marriage healthy. Gigi also tries to get Diane to understand how important it is to have support when you're successful. Dre and Gigi's relationship is proof that men and women can be best friends — sorry, When Harry Met Sally — and that it's okay for spouses to have besties outside of their marriage. Sometimes, those friendships can even be what keeps a marriage strong.