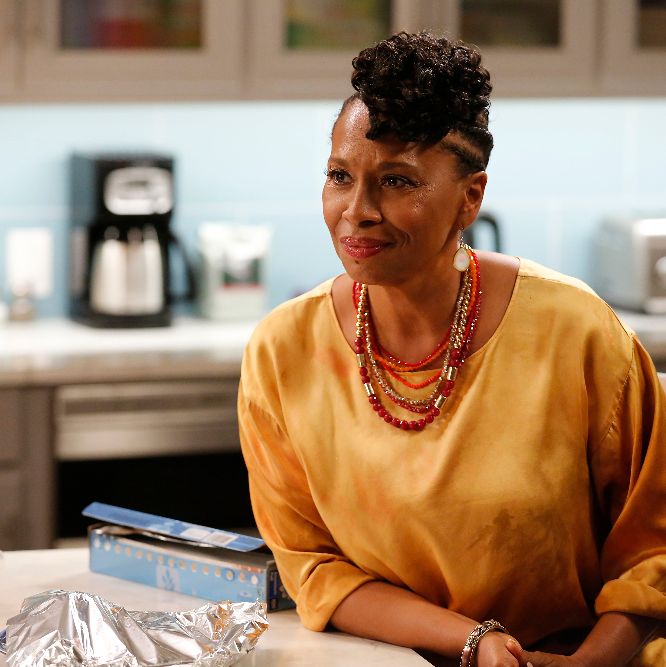 Jenifer Lewis as Ruby.
Photo: Vivian Zink/© 2015 American Broadcasting Companies, Inc. All rights reserved.
This week's episode of Black-ish is a Trojan horse: You think you're watching Dre overreact about his mother's love life, but you also get lessons about the sacrifices of single parenthood, the double standards of dating, and even catfishing. Is it any wonder why this is one of the best family sitcoms on television?
It can be traumatizing to learn your parents are sexual beings — or it was for Dre, at least. When he was younger, he'd push Ruby's suitors down the stairs, complete with a Dikembe Mutombo finger wag, to make clear they weren't welcome in his house. Eventually, Ruby stopped bringing dates around. Pops, on the other hand, had a steady flow of much-younger women he'd introduce as Dre's potential new mother. Dre didn't have a problem with those flings, but he couldn't accept Ruby dating.
Flash forward to the present day, where Dre still can't handle the idea that his mother has romantic needs. Ruby wants Dre to meet her new "passionate and firm lover," a restaurant owner she met on RatchOnly.com, a dating site that caters to women with a ratchet lifestyle. Dre can't cope with this news and tries to soothe himself by humming the pre-battle spiritual from Glory. Pops assures Dre that any man who dates Ruby must be an old geezer, so there's no way she's having sex.
Dre feels better until he and Bow meet Ruby's new man, the young and handsome Davis (LaMonica Garrett, formerly of Sons of Anarchy). Bow loves Davis, and especially loves his plans to take Ruby around the world, which would get her mother-in-law out of her hair for a long time. However, Dre decides Davis must be a pervert. Why else would he be attracted to an older woman? At work, Curtis mocks this ridiculous theory — after all, there's nothing perverted about dating older women. In fact, Curtis prefers to date older women because they know how to take care of him. (In other words, they buy him nice clothes.) Also, he adds, "Golden Girls like to get down," but can't get pregnant. Dre feels even worse.
Black-ish is a few episodes into its post-Charlie future, and Dre's workplace just doesn't feel the same without him. In Charlie's absence, Wanda Sykes's Daphne has stepped up to serve as a replacement, but there's something missing. (We still miss you, Deon Cole!) Charlie slid between Dre's work and home lives, which allowed the transition between scenes to work smoothly. Without Charlie, any jump into the ad agency feels jarring. Though Daphne's appearance at the Johnsons' for Christmas didn't go well, there's plenty of time left in the season for Black-ish to do some course correction.
After leaving work, Dre comes home to find the twins with Davis. They're calling him "Pop Pop" since he's twice as strong as Pops. Though his family enjoys Davis, Dre is increasingly determined to get rid of him. (That doesn't stop Dre from accepting his offer of Clippers tickets, though.) Dre turns to Pops, who becomes jealous and threatened by Davis's youthful good looks. Pops tries to seduce Ruby: He dyes his hair, plays Jodeci, and wears a South African amulet, but Ruby doesn't fall for his tricks. She returns to the main house with Davis. When Dre sees them kissing, he fakes a heart attack to get Ruby's attention. The scene is too much for Davis, who leaves while Ruby places healing hands on Dre, demanding the demons of sickness leave her baby.
The next day, Ruby confronts Dre. She knows he wasn't having a heart attack. She explains that she broke up with Davis because Dre still can't accept her being a sexual person. She also admits that she hid her relationships when he was a child because it was too much for him then, too. Dre realizes how much his mother has sacrificed for him, and decides he doesn't want to be the reason she misses out on seeing the world with a man she likes. He apologizes to Davis and asks him to give his mother a second chance. It's a sweet gesture, but also an unnecessary one — Ruby is already there, looking for her missing underwear.
In the meantime, after helping Mama Ruby build her dating profile, Junior creates one for himself. He and a young woman named Kiersten hit it off, but the other Johnson kids are convinced she was a catfish, a fake profile created by a Nigerian scammer. They scheme to capture the con artist behind "Kiersten" by scheduling a date at a café. Zoey tells her to wear a white denim jacket, in hopes of humiliation through fashion. At the cafe, Junior sees a white man in a white denim jacket. Assuming he's the catfish, he creates a scene, encouraging the other customers to shame him. That's when the real Kiersten walks up … but Junior is so excited to learn that someone likes him for himself, he scares her off by dancing around in circles. Jack and Diane filmed the whole scene on their phones, so Zoey is satisfied with the humiliation Junior suffers.
With "Old Digger," Black-ish acknowledges and criticizes the double standards of dating. Why are men allowed to be sexual even in old age, but women must hide their desires? There's certainly nothing wrong with an older woman who has a sex life, just as there's nothing wrong with a man who desires an older woman. The hypocrisy is enough to make you want to hum an old spiritual. Dre and Pops both tried to make Ruby's dating life about them. Dre was upset that Ruby had needs unrelated to him, and Pops assumed she was dating to needle him. Ruby's desire for companionship has nothing to do with either of them, though. Here's hoping she keeps the groove she got back. Cheers, Ruby!