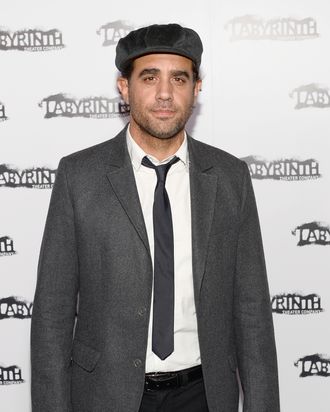 Photo: Andrew Toth/Getty Images
At HBO's TCA session for its much-anticipated 1970s rock-and-roll drama, Vinyl, the show's executive producers Mick Jagger and Martin Scorsese beamed in via satellite. Afterwards, Vulture caught up in person with Vinyl star Bobby Cannavale — who plays a record executive now past his prime — to talk playing "desperate" characters, and why he's such a New York actor.
Has the New York Board of Tourism contacted you yet? With so many of your roles, you're the quintessential New York man.
Wow, that means so much to hear that. All I ever wanted was to be the quintessential New York actor. That's all I ever wanted. I had a lot of opportunities to come to L.A. — it never appealed to me.
New York is where your heart is …
Totally where my heart is. All my favorite actors were New York actors, and I always described them that way. I said if I ever got to do this regularly for a living, I hoped I'd be thought of as a New York actor.
You play these men who are so ferocious, yet they have so much heart. Is Richie in Vinyl the same?
Totally. He's got a huge heart. I'm very attracted to characters who are desperate. Richie is hanging off the edge of a cliff with one hand. It gives me an opportunity to lean forward into the role and be on the front foot and play that desperation. When somebody's desperate, they'll do anything. It's always exciting for me to be able to play. It makes it not routine. I never feel like I'm playing the same thing twice.
Vinyl is set in 1973 New York. Did you see the trailer Netflix just released for Baz Luhrmann's show, The Get Down, which is set in the same era, and notice any similarities to your show?
I saw it! I watched it twice. I love it. Y'know who's writing on that show? Stephen Guirgis, who wrote The Motherfucker With the Hat [which Cannavale co-starred in on Broadway with Chris Rock]. He's one of the head writers. I can't wait to see that. It looks amazing. I think it takes place later — like 1978 — and it's about kids in the Bronx and hip-hop. Two shows about New York City being shot at the same time.
How has it been working with Mick Jagger's son, James?
Jimmy is great — he's terrific. He's a really good actor. He hasn't acted that much, but he's super present, super spontaneous, just what you want an actor to be. One of the great things about this show is there are a lot of young actors I've never seen before, and I know everybody. It's very exciting for me to come in and not know these guys. Jimmy surprises me every time I work with him.
What intimidates you at this stage in your career?
I don't know. I don't think about it too much. Nothing. [Laughs.]