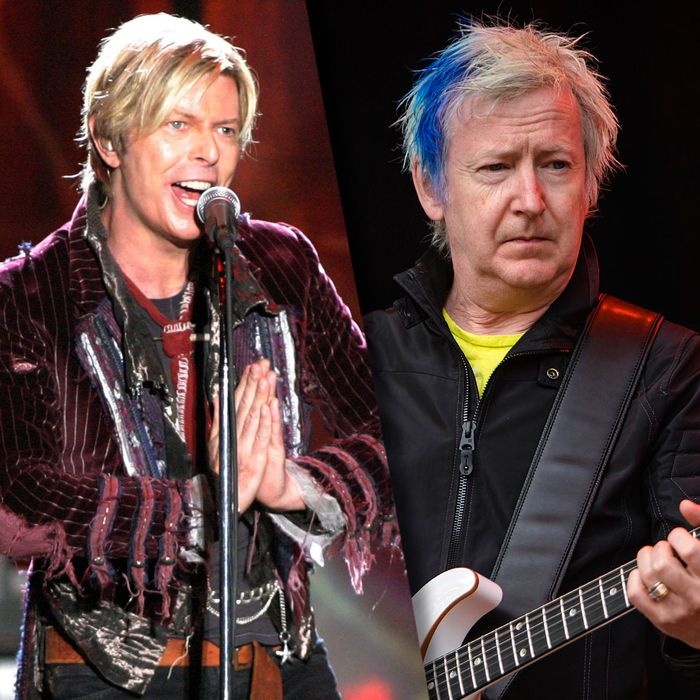 The night David Bowie died, guitarist Gerry Leonard was a marquee guest at the first annual Dublin Bowie Festival, and the subject of an onstage interview about his close collaborator. Leonard played on three of Bowie's albums — 2002's Heathen, 2003's Reality, and 2013's The Next Day — and was the musical director of his epic Reality tour, the one cut short by Bowie's 2004 heart attack. Six years later, when the superstar was ready to record again for what would become The Next Day, one of the first people he contacted was Leonard. They met in Leonard's Woodstock home and worked up the first demos of his long-awaited comeback album. (The next one, Blackstar, was released two days before Bowie's death.) Leonard was back in New York last week for a gig with Suzanne Vega. We caught up with him in a downtown boutique hotel to talk about the final decade of Bowie's life.
Did you see Bowie much in the last couple of years?
Not so much, but it wouldn't be unusual for us to have a year or so go by without direct communication. He's not really one for small talk — nor am I. I complimented him when he released the first track on Blackstar, and he wrote me back, we had a nice exchange.  I'd seen him prior to that, maybe around March 2014, for [Bowie's longtime producer and friend] Tony Visconti's 70th birthday. They had this bash and asked me to be a guitar player somewhere in Williamsburg.
Did you talk then?
Yeah, we talked. My daughter and my wife were there, and because he'd been to the house and seen them, they all came and said hi. And during that evening, Tony told me, "David wants you to know that he's doing another project now but not to worry." I took it at the time that he was working with some other people and he would be calling me again when it was appropriate. That would have been before his diagnosis.
You were with Bowie during an earlier health scare, the heart attack that ended his touring career.
That was an odd, abrupt ending to something that really had a lot of joy about it. We had been touring at that point for, oh, 13 months. He was very happy with the band, and he talked in terms of continuing to make records, continuing to tour. We had done this kind of world tour, and then we were going to headline all the big festivals in Europe. And he hadn't done that in a long time. We felt so relaxed and so powerful as a band, flexible and supple and ready to go. We had just started that European leg of the tour in Prague, which was the show where he walked past me on the fourth song and I was like, "That's not supposed to happen." That was confusing for everybody, and we got through that night, but we had to cut the show short. And, well, he had this pain in his chest, and nobody really knew — did he pull a muscle? When you're in the 50s, some friends call it the sniper alley of life. These things come out, and nobody's expecting it.
Then he had emergency surgery.
I remember we stayed in this hotel in Germany and we were down the road from this cathedral which seemed to ring a bell every 15 minutes, and it was just like, "the bells, the bells, the bells," for days. Are we going back on the road, are we stopping? In the end we wound up going back home to regroup, and then it was over.
How often did you see him after that?
He went pretty quiet. We went to see a show, and he was pretty candid that he was shaken. He had to take some medication. I think he was feeling a little depressed. I think we all felt like, Well, we'll just give him some time, and maybe he'll pick up. We emailed a little bit, I would hear little things through the grapevine, but I knew after a few years that it didn't seem like it was gonna pick up. It was a little mysterious that he would stop doing the thing that he loved so much and lived for. So when, in 2010, I got an email to say, "Do you want to work on some new songs, P.S., don't tell anybody about this" … whoa.
Did he tell you what he'd been up to?
He didn't bring it up, and I didn't bring it up. David was never one to look backwards, and it wouldn't have seemed appropriate to say, "Hey, where have you been?" He had me there for a specific reason: He had a bunch of material that he wanted to put into the air, and we were very happy to see that.
You brought in a drum machine and jammed in your house upstate. What was the first thing you worked on?
He had an idea and started playing it — I think it was "I'll Take You There." So I worked on a chorus idea and a bridge idea and worked out an arrangement, and in a couple of hours we'd sketched out a little demo.
I know his family had a place up in Woodstock, or was building one …
He had some property. There were always rumors of the house, the house, the house. It seemed like a moving target, in a sense. He did spend some time up there, but that was family time, and he always kept his family separate from his work. So when he was in the neighborhood, I would invite him over for coffee. We talked about going to see Storm King, things like that.
Was he up there a lot? He wasn't spotted much in the city in those years.
I think his family would stay up there for the summer, and he would go visit. I would consider David a more urban person than the country squire, and I think that always suited his personality. There were a couple of times when we were supposed to meet up and he would say, "Sorry, something's come up, I'm going back to the city." He liked being surrounded by the galleries and the art and the music, just being in the thick of it.
Blackstar felt like a genuinely new direction for him, but The Next Day has a different rap.
I think there was a sense of his catalogue about those songs [on The Next Day]. It wasn't like a particular direction. It was more like these songs that had familiar Bowie imprints on them.
You had to sign NDAs for that album and tell absolutely no one. Had he ever done that before?
No, no. But there was always a lot of guardedness about his records. Even when the Reality record was coming out, only a very few of us were allowed to hear it. I had gotten a copy but, for instance, our front-of-house guy for the tour was very eager to hear the songs because he was building the sound system, and I remember asking David, "Can I pass this?" And he said, "I'd rather you didn't." Everything was numbered, watermarked.
Did that seem extreme to you?
Well, I'm reminded time and again when I'm working with David that there are a lot more people who are trying to get close to David. On the tour, I learned very fast. People would be in the lobby, and they would know your name, and they would want to buy you a drink and ask you that question of, "What time are you leaving today?" You've got to be on guard because people are trying to manipulate you. I think he cherished his privacy, and he knew the game. If anybody knew the game, David knew the game. You can see that when he takes an interview. He becomes the interviewer; he challenges you.
But from The Next Day onward, he didn't do any interviews at all.
I think there's an element of strategy about that — going back to The Next Day, the way he kept it in secrecy and then chose not to speak but made these beautiful videos and films. He released those 42 words at one point. When we did the Reality tour, I remember him talking about how he had used all these personas over the years, but when he got to Reality, he wanted to demystify David Bowie. The tour was like the Bowie jukebox. We played a lot of songs that he hadn't played in a long time, for three hours a night. We had 64 songs in our catalogue. He stood on the stage and talked to the audience. He was himself. That was a deliberate statement. And I think when it got to The Next Day, with the Heroes cover blocked out and the way in which he released it, he was saying, "Now I'm stepping back again." On Sunday night [in Dublin], I was asked why there was no picture of him on his Blackstar cover, and I said, "Well, maybe he's trying to disappear again." And of course the next day we got the news. I think it was very deliberate.
There were rumors that he was sick long before the past two years.
When we worked on The Next Day, he looked really good. I thought he looked better than at the end of the Reality tour.
Do you see Blackstar as a meditation on his illness and impending death?
Maybe he did have it in mind, but I wouldn't say that it was the only impetus. I think sometimes you just make art, and then when it's done, you look back and suddenly it has a context. But David worked very much in the present, and sure, maybe these things were hovering and casting a particular shadow. But I think it all makes a lot more sense with hindsight.
Did you correspond with him a lot in the final years?
We emailed about stuff that was relevant, a piece of music that we liked. Or he would send me a Spike Milligan link because he knew I liked Spike Milligan. Somebody would ask me if I could put a movie role in front of him, and I would get in touch with him and say, "Look, you probably don't want to do this …"
And he turned it all down?
I'd rather put it in front of him and let him make the decision, but people would ask me all kinds of things — if he would come and play gigs in Israel and then they would send a boat for him. I could see the humor in it, and he would see it, too. Everyone thought they had a good idea for David.
Why do you think he took all that time off from music, and why do you think he came back to it?
I don't know. Maybe at a certain point he just started to get excited about his own ideas. David thought big and he planned ahead, and I think even a period of seven years, to David, it's not a long time. He waited so he could be his own critic, because when it comes to having a perspective on your own work, time is your friend.