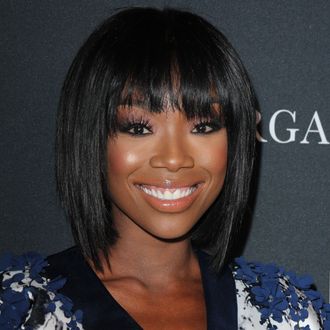 Welcome back, queen.
Photo: Parisa/Corbis
What's this? Brandy's back on TV and has new music out at the same time? That's a whole lot of '90s/early 2000s nostalgia for the first full week of 2016. Shortly after the premiere of her new BET sitcom Zoe After Ever, Brandy Norwood teased what might be the makings of her seventh album (and first since 2012) with a new solo song, "Beggin & Pleadin." You probably remember Brandy for her rap-leaning R&B and chill-inducing ballads, but never forget that Brandy was born and partially raised in Mississippi. Her new song is grounded in the blues, but, Brandy being Brandy, she's chopped and screwed it with a bit of modern trap (produced by Pop & Oak) that surprisingly doesn't sound tacky. It's as if Hit-Boy remixed "Hit the Road Jack" — you imagine it'd be a total mess, but Brandy's the kind of underrated vocalist who shape-shifts to fit into all of music's many pockets with ease.
This is Brandy's first proper solo release in four years, but in 2014 she put out a sublime cover of Coldplay's "Magic" just to remind folks what music's been missing. If this is the return of Brandy, and her heart's all the way in it this time, sound the alarm. But don't just take our word for it — listen to the gospel of Missy: