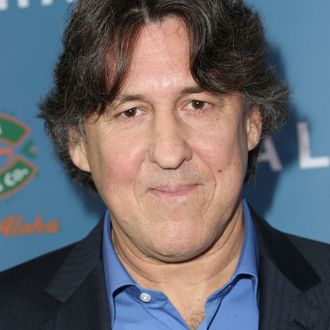 Cameron Crowe.
Photo: Frederick M. Brown/2015 Getty Images
Cameron Crowe joined the mob of celebrities memorializing the late David Bowie on Monday, dedicating a blog post to the rock legend whom he first met as a journalist. The now writer-director had the rare opportunity of catching him for six months in the mid-'70s, interviewing him as he bounced around L.A., shifting from Young Americans to Station to Station. "Bowie was the most generous and entertaining interview subject I'd ever met," writes Crowe. "When he asked to meet you, it was rarely casual. You would be ushered into the room where he was waiting, and the artist would be perfectly positioned, his head cocked at the perfect angle to catch the light. It was not an affectation. He naturally staged himself, only to break out of such an iconic pose with a crackling smile and jaunty warmth." The Almost Famous helmer goes on to reminisce about Bowie's ferocious creativity, boundless passion, and underrated cinematic presence. He also shared this "self-portrait," given to him during Bowie's "wild years" in L.A.:
A relevant excerpt:
In our last conversation, I read him back some of his quotes from the "wild years in LA" period. Looking back was not his game, but he listened patiently. Some of the quotes were spectacularly profound, but Bowie took no ownership. "It really represents the morbid and misdirected enthusiasm of a young man with too much time on his hands and too many grams of PCP, amphetamine or cocaine or maybe all three in my system, really." He explained he was happy he left Los Angeles, went to Germany for his next phase, and slowly saved his own life. "That whole time is a blur topped with chronic anxiety… I could have easily died." He once doodled the accompanying drawing on a paper while I interviewed him. He left the paper behind and I asked him to sign it. "It's a self-portrait," he said, and applied his signature. Over the years I've come to interpret the drawing as a tiny cry for help… a cry he answered himself with the subsequent trip to Berlin and an entire lifestyle change. Bowie turned that dark period on it's head, and went on to supply many more generations of fans with music and art and soul and inspiration. He careened beautifully into the future… where he will always be.
Read the rest of the tribute, which mentions a recent film part Crowe had for Bowie, as well as a version of the latter's songwriting process, here.