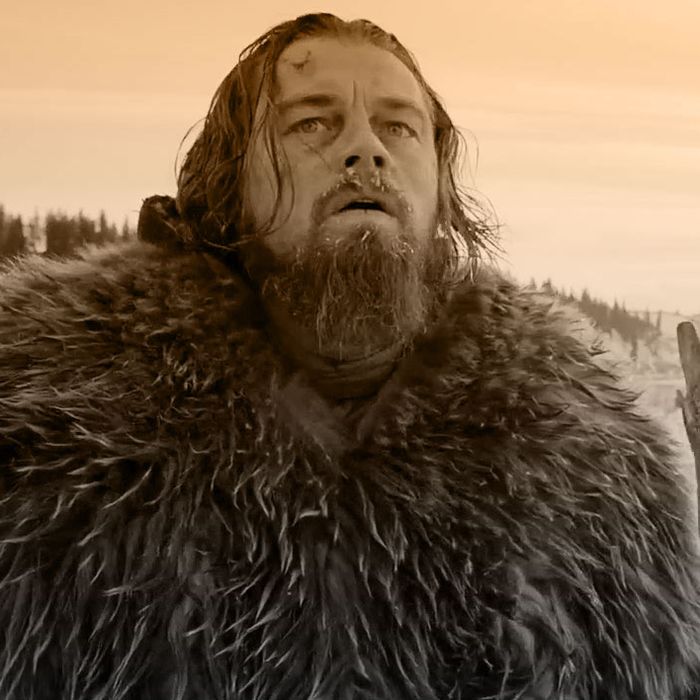 Leonardo DiCaprio in The Revenant.
Photo: Twentieth Century Fox
William Goldman likes to say that "nobody knows anything" when it comes to Hollywood, but even so, the big winner at last night's Golden Globes caught us especially flat-footed. Not a single industry pundit polled by Gold Derby had picked The Revenant to win Best Drama, but it picked up that big trophy in addition to two more for Best Director and Best Actor. Since it happened, I've had people asking me if they should take those Globe wins seriously, and whether this Leonardo DiCaprio survival story has a real shot at winning Best Picture at the Oscars.
Let's take these questions one at a time.

Should you take the Golden Globes seriously?
No! You shouldn't! The Globes are voted on by fewer than a hundred foreign journalists who toil mostly in obscurity (if they toil at all). The reporters in the Hollywood Foreign Press Association know how to facilitate a hell of a party, but there is virtually no overlap between them and the members of the Academy, so as a bellwether for an Oscar, a Globe win is not terribly revealing. In addition, over 6,000 people will be polled to vote for Best Picture, while as few as two dozen Leo fans may have been enough of a majority to give The Revenant that Globe. As far as sample sizes go, that one leaves a pretty significant margin for error.

That said, it is never a bad thing to win a highly televised trophy, and The Revenant did that several times over last night. While most pundits had predicted that the Best Drama Globe would go to Spotlight, this isn't the first time that a quiet awards-season front-runner has found its path thwarted by a surging, Alejandro González Iñárritu–directed movie: Last year, Boyhood cruised along winning awards until January, when Iñárritu's Birdman shocked pundits by taking home the Producers Guild of America award, the first of several significant prizes Birdman would then sweep on its way to Best Picture.

So, can The Revenant win Best Picture, then?
Maybe! This has been an unusual, unsettled awards season, and while Spotlight has tentatively led the field, its purposefully modest manner has always left it vulnerable to a flashier competitor. Some thought that challenger would be The Martian or The Big Short, but the stunning long takes and quien-es-mas-macho swagger of The Revenant certainly fit the bill.

It helps, too, that these Globes wins came during an incredibly successful opening weekend where The Revenant grossed $38 million, a pretty sizable sum given its extreme R-rated violence and lack of well-known source material. It will almost certainly end up being one of this year's highest-grossing Best Picture nominees — hell, it's already outgrossed Spotlight in a few days — and all these successes, plus a probable wealth of Oscar nominations coming this Thursday, give The Revenant a lot of momentum at exactly the right time.

But we'll see! By this point, a Best Picture winner has usually ticked off several obligatory boxes, but no one movie has dominated this year's precursors. The eventual Oscar winner will have to nab that prize while defying a lot of predictive statistics — even The Revenant failed to earn a Screen Actors Guild nod for its cast, something every Best Picture winner since Braveheart has managed — and it will be fun to see if more surprises are in store, especially when the PGA weighs in later this month. In the meantime, there's still some consolation for Spotlight, which was totally snubbed at last night's Globes: It's very possible for a movie to win Best Picture at the Oscars after it failed to take home that top prize from the HFPA. Just ask Alejandro González Iñárritu, since that's exactly what happened with Birdman last year.