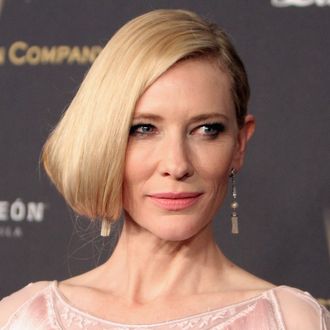 Remember her name. She's going to be big.
Photo: Randy Shropshire/2016 Getty Images
Fade in on a girl with a hunger for fame and a face and a name to remember: Unknown actress Cate Blanchett is trying to make it on Broadway. Blanchett, just a girl from Australia who's come to New York with big dreams, will make her Broadway debut in The Present, an adaptation of Chekhov's first play, which is often referred to as Platonov. The script, written by Blanchett's husband, Andrew Upton, updates the play's setting to a country house in the 1990s — two decades before the actual present, but what can you do? Blanchett and her co-star Richard Roxburgh headlined The Present's world premiere in Sydney last year, back in the past. The Present's Broadway iteration will be directed by John Crowley (Brooklyn) and it is set to open this fall, in the future. The struggling actress has previously appeared in stage productions in New York, including The Maids and Uncle Vanya, but this is her first appearance on Broadway, her big break on the great white way! Also, Cate Blanchett has won two Oscars and, given her recent nomination for Carol, may be on her way to a third.