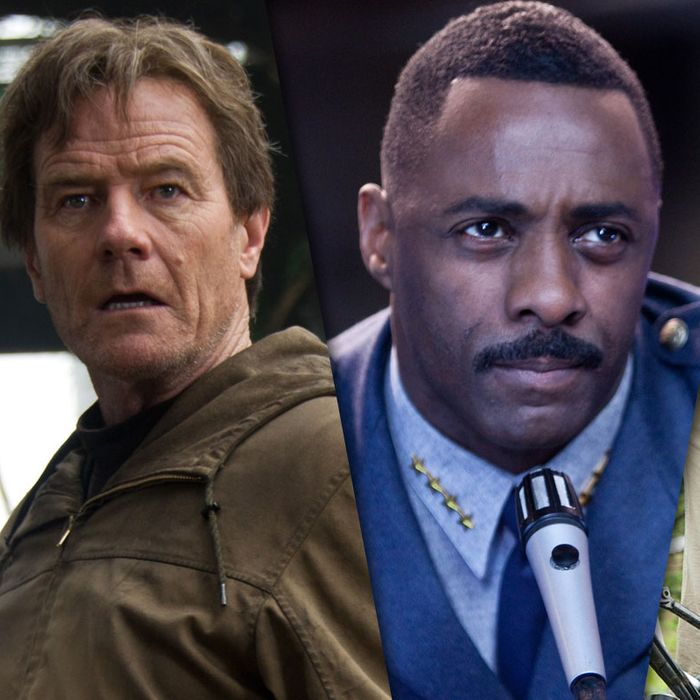 Photo: Legendary Pictures
One of the most important narratives of the last few years in movies has been the growing influence of China. American studios have looked at the money to be made — as much as $5 billion by 2017 — and thought, Hey, how do we get some of that sweet, sweet Chinese dough? And seeing as the films kneading that dough tend to be action-centric, culturally unspecific fare like Furious 7 (cars!), Avengers: Age of Ultron (superheroes!), and Jurassic World (dinosaurs!), the studios have been baking more loaves along those lines. The result? A Hollywood patisserie filled with pastries of a high-budget, homogeneous variety.
Carbs aside, China — and the international market in general — has become a priority for Hollywood. But the flow of that relationship has so far been mostly one-directional, with America figuring out the best way to cater its entertainment product toward the Chinese market. Meanwhile, the foreign titles that made their way to domestic shores were largely artistic endeavors, with the occasional Chinese-financed film making an impact at the U.S. box office. But that's begun to change, in a big way, culminating in the news today that a Chinese media corporation has bought into production company Legendary Entertainment.
It's important to remember that the highest-grossing movies in China aren't all American imports; last year, seven of the ten best performers at the Chinese box office were homegrown productions. China's film industry is healthy and prolific in its own right, and Chinese businesses are opening their pocketbooks with the aim of establishing a presence internationally. A huge step in that direction came in March 2015, when Hunan TV, the second-most-watched broadcaster in China, formed a $1.5 billion partnership with Lionsgate, the American studio behind blockbusters like the Hunger Games, Twilight, and Divergent series. Hunan agreed to finance a quarter of the production budgets for Lionsgate's slate over three years, amounting to some $375 million and one of the biggest team-ups yet between an American and a Chinese entertainment company.
The fruits of that deal have already begun to appear in the market: 2015 releases financed under the partnership included Sicario, a dark-horse Oscar contender; The Last Witch Hunter, Vin Diesel's stillborn actioner; and The Age of Adaline, a moderately successful drama starring Blake Lively and Harrison Ford. While none of these films exactly scream Chinese involvement, that aspect will come to pass in 2016, when Now You See Me 2, the sequel to the breakout 2013 magic-caper movie of the same name, will feature Taiwanese multi-hyphenate star Jay Chou. And Lionsgate isn't the only American studio with a Chinese partnership: In April, STX Entertainment cut a deal with Huayi Brothers Media to go in on at least 18 movies together by 2017, and their first joint effort, Joel Edgerton's The Gift, was one of the year's best budget-to-gross performers.
But the Dalian Wanda Group purchasing a majority stake in Legendary Entertainment, a significant American production company that has partnered with Warner Bros. and Universal to make blockbusters like Godzilla, Pacific Rim, Interstellar, and Jurassic World, is the next stage of that process. Legendary's influence extends back through The Hangover and Christopher Nolan Batman franchises, and by buying into the company, Wanda, which also owns the AMC theater chain, now has a direct pipeline of influence into Hollywood.
The script has been flipped. Chinese money can now dictate details of American blockbusters explicitly, not just on the consumer end. And the move gives reason to believe that the synergistic relationship of the Chinese and American film industries will only increase from here on out. If the Chinese market was a concern before, Wanda can make it a priority, if not the priority, going forward. It remains to be seen how Wanda will wield this influence, but it leaves the door open for movies that are made with Chinese and American viewers held equally in mind. For example: The Great Wall, Zhang Yimou's $100 million-plus blockbuster starring Matt Damon and Willem Dafoe that was co-produced by Legendary and China Film Group. Although this film predated Wanda's purchase of the Legendary stake, it could be a glimpse into the future.
What that future will look like on a macro level is a more complicated question. While Hollywood tentpoles like Avengers, Furious 7, and Jurassic World port seamlessly — and even more idiosyncratic titles like Kingsman: The Secret Service and Jupiter Ascending can do good business, so long as they're action-packed and/or sci-fi — it's hard to imagine Chinese hits like Goodbye Mr. Loser, Jian Bing Man, and Monkey King: Hero Is Back torching the American box office. They're stylistically and tonally different from the kind of movies that are given wide releases here, and subtitles wouldn't be enough to make them comprehensible, linguistically or substantively, to broad swaths of the American audience.
Instead, what's more likely than an aggressive imposition of Chinese sensibilities on the domestic market is an emphasis on the types of films that play well in both countries, and around the world: big-budget, effects-driven action and sci-fi epics that deal with themes, dialogue, and conflict easily understood by the maximum number of people. Prior to Wanda's move, and the Lionsgate and STX partnerships before it, that M.O. was just good business. Now it is the business — and the impact on American filmmaking could be enormous.