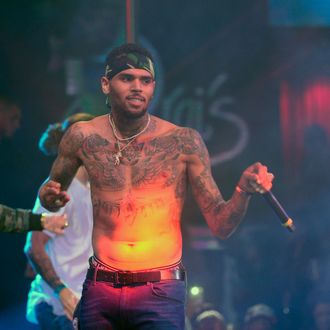 Photo: Bryan Steffy/2016 Getty Images
After being named as a suspect in an assault and battery at Las Vegas's Palms Casino Resort yesterday, Chris Brown has decided to sound off against his accuser. Liziane Gutierrez has alleged that Brown punched her and took her phone after she tried to take a picture with the singer. In a video Brown posted to Instagram and then later removed, now preserved by TMZ, the singer argued that he did not know Gutierrez and that she was "probably too ugly to get in" to his room for his party.
In a later post, still up on his Instagram, Brown was slightly more politic, writing, "Keeping my circle small in 2016! I'm done taking the care of grown ass men. And I'm going to be hella rich after all the lawsuits I file from these crazy individuals who keep lying on my name. Happy NEW YEAR! Time for some of us to grow the fuck up!" Gutierrez has responded with her own video, which she sent to TMZ.
Also taking to Instagram, which has somehow become a venue for public comment, Brown's manager Mike G wrote a long post that begins, "Shame on the networks that gave this story life and this liar her 15 minutes." Reached by Billboard for further comment, Mike G simply said, "The post pretty much says it all."
A representative for Brown took a more traditional route and said in a statement obtained by Billboard that the "[victim's] statements are unequivocally untrue and that a motive for her accusation may lay in the fact that she had been removed from the private party due to "disruptive and out of control" behavior. "Her claim that she had her phone in her possession inside the after party and was able to take a photo causing an altercation with Chris Brown is a complete fabrication," the statement continued. "This seems like a clear case of retaliation for her bruised ego."
TMZ has reported rumors that Brown may file a defamation lawsuit against Gutierrez as early as Monday.