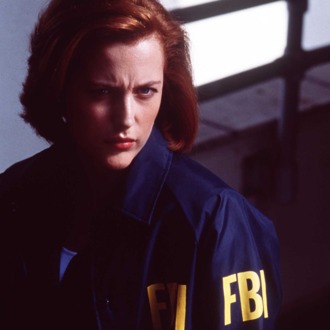 We're gonna have to wait for this one.
Before X-Files creator Chris Carter had any inclination his show would return for a six-episode miniseries (not a reboot!) next week, he wrote a third film. Carter revealed the news at the show's Television Critics Association panel on Friday, saying he "was interested in the idea of where [another movie] might go." He wrote a script — "I'd call it a study, if you will" — and showed it to his wife, thinking it might work for the miniseries when Fox later approached him with the reboot. His wife's response: "I think not for television." The miniseries will instead pull from separate, older material Carter wrote about the show, while his third movie sits in limbo.
Carter previously told Vulture in 2013, "It was nine years of good storytelling, and even though a lot of people would like to see a third movie, I don't think there's a whole lot we need to elaborate on," and said plans for a third movie were in the hands of Fox. Gillian Anderson told us last month that she and David Duchovny had always thought a third film was a no-brainer: "I think we realized that we needed to wrap up the story in some way. [But] we got to a point where that was clearly not going to be possible."
The X-Files: I Want to Believe, the last film iteration in the series, was released in 2008, and from the looks of things, it'll be a while before Scully and Mulder see the big screen again. Carter now says, "I'm waiting for Fox to come back and ask for more [episodes]. Then we'll talk about [a third movie]." Meanwhile, Fox chief Gary Newman says that any future of the X-Files depends mostly on Anderson's and Duchovny's schedules. The truth is out there — in their Google calendars.