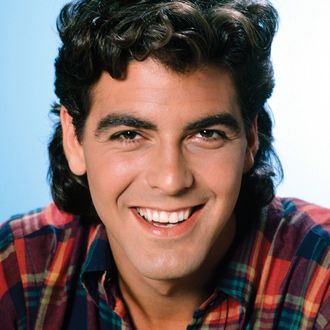 Photo: Frank Carroll/NBC/NBCU Photo Bank/Getty Images
It's rare to know what you want to do in life, and rarer still to find success at it. But for those who do, there's usually a moment when the breakthrough comes, when it seems that you can actually do whatever makes you happy. For some, this moment might come early; for others, it may land several years into a career. At New York Magazine, we rounded up a collection of artists, writers, and famous figures to sound off on their breakthrough moments. Here are a few of Vulture's favorite answers:
George Clooney got his agent and SAG card by performing in a play in Los Angeles.
It's always bad to say you did a play in Los Angeles, because people just look at you and laugh. But I did it — a play called Vicious, about Sid Vicious. It was an incredibly brutal play about the last night of Nancy's life, and it inspired the movie Sid and Nancy. I played a male prostitute drug dealer and I was the comedy relief, believe it or not."
Connie Britton made the leap from performing in plays and taking acting classes to appearing in her first film.
Not to mention the fact that I walked into the audition, had no investment in the movie whatsoever, didn't know anything about the movie, the script, Eddie Burns, and he hired me on the spot. So right from the beginning, I had this sense, "Oh, he believes in me." Already I felt like, "Oh, okay, maybe I have something to offer here."
Jerry Seinfeld got a job emceeing at the Comic Strip and quit his day job.
And then I got a job emceeing at the Comic Strip on Second Avenue and 81st, and that paid $25. Then I got two nights — that made it $50, so then I had $50 a week, and I thought, I think I can live on $50 a week. I handed in my apron — I remember the moment so clearly. It was a red apron, and I gave it to the guy across the bar, and I knew this was the greatest moment of my life.
Carrie Brownstein wrote and performed her first song, called "You Annoy Me," and remembers how her best friend brought her flowers to celebrate the achievement.
And so, just that moment when she presented me flowers after I played the song, I thought, "Okay, I can go forth with this, and I might actually succeed." I often think it's those small gestures of encouragement that operate as motivation, and those come before any critical success or fan base. It's knowing that people who love you feel a sense of certainty, or that you feel supported by them.
Ta-Nehisi Coates started writing for the Washington City Paper and worked with then-editor David Carr.
What I found out — what I discovered at City Paper — was that journalism is a done thing. In other words, there is no real "better than you." There's just the story you produced. That's what it is. Either you repeatedly asked questions or you didn't. But you made a choice. Someone else might be more curious than you, but the functionality of them being more curious than you is that they just asked more questions. That was a deep sort of lesson — that the winner is the person who keeps asking questions.
Helena Bonham Carter realized she didn't want to play leading women.
Then I played a stripper with a different accent, called Dancing Queen. I thought, "Oh, I think this is more like it." I suddenly realized that I was a character actress rather than a matinee idol. That was the turning point — "Oh, I'm comfortable when I really don't have to be me."
Yo-Yo Ma learned he could get money for pizza by playing the cello.
Then of course came a couple of $20 bills and I said, "Oh my gosh, we got paid for that? That's amazing." And same thing in college, people would ask me to do occasional things and I'd get some pizza money, right? I was like, "Wow, you can do that? Incredible." And of course, money for pizza, this is golden stuff.
Kevin Smith decided he could make his job at a convenience store into material for a movie.
So I was sitting there in a convenience store listening to that, and I was like, "Wow, that's kind of tight — all you have to do if you want to make a movie, make a film, figure out a story nobody else has told but, like Robert Rodriguez said, work with what you got." I wasn't going to set something in outer space. So I looked around and thought, What do I got? Where can I shoot a movie?
Read more recollections from the likes of Jeffrey Eugenides, Armando Iannucci, and Kelli O'Hara, plus 28 more brief reminisces here.