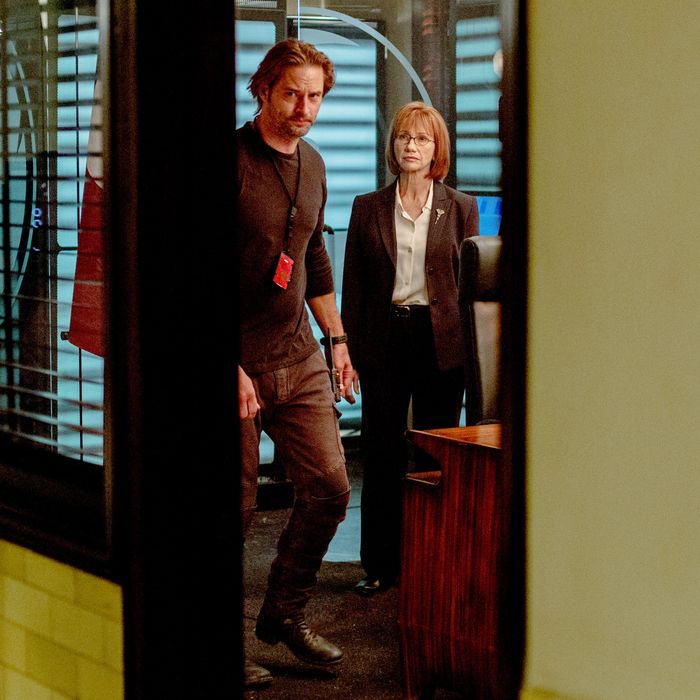 Josh Holloway as Will, Kathy Baker as Phyllis.
Photo: Jack Zeman/USA Network
Rule No. 1 of getting by in a new world order: Never assume anything. Katie takes for granted that her son Charlie is alone on the other side of that wall. But for all she knows, he's been brainwashed to believe his parents abandoned him for a futile Resistance.
Only a couple days on the job as Proxy Snyder's inside man, and Will's already wised up to the Occupation's duplicitous ways. Rather than run a counter-Resistance team, he's been relegated to a post as head driver for sanitation and introduced to his real boss, Phyllis (Kathy Baker, she of the orgasmic Edward Scissorhands haircut), who he deduces was once a CIA big shot. Phyllis, in turn, fails to make good on her promise that Will's neighbor Carlos (Jacob Vargas) would be released from lockup and put in his charge as an informant. The only thing more dangerous in occupied L.A. than making assumptions is assuming there's anyone you can trust.
Actually, Phyllis isn't all bad. She's just operating out of fear, a fear that motivated her toward compliance. She even tips Will off to the fact that he can snag a quick chat with Carlos on his bus before it heads to the Factory. During their chat, she also urges Will to reconcile his humane impulses with the reality that going against the status quo is a pointless and deadly endeavor. He's stunned and disappointed, but is still willing to play the long game if it means reuniting with Charlie.
Katie, as has already proven to be her way, isn't liable to exercise such patience. "I will not be one of those mothers who has to look her children in the eye and tell them that she did nothing," she tells Resistance middle-manager (or more?) Quayle (Paul Guilfoyle) during the kind of clandestine meeting you'd normally see on shows like Homeland or The Americans. Quayle merely echoes Broussard's cagey sentiments that they need concrete intel from her or nothing at all. Problem is, her husband — being an ex-FBI man and all — oughta sniff out how Katie's undermining his efforts to slowly infiltrate the Occupation by tipping Quayle off about his missions. Like, for example, the pursuit of Andrew Hynes (former Broadway Spider-Man Craig Henningsen), a low-level criminal hired by a rogue Resistance cell to plant the IED that nearly blew Will to pieces. Will had Haynes booked and cooked only hours earlier, but the wily bastard escaped imprisonment and made haste to rendezvous with his mysterious contractors at the original dead-drop site. Too bad Katie already spilled the goods to her new covert BFFs, and they summarily dispatched a team to execute the reckless usurpers. Better that, per Quayle's reasoning, then have them yap to Proxy Snyder about the Resistance's plans, particularly as they (allegedly) inch toward a coup d'état.
Still, the most provocative moments in "A Brave New World" arrive as we peer in on a ritzy Green Zone soirée, where Katie's sister Madeline (The Mentalist's Amanda "No Relation to Dave" Righetti) is serving appetizers to the one percent. She bumps into George (Brian White) — to Colony's credit, its portrait of status-keepers is colorless — an old flame who invites her up to his palatial Laurel Canyon digs for a little sexual reminiscence. How could a girl still slumming it in Echo Park resist? But when she suggests they go for part deux sometime soon, George balks, invoking Phyllis as he advises Madeline not to "rock the boat."
Though Maddy might not gain entry into high society, she does get to eavesdrop on the newest class of robber barons: employees of the Occupation's water-distribution department. George is third in command, and implores Maddy to wait for his rise rather than throw away their potential on a silly thing like love. À la her sister, she rejects the notion of passive deference to tyrants who may or may not reward her early obedience. (Smart lady.) Although, as any of us would, she happily grabs his care package of booze and baked goods on her way out.
When Colony summons scenarios of how, say, California's current drought might play out if we don't enact an appropriate eco-conscious response, it feels current and brash. And those aerial shots of the monolith wall separating the now-haves from the used-to-haves and the never-hads can't help but stir up agita over what our nation might look like with Donald Trump at its helm, manning the machines.
It most definitely doesn't bode well for Carlos. Along with several other poor souls deemed agitators, he enters the Factory, is forced to strip nude, and then enters a modified gas chamber (demerit for gratuitous SS-esque imagery) that ostensibly zombifies them. They emerge in surgical attire, walking in a neat file toward some awful designation that's yet to be seen. After all, the only ones who observe everything in Colony appear to be these hypnotic drones, who randomly descend to beguile and terrify witnesses. Maybe that's their coping mechanism. Maybe picturing whatever otherworldly Host keeps watch through its proxy robot incites unspeakable dread, and all they can do is watch transfixed, not unlike Heather's preoccupation with her camera equipment in The Blair Witch. Maybe what scares them the most is that behind this war on civilization, this effort to experiment with a twisted Darwinism, is something much closer to Donald Trump than anything from another planet.
It's enough to make you wonder why Katie would be in such a hurry to get closer, or how Will could resist. Or what Geronimo knows that fuels his/her quest to unmask and unseat the threat. Or when the Yonk will finally open, so we can all do a shot and passively relent.
Apart From All That:
A much tighter episode than the premiere, with just a few unfortunate broad strokes. You agree?
Say it with me: Yonk-na-pa-taw-pe.
Katie's kids have good taste in headphones. Sennheisers are the business.
His name was Charlie, and on June 12, 2014, he hit the darndest walk-off homerun Echo Park ever did see.
Carol! Actually, Jennifer in Colony. But Kathleen Rose Perkins will always be Carol from Episodes to me.
Yeah Will, what about Carlos's family? Dick.
Speaking of Carlos, Jacob Vargas really doesn't get his due. And not just because he was Snake in Airborne.
Can we hear it for Carl Weathers?