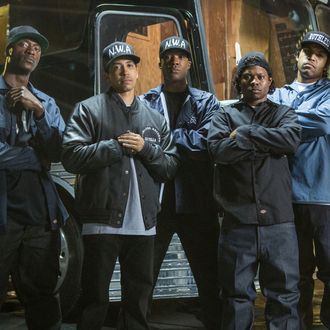 Cool.
Photo: Universal Pictures
A crew of four will be representing Straight Outta Compton at the Oscars ceremony: its four white screenwriters, Andrea Berloff, Jonathan Herman, S. Leigh Savidge, and Alan Wenkus who are nominated for Best Original Screenplay.* TMZ reports that Ice Cube, one of the producers of the film, wouldn't even have gone if he had been invited. (He's cool about it, see.) This isn't necessarily a diss, though, since the film missed out on a Best Picture nomination. But, as Jezebel points out, the Academy can choose to invite whomever they want, regardless of whether the individuals are nominated for Oscars. And in the wake of the current controversy of the Academy's demographic makeup, it would make sense to invite the cast members of one of the most popular films last year that also had widespread support from the guilds. Or, you know, you can just ride that #OscarsSoWhite theme really hard.
* We initially stated that only two of the screenwriters would be attending the awards. All four plan to attend.