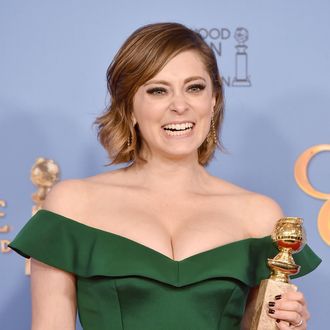 Photo: Kevin Winter/Getty Images
Following her Golden Globe win and breathless speech for Best Performance by an Actress in a Television Series (Musical or Comedy), Crazy Ex-Girlfriend star and writer Rachel Bloom stanned hard for the importance of racial diversity, pointing to her Filipino co-star Vincent Rodriguez III, who plays Rachel's dream lover/good platonic friend Josh Chan. As Bloom explained to reporters in the press room following the Globes, having a diverse cast allows a show to organically explore a wider range of stories — like Filipino Thanksgiving! — an idea that seems like it wouldn't be a super-hard concept for everyone who makes TV to grasp, but hey:
I have learned so much about Filipino culture. What's insane is we are not fresh off the boat about specifically being Filipino. One of our characters happened to be Filipino, so when we realized that no one had made the effort to show a Filipino family on an American comedy, it is talking a lot about Filipino culture, mabuhay, but it has also taught me really about how important diversity is if you want to tell a new story. Anything else I do from now … I would want to make it about people who are diverse, gay, trans, because those are stories that have not been told before, and America is a melting pot of immigrants, and I don't think it is acknowledged half as much as it is on television.

In episode 18, we are so proud Lea Solanga will be guest-starring, and when Vincent, who plays Josh Chan, [saw her,] he literally fainted to the ground. We are so excited to be seen as a show that supports all different sorts of people and supports diversity because that's what America is, and we are just showing what America really is.
And if that level of passion doesn't win over Josh Chan, then girl, you have to move on already.