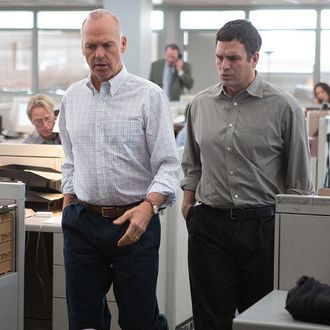 Can Keaton and Ruffalo wear these outfits to the Oscars?
Photo: Courtesy of TIFF
The National Society of Film Critics often looks outside the typical awards conversation to pick winners — choosing Godard's Goodbye to Language last year, for instance — but the critics went more conventional this year, giving top honors to Tom McCarthy's journalism thriller, and possible Oscar front-runner, Spotlight. Elsewhere, Kristen Stewart nabbed Best Supporting Actress for her role in The Clouds of Sils Maria, a performance that has already earned her a César (a French analogue to an Oscar) and Michael B. Jordan received Best Actor for his athletic turn in Creed. And despite Spotlight's Best Picture win, McCarthy narrowly lost out on Best Director, tying with Carol's Todd Haynes in the point count. But unlike McCarthy, Haynes appeared on a majority of the ballots, and according to the NSFCA's rules, won the award. Read the full list of winners and vote tallies below.
BEST PICTURE
Spotlight — 23
Carol — 17
Mad Max: Fury Road — 13
BEST DIRECTOR
Todd Haynes, Carol — 21
Tom McCarthy, Spotlight — 21
George Miller, Mad Max: Fury Road — 20
BEST ACTOR
Michael B. Jordan, Creed — 29
Géza Röhrig, Son of Saul — 18 
Tom Courtenay, 45 Years — 15
BEST ACTRESS
Charlotte Rampling, 45 Years — 57
Saoirse Ronan, Brooklyn  — 30
Nina Hoss, Phoenix — 22
BEST SUPPORTING ACTOR
Mark Rylance, Bridge of Spies — 56
Michael Shannon*, 99 Homes — 16
Sylvester Stallone, Creed — 14
BEST SUPPORTING ACTRESS
Kristen Stewart, Clouds of Sils Maria — 53
Alicia Vikander, Ex Machina — 23
Kate Winslet, Steve Jobs — 17
Elizabeth Banks, Love & Mercy — 17
BEST SCREENPLAY
Josh Singer and Tom McCarthy, Spotlight — 21
Charlie Kaufman, Anomalisa — 15
Charles Randolph and Adam McKay, The Big Short — 15
BEST NON-FICTION FILM
Amy — 23
In Jackson Heights — 18
Seymour: An Introduction — 15
BEST CINEMATOGRAPHY
Ed Lachman, Carol — 25
Mark Lee Ping Bin, The Assassin — 22
John Seale, Mad Max: Fury Road — 12
FOREIGN LANGUAGE FILM
Timbuktu — 22
Phoenix — 20
The Assassin — 16
This article originally had an incorrect first name for Michael Shannon. We regret the error.