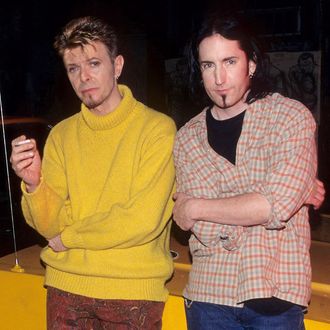 Bowie and Reznor.
Photo: Kevin Mazur/Getty Images
Nine Inch Nails' Trent Reznor grew up idolizing David Bowie, and then was given the chance to tour alongside him in the late '90s, as well as star in Bowie's "I'm Afraid of Americans" video. In Rolling Stone's new David Bowie tribute issue, Reznor reflects on the experience of working with the iconic musician, calling it "validating and surreal." Around that same time, Reznor began abusing drugs and alcohol to deal with his newfound fame. In the issue, Reznor recalls Bowie telling him, "You know, there is a better way here, and it doesn't have to end in despair or in death, in the bottom." Once Reznor got sober, he had another encounter with Bowie. He writes:
A few years later, Bowie came through L.A. I'd been sober for a fair amount of time. I wanted to thank him in the way that he helped me. And I reluctantly went backstage, feeling weird and ashamed, like, "Hey, I'm the guy that puked on the rug." And again, I was met with warmth, and grace, and love. And I started to say, "Hey listen, I've been clean for …" I don't even think I finished the sentence; I got a big hug. And he said, "I knew. I knew you'd do that. I knew you'd come out of that." I have goosebumps right now just thinking about it. It was another very important moment in my life.