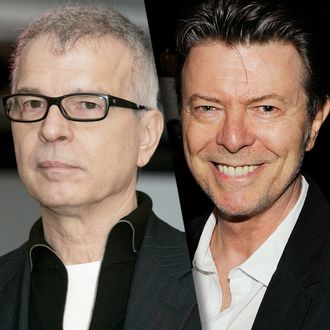 Visconti, Bowie.
Photo: Getty Images
In an interview with Rolling Stone, producer Tony Visconti revealed Wednesday that the late David Bowie had potential post-Blackstar material. Hopes for a follow-up were announced in a final FaceTime call that took place about one week before the rock idol's death. "I was thrilled," Visconti told the magazine, "and I thought, and he thought, that he'd have a few months, at least." In his final weeks, the master of reinvention reportedly wrote and demo-ed five songs. (No other details have yet been disclosed about them.) This update comes a couple days after Visconti's Facebook tribute, in which the longtime collaborator labeled Blackstar "a parting gift"; it was a concept Visconti had mentioned to the artist earlier, but Bowie only laughed in response, because "he was just all business about making [Blackstar]."
Here's more, in Visconti's words:
Obviously, if he [was] excited about [a Blackstar follow-up], he must've thought he had a few more months [to live]. So the end must've been very rapid. I'm not privy to it. I don't know exactly, but he must've taken ill very quickly after that [FaceTime] call … [Bowie had been] optimistic because he was doing the chemo and it was working … and at one point in the middle of last year, he was in remission. I was thrilled. And he was a bit apprehensive. He said, "Well, don't celebrate too quickly. For now I'm in remission, and we'll see how it goes."
Read the rest of Visconti's latest, which also discusses Bowie's cancer timeline, here. Peruse other must-read tributes here.