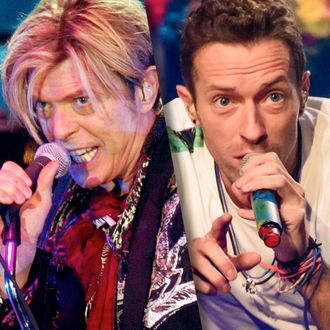 Ashes to ash, and funk to funky.
Photo: Corbis, Getty Images
In the week since David Bowie's death, many artists and entertainers have come forward to share their memories of the late rock icon. But none have been as darkly humorous as the story from Coldplay's Jonny Buckland and Will Champion, who told NME that Bowie once turned down a chance to collaborate with the band, with a brutally honest assessment. The story goes like this: Coldplay once wrote a song with a "Bowie-type character," and Chris Martin sent the former Thin White Duke a letter asking him if he wanted to lend his voice to the track. Bowie's cutting response: "It's not a very good song, is it?" As Champion marveled, "He was very discerning — he wouldn't just put his name to anything. I'll give him credit for that." And you thought that Extras scene was fiction.