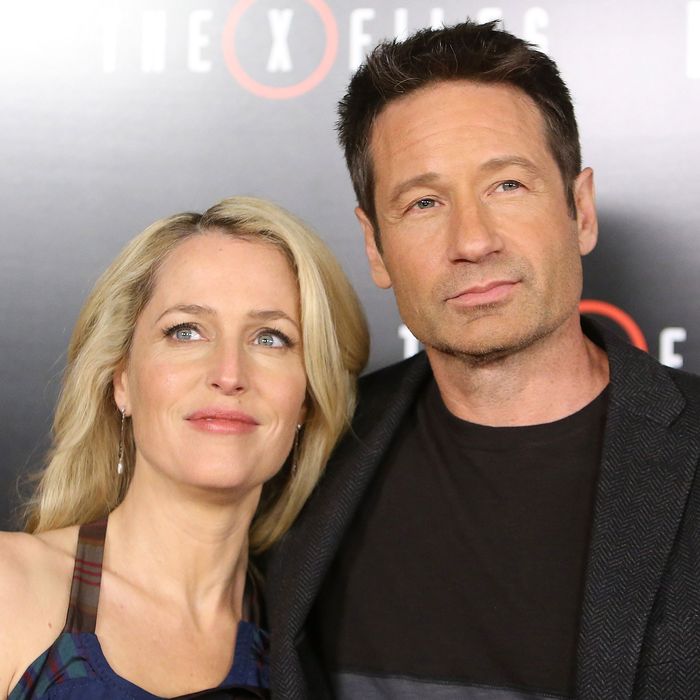 They're quite the prolific pair.
Photo: Michael Tran/Getty Images
After nine years on the The X-Files, David Duchovny and Gillian Anderson (who won a 1997 Emmy for her role as Agent Dana Scully) had not only found their way into our conspiracy-loving hearts, they could also pretty much write their own tickets, career-wise. So what have the ex–alien hunters been up to in the 13 years since the original series ended in 2002? Ahead of Sunday and Monday's two-night premiere of the six-episode reboot, here's a timeline of every non-paranormal thing they've done.
2003
Duchovny had already done a bit part as weatherman Johnny Volcano on Bonnie Hunt's 2002 show Life With Bonnie, so he wasn't above becoming a notch on Carrie Bradshaw's bedpost on Sex and the City. He played a high-school ex with a bit of a "commitment" problem.
He also took on the title role in the video game XIII, as a Jason Bourne–esque amnesiac whose only clues to his identity are an "XIII" tattoo and a safe-deposit-box key.
Anderson, having originally planned on a stage career, moved back to London, where she'd lived as a kid, to work in theater. (She made her London stage debut in What the Night Is For in '02).
2004
Duchovny likely thought that after My Big Fat Greek Wedding, Nia Vardalos's Connie and Carla couldn't miss. The film, a reworking of Billy Wilder's classic Some Like It Hot, follows two women (Vardalos and Toni Collette) who witness a mob hit and hide out as drag queens; Duchovny enters the picture as Vardalos's love interest.
Anderson took to the board as yet another Dana — this time, a painter who winds up in a mental ward thinking she's Darryl Strawberry, in the Royal Court production of The Sweetest Swing in Baseball.
Anderson and Duchovny
The former FBI agents reunited for The X Files: Resist or Serve video game.
2005
Duchovny wrote and directed the critically panned House of D, a coming-of-age story, starring Anton Yelchin, Robin Williams, Duchovny's now-ex-wife Téa Leoni, and singer Erykah Badu. Well acquainted with government conspiracies and aliens, he also lent his voice to Hazmat operator Ethan Cole for the video game Area 51. And in Trust the Man, a romantic comedy written and directed by his friend Bart Freundlich, Duchovny played an ex–ad executive whose marriage to an actress (Julianne Moore, Freundlich's wife) is crumbling.
Anderson joined an all-star cast in the BBC adaptation of Charles Dickens's Bleak House, playing a "bored to death" Lady Deadlock alongside a baby-faced Carrey Mulligan, and Charles Dance:
She had a small role as Widow Wadman in Michael Winterbottom's Steve Coogan comedy Tristram Shandy: A Cock and Bull Story. And in The Mighty Celt, she played an Irish mom whose 14-year-old has a fondness for greyhounds, and whose old lover (Robert Carlyle) resurfaces.
2006
Duchovny played a TV writer trying to get a pilot about his brother's suicide on the air despite network-executive interference in Jake Kasdan's comedy The TV Set. He also gave us insight into what Tiny Jesus sounds like in the animated Queer Duck: The Movie, by Simpsons writer Mike Reiss.
Anderson played Sarah Merrit, the wife of a Ugandan clinic doctor, in The Last King of Scotland, about dictator Idi Amin's (a role for which Forest Whitaker won an Oscar) 1970s regime.
2007
Duchovny began life as everyone's favorite drug-addled, writers-blocked New York novelist, Hank Moody, in Showtime's Californication, which ran through 2014.
He was also in two death-themed films this year: In The Things We Lost in the Fire (opposite Halle Berry), he played a dead husband seen only in flashbacks; in the supernatural thriller The Secret, he's a dad unknowingly parenting his wife (Lili Taylor), whose spirit now resides in his daughter's (Olivia Thirlby) body after she's killed.
Anderson starred in the English film Closure, playing a gang-rape survivor with a chance for revenge. Not averse to alien invasions, she also joined an all-star cast (Keira Knightley, Ozzy Osbourne, Russell Brand, Michael Palin) to voice the evil Queen Vorkana, Queen of the Nargathrons, in the BBC's third installment of the animated Robbie the Reindeer in Close Encounters of the Herd Kind.
2008
Duchovny stayed busy as Hank Moody, getting his drink on and trying to win back his longtime love and baby-mama Karen (Natascha McElhone) on Californication, for which he won a Golden Globe.
Anderson played power publicist Eleanor Johnson in How to Lose Friends & Alienate People, the fictionalized account of English journalist Toby Young's memoir of his time at Vanity Fair. Simon Pegg and Kirsten Dunst starred alongside Anderson, whose new client was played by a fresh-faced Megan Fox.
Duchovny and Anderson reunited for the poorly received second X-Files movie (the first was in 1998), The X Files: I Want to Believe.
2009
Duchovny starred opposite Demi Moore in The Joneses, posing as a married suburban couple who are really stealth marketers selling stuff. Anderson took to the boards again, this time as Nora in an adaptation of Ibsen's A Doll's House in London's West End, and was nominated for a Laurence Olivier Award. She was also in the U.K. film Boogie Woogie, playing the rich wife of an art collector who has thing for a young artist (Jack Huston).
2010
Duchovny continued on Californication, while Anderson embodied the Duchess of Windsor, a.k.a. Wallis Simpson, in the TV series Any Human Heart, based on William Boyd's book.
2011
This was a TV-heavy year for Anderson. She played Miss Havisham in the BBC's Great Expectations, an 1870s brothel-owner in BBC Two's The Crimson Petal and the White, and the newly imagined wife of Captain Ahab (William Hurt) in Encore's Moby Dick.
She also appeared as the boss of a silly spy (Rowan Atkinson) in the James Bond parody Johnny English Reborn.
2012
Duchovny filmed the indie Goats in 2010, playing Javier, an Arizona weed enthusiast, botanist, and pool guy who's a father figure to a rich hippie's (Vera Farmiga's) son.
Anderson played a serious spy who has her own plans for an asset handled by another operative (Clive Owen) in the thriller Shadow Dancer. She was also a Swiss ski-resort tourist in Sister, starring Léa Seydoux, and voiced an animal-loving witch in the animated short "Room on the Broom."
2013
Duchovny played a Cold War KGB agent on a submarine captained by Ed Harris who has no idea that the agent's plans for the boat include starting a world war in Phantom. In Louder Than Words, Duchovny and Hope Davis are the parents of a girl whose rabies diagnosis comes too late to save her.
This was a big year for Anderson. She played a daughter and a wife in Last Love and I'll Follow You Down, respectively, but she more notably began her starring role as DSI Stella Gibson, chasing Belfast serial killer Jamie Dornan, in the acclaimed crime drama The Fall. Also memorable was her eerie take on Dr. Bedelia Du Maurier, Hannibal Lecter's psychiatrist, on the recently cancelled Hannibal.
2014
Duchovny entered the final season of Californication while Anderson did two movies: Robot Overlords, a British sci-fi flick about alien robots occupying Earth, with Ben Kingsley; and Sold, a sex-trafficking story in which she played a character based on photographer Lisa Kristine.
She also continued working in television, becoming the Baroness for the first episode of the Emmy-nominated stop-motion TV show Robot Chicken, and the mother of a kidnap victim in the short-lived NBC series Crisis.
Onstage, she breathed new life into Blanche DuBois in a London production of Tennessee Williams's A Streetcar Named Desire, earning a second Olivier nomination. (She plans to reprise the role Stateside this April at St. Ann's Warehouse.) She also directed and starred in the short The Departed, a prequel to Streetcar that follows Blanche DuBois days before arriving at her sister Stella's house.
Anderson also became an author, publishing the sci-fi thriller A Vision of Fire, co-authored with Jeff Rovin, which Kirkus Reviews described as coming with a "strong X-Files tang." The second book in the series, A Dream of Ice, was published in December 2015.
2015
Duchovny starred in Aquarius (Vulture's review here), an NBC mini-series about a 1960s L.A. detective paired with a young, hip partner to investigate a possible cult leader who turns out to be Charles Manson.
Anderson began production on the latest adaptation of Tolstoy's War and Peace, in the role of Anna Pavlovna Scherer. The mini-series, which stars Paul Dano and Lily James, is currently airing on A&E.