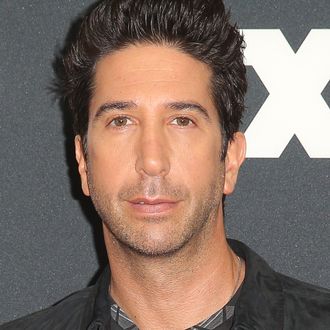 Pivot! To a new understanding of what a reunion is.
Photo: Imeh Akpanudosen/Getty Images
You know that Friends reunion people have been gabbing about, where all the stars of the show's cast (minus Matthew Perry, who is stuck in London) will gather to honor director James Burrows? Well, just as Ross might explain the proper way to use "whom," David Schwimmer is here to explain that it isn't a reunion. "I mean, in no way is it a Friends reunion when one member is out of the country," Schwimmer said at FX's Television Critics Association panel yesterday. "But look, it's a great event. We all love James Burrows and I'm sure Matthew Perry would be there if he could, but he's working in London. Maybe one day there will be [a reunion], but this will not be it." And, as if this is becoming some sort of running gag that Ross would be stuck repeating, Schwimmer reiterated the sentiment on Access Hollywood, saying "It won't be a reunion, but it'll be fun."
Now, David, can you explain exactly what it means to be on a break?