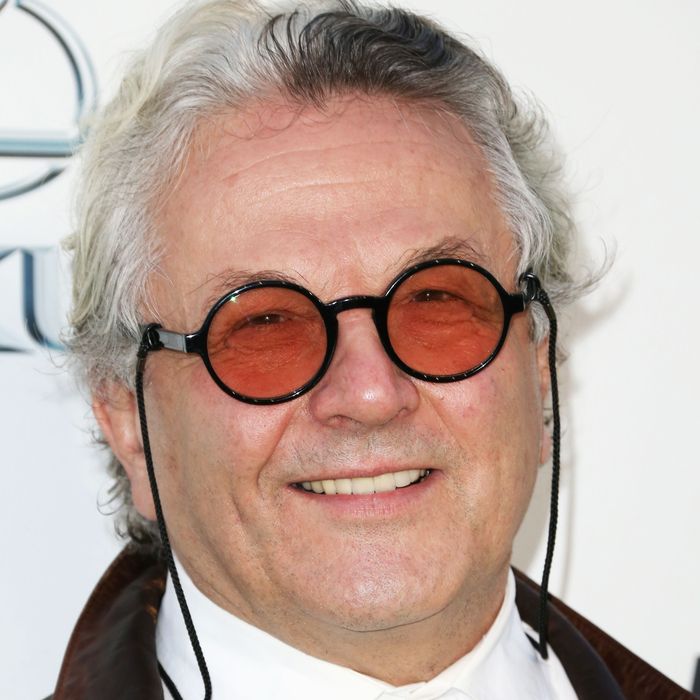 George Miller.
Photo: Frederick M. Brown/Getty Images
The final major movie guild weighed in today with its nominations, and for once in this wild and wacky awards season, the nods confirm the conventional wisdom instead of throwing us a curveball. Here's who the Directors Guild of America recognized this morning:
Alejandro González Iñárritu for The Revenant
Tom McCarthy for Spotlight
Adam McKay for The Big Short
George Miller for Mad Max: Fury Road
Ridley Scott for The Martian
What do those nods mean for Oscar? On average, they match up pretty well with the eventual Best Director nominees, though typically one man from this group will fall out and be replaced by an Academy pick. It's hard to tell who this year's most on-the-bubble participant is, though, given that each of these movies has shown a lot of awards-season muscle so far. I've seen some pundits guess that the comparatively quiet McCarthy could be snubbed, but keep in mind that Spotlight and The Big Short are the only movies this season that have taken top nominations from every major guild. That demonstrates broad industry support, Globe loss be damned.

It's also worth noting that ever since the Academy expanded its Best Picture field past five nominees, every film nominated for a DGA award has then made it into the Best Picture race, save one: David Fincher's The Girl With the Dragon Tattoo. That stat simultaneously bodes well for Mad Max: Fury Road — if it could score a DGA nod, it's almost certainly going to make the Best Picture lineup — while also providing a worrying precedent for a snub. Like Dragon Tattoo, it's much wilder than most Oscar bait, and could still prove too unusual for the Academy to embrace.

Who were the DGA's notable omissions? Several blockbuster directors didn't make the lineup, including Steven Spielberg (Bridge of Spies), F. Gary Gray (Straight Outta Compton), J.J. Abrams (Star Wars: The Force Awakens), and Ryan Coogler (Creed, which has been an unfortunate underperformer with the guilds this season). The directors of three female-fronted films were blanked, too: Room's Lenny Abrahamson, Brooklyn's John Crowley, and Carol's Todd Haynes. Film Twitter was aghast at the last snub, but industry folks I've talked to simply find the immaculate Carol too cold.

But let's end on an up note! The DGA also introduced a category for Best First-Time Director, and it's got some great names. The nominees were Fernando Coimbra (A Wolf at the Door), Joel Edgerton (The Gift), Alex Garland (Ex Machina), Marielle Heller (The Diary of a Teenage Girl), and László Nemes (Son of Saul). That's a strong, promising group, and I'm hoping this will be the first of many DGA nods to come for them.