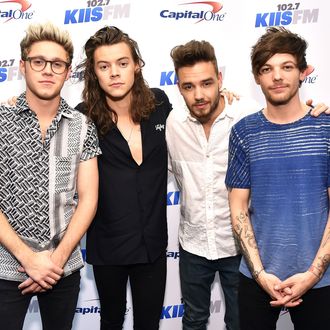 Just more proof the truth can go in many directions.
Photo: Mike Windle/Getty Images
Have One Direction parted bangs for good? Back in August, the hairsome foursome's announcement that they would go on "hiatus" was generally treated with a wink by most serious observers, despite the boys' insistence that they really would just go on a break. Now Wednesday brings news from an unnamed Us Weekly source that the band really is breaking up permanently. (Or at least until Niall's sitcom flops and Louis's kid decides it wants to go to NYU.) So, that's that, right? On to solo albums and Hello! covers and never looking back to the days that came before. Not so fast, says USA Today, which quotes a different source reporting that the guys have not gone their separate directions. Which means that One Direction currently exists as Schrödinger's dreamiest cat — both together and not together, all at once. If we had to guess, though, we'd take the latter: When it comes to Brits, it seems perfectly clear that they are on a break.