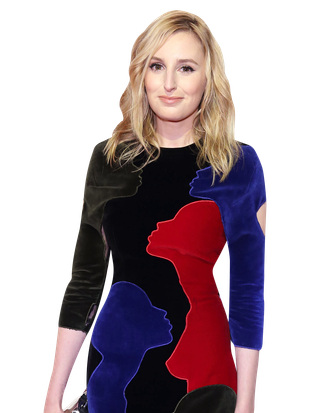 Lady Edith Crawley (Laura Carmichael), though born into a highly respected aristocratic family, has had anything but an easy life — so tumultuous, in fact, that "Poor Edith" became a common phrase during Downton Abbey's six-season run. Between being constantly overshadowed by her more assertive sisters, three crushed romances, and bearing an illegitimate daughter, she has rarely achieved contentment or stability like the rest of the Crawleys. But Edith finally hit her stride this season, much to the delight of everyone around her (sans Mary, of course). She's an adept editor for her magazine, The Sketch; has a chipper new beau, Bertie, who clearly loves her; and is eschewing the stuffy constraints of Downton in favor of a modern and metropolitan life in London. Her future, it appears, is looking quite bright. Vulture spoke with Carmichael about Edith's evolution, how she's a lot like Peggy Olson, and the special game the cast plays to keep themselves occupied in-between takes.
I don't think we've ever seen Edith this happy!
Yeah, it's true! It's a really lovely time for Edith — coming into her own with her newspaper and finding a new match that's very much interested in her and her brain. It's exciting and modern. It's great.
Of course, Edith's years-long unluckiness was such a recurring story line on Downton. Do you think this unluckiness was spurred by any one thing in particular?
Well, following Mary is always going to be difficult in that middle-child way. [Laughs.] Mary was provisioned to marry Patrick and then inherit the estate. That's what they all grew up thinking. In that opening episode, we see all of that crumble when Patrick dies on the Titanic. And Edith truly, really loved Patrick and wanted to marry him if it wasn't for Mary. She's deeply in Mary's shadow and together they have sparred throughout their lives. They're similar and quite stubborn. And Mary's very unkind to Edith, but I don't think she can help it.
But also, undeniably, Edith's not the jewel in the crown. She's not as beautiful as Mary or Sybil, really. She was unlucky in that that sense, and it continues into her later years. All of that has changed over the seasons, I think. She has softened in her character and found new ways to find happiness. Her bad luck and the many ways she has been unlucky have smoothed out the kinks in her character and made her harder. I think she's a tremendous person.
We've certainly seen Edith develop into a more self-assured, savvy women as of late. When did you first notice this switch from "Poor Edith" into someone who's clearly assertive and fully taking charge of her life?
It's gradual, but the time spent away from the estate gives her these moments to reinvent herself. It happens a bit in season two during the war, but maybe not so much because Sybil gets a lot more active. But certainly on the farm Edith was well-liked and then with the convalescent home. Through the newspaper we're seeing her London life, and it's something that I completely love in the story line because I can relate to it and see it actually happen in life. When you go away, maybe to college or drama school for me, you get the chance to reinvent yourself as a person and be whoever you want to be in a new place. That happens with Edith. She's good at writing and looks forward to going to the city. It's wonderful for a person to flourish like that, and therefore it brings on confidence. When she comes home to Mary and the rest of the family she's able to hold her own a bit more.
With Edith's new career, I couldn't help but draw a few parallels between her and Mad Men's Peggy Olson —
Yeah, I think that's true. I've often drawn comparisons to the two. Coming in quietly as a dark horse in the office and becoming a copywriter, or in this case, an editor. It's definitely true, and I love it. And fighting for the position of a man's role as a woman. Edith jumps over quite a few hurdles like Peggy, for many reasons.
Her appointment of a woman editor also shows how progressive she is relative to others in 1920s England.
I love that. It's a really lovely touch that she's expanding her workforce knowing that it's much better with a woman than a man. There are many examples of women, even before this time, that were working, and I can't imagine what they came up against. We have examples from today of how bad these environments can be towards women and it's interesting to see what these characters came up against.
And Edith has a new romance. What makes her and Bertie so compatible?
Edith is a bit of quiet one, and so is Bertie. He doesn't draw attention to himself and is modest. He's smart and he's kind and he's interesting. As Edith discovered more about herself, I think those are the fundamentals for her rather than money or a title or status. She was attracted to Michael Gregson in that way — she needs someone who feels like an equal. Bertie's also slightly in awe of Edith. A terribly modern woman who runs a magazine, for crying out loud! I think he's a bit besotted from the get-go. That's a new thing for Edith. When we see them meet in London for the first time, we sort of think, Oh, maybe she's trying to get out of the situation, maybe she'll have a drink. But he comes with her and absolutely matches her in the office and genuinely wants to help. He doesn't want anything, he's just there to support her. And it sets it up to be a really interesting relationship.
To switch gears a little bit, why do you think Edith hasn't exploded at Mary yet? It would definitely be cathartic for her.
I think it's been the norm for their whole lives, really. It's getting to the point where Edith's a grown woman with her own life, and London is looking quite appealing … and Mary-free. Particularly, Mary is taking over the reigns of the estate at Downton, which is making it harder and harder for Edith to stomach. Their relationship passes through a particular era and time in the English aristocracy — it would be very strange to have an open and honest conversation about their feelings. It's simply not a thing, so it's bubbling away under the surface. And that's true with a lot of families today — things go unsaid and [people] constantly wind each other up in the same way. But Edith and Mary's problems are there as much as ever and are definitely getting worse. I don't know how they would even begin to have that conversation or how the other would react if they did.
Will Edith and Mary reconcile in some way by the season's end?
Well, one of my favorite parts of the show is playing scenes with Michelle [Dockery]. It's very interesting what happens with their relationship as the show goes on. I will not say more [laughs].
What would you like your legacy on the show to be?
I'm very proud to be a part of this cast. The fantastic thing about this show is how much of a true ensemble it is. We've been so happy, we've been very much a family. To be part of that is very special. For Edith, Julian [Fellowes] has created someone that people can truly relate to. It's such a fascinating time and a fascinating era, especially for women. I think Edith is really showing that transition well, and I'm very proud to have been part of that.
What's something that people may be surprised to learn about the filming of Downton?
We get very tired of the dining-room scenes, it's very tedious. Because with the nature of those scenes, you have to do about 25 different angles. Who's talking to whom, what point they're talking at, things like that. So we play a lot of games in the dining room. One of them is called Wink Murder. I don't know if it's an international game, but it involves someone winking. The murderer has to wink at people subtly, and if you get winked at from the murderer, then you're dead.
Oh, yeah! That's a classic camp game in America.
We do that in-between takes or if you're very naughty during a take. Then when somebody says "cut" everyone falls down dead. [Laughs.] So yeah, if you catch anyone half-winking in a shot, I hope you don't, we're keeping ourselves occupied. Hugh [Bonneville] is really, really good at doing it subtly. He has a cavalier way of doing it.