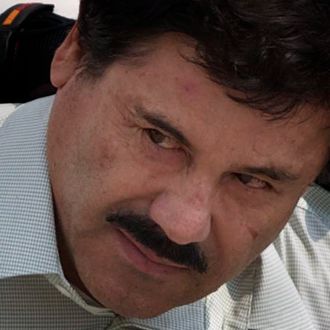 Movie Lover.
Photo: Eduardo Verdugo/AP/Corbis
Joaquin "El Chapo" Guzman may be a drug kingpin, but he's also an appreciator of the arts, particularly movies. Guzman likes movies so much he wanted to make one — a biographical movie about himself, natch. In a Friday news conference following Guzman's re-arrest, Mexico's attorney general Arely Gomez told reporters that pre-production meetings between Guzman's attorneys and producers became "a new line of investigation" in ascertaining the whereabouts of El Chapo, and eventually led to his recapture. Six months ago, El Chapo escaped from a maximum-security prison through an elaborate 1,600-yard tunnel, equipped with lights and oxygen tanks, from his cell to the outside world (shades of The Great Escape). The use of million-dollar elaborate tunnels with lights and oxygen tanks, not usually offered to inmates of maximum-security prisons, raised questions of government involvement and conspiracy.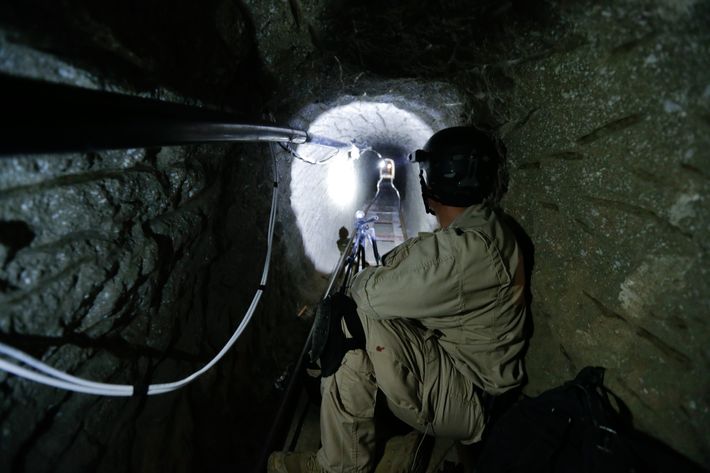 El Chapo's escape was the basis for Don Winslow's novel The Cartel, which is being adapted into a movie by Ridley Scott. Also, a low-budget Mexican film called El Chapo, El Escape del Siglo ("Chapo: The Escape of the Century") hits Mexican theaters next week. Gomez added, "Another important aspect that allowed [us] to locate him was having discovered the intention of Guzman to shoot a biographical film, for which he established contact with actresses and producers." A video of Guzman pacing around his cell before casually disappearing appeared on the internet last summer — it was, to Quentin Tarantino's disappointment, shot digitally.