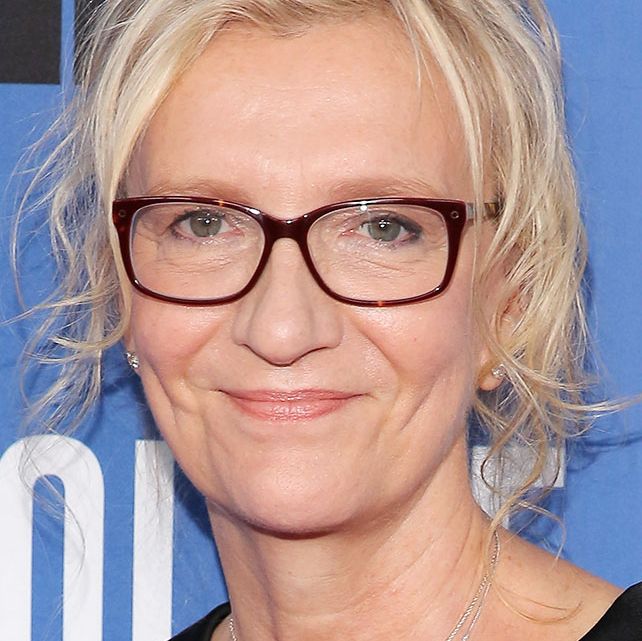 It's impossible not to feel some sympathy for the narrator of Elizabeth Strout's new novel My Name Is Lucy Barton. She is confined, for most of the book's action, to a hospital bed. Complications have arisen from an appendectomy. Lucy might need further surgery. Over nine weeks, she loses so much weight that her shoes no longer fit. She worries about dying. But we know the episode won't prove fatal because the novel is narrated from the present, and Lucy's hospitalization occurred in the 1980s.
And hospital bed aside, Lucy is a very nice person. She's full of love — a word she's not shy about using — for many of the people in her life she admires. These include her doctor, who visits her every day and then knocks most of these visits off her bill; one of her high-school teachers, who always commanded the class's respect; and Jeremy, a Frenchman who lives in her West Village apartment building and turned his back on a life among the aristocracy of his homeland to move to New York City. Indeed, they all seem like nice guys, too. And of course Lucy loves her husband, William, even though she will one day leave him and their two daughters, even though they'll never visit her and stay the night once they grow up.
Then there's the matter of Lucy's mother, whose visit to her daughter's bedside is the occasion for the story she's telling, such as it is. Lucy grew up in the small town of Amgash, Illinois, or, rather, just outside of town, in a zone of endless cornstalks and fields of soybeans broken by a single tree ("For many years I thought that tree was my friend; it was my friend"). Strout is something of a specialist in hardscrabble American settings — she won the Pulitzer Prize in 2009 for Olive Kitteridge, which was adapted into a mini-series by HBO with Frances McDormand as a not-so-nice junior-high-school math teacher on the coast of Maine. So here Strout has shifted her view toward the Midwest, where Lucy grew up with a brother and a sister. The family was poor. Her father had sporadic work repairing farm machinery, and her mother took in sewing. Postwar prosperity eluded them entirely. (Indeed, Lucy's childhood sounds like something out of the Great Depression.) Family meals were mostly bread and molasses. There was no television. Until the age of 11, the family lived in an uncle's garage, and there was no heat. There was also no saying "I love you." Perhaps by now, a few dozen pages in, our sympathy for Lucy has turned to pity.
Little Lucy compensated by staying late at school, because it was warm there, and making good grades. Without applying, she won a scholarship to a college outside Chicago. She had her first affair with an artist who taught there, but dumped him after he made a disparaging remark about the bread and molasses, then married William, then working as a lab assistant, who would bring her to New York City, where Lucy aims to become a writer. Before they depart, they pay Lucy's family a last visit. It doesn't go well. William has German ancestry — his father first came to America as a prisoner of war — and Lucy's father, a veteran of the Second World War, doesn't care much for Germans. By the time she's hospitalized, Lucy hasn't seen her parents in years.
The mother — unlike Lucy, who is also called "Wizzle" by her mother and "Button" by her husband, the mother is never named — has never before flown on an airplane and may never have seen a movie. She's not a very cheerful presence. Her favorite pastime is detailing the wrecks of her neighbors' and friends' marriages. She hardly mentions her own husband. Lucy's sister is married, not too happily, with five children in not very prosperous circumstances, and Lucy's brother still lives at home. He's an adult who reads children's books — Laura Ingalls Wilder over and over again — and he's taken to spending the night next to farm animals on the eve of their slaughter. What could have made him that way?
That's a question unanswered until about two-thirds of the way through the novel, when it arrives basically from out of the blue. Until then, it can be hard to tell just what My Name Is Lucy Barton is about. Will there be some reckoning about Lucy's childhood? Will visiting New York somehow enlighten her backward mother? Will she read the stories Lucy's started to publish in little magazines? Do Lucy's frequent mentions of the nascent AIDS crisis indicate that the narrative will take a turn toward something more than a superficial engagement with it? Will the novel's vision of New York City — a view of the Chrysler Building from the hospital window, visits to the Met, Bloomingdale's, and the old Yankee Stadium — move beyond the touristic? Will anyone besides Lucy's mother — who explains that she found her way from the airport to the hospital and later found Lucy in the hospital's basement, where she was getting a CT scan, because "I have a tongue in my head, and I used it" — say anything interesting?
A writer of some renown passes in and out of Lucy's story of arriving in New York, and she eventually enrolls in a workshop the writer is teaching. Her name is Sarah Payne, and given what we learn about her — that she's a writer criticized for a "softness of compassion" — it's hard not to take her surname as a pun. Her presence in the novel allows Lucy to make some didactic comments about fiction itself — for instance, don't confuse authors with the characters they've created. When Lucy shows Sarah some pages she's written that fictionalize her own childhood and her hospitalization (essentially the novel we're reading), Sarah gives her advice:
Now listen. People will go after you for combining poverty and abuse. Such a stupid word, "abuse," such a conventional and stupid word, but people will say there's poverty without abuse, and you will never say anything. Never defend your work. This is a story about love, you know that. This is the story of a man who's been tortured every day of his life for things he did in the war. This is the story of a wife who stayed with him, because most wives did in that generation, and she comes to her daughter's hospital room and talks compulsively about everyone's marriage going bad, she doesn't even know it, doesn't even know that's what she's doing. This is a story about a mother who loves her daughter. Imperfectly. Because we all love imperfectly.
The passage neatly sums up the novel and does some advance work at defusing criticism. But the funny thing is that at this point in the novel, Lucy hasn't actually mentioned any abuse, on the part of her father or anyone else. The revelation comes 12 pages later: when Lucy was 10, her brother — then a high-school freshman, give or take a year — was caught by her father trying on his mother's clothes. By way of "teaching him a lesson," the father had made the boy put on high heels, a bra, and pearls, and march down the street through the center of town while driving alongside him in the family truck, screaming that his son was a "fucking faggot and the world should know." It's an awful story, delivered in a page and a half, and it's the key to the novel.
Putting down My Name Is Lucy Barton, I couldn't help thinking I'd just read a young-adult novel written for middle-aged readers, a book designed around a very simple and entirely innocuous moral. Lucy and her siblings grew up in terrible poverty with bigoted parents, but by pluck and luck, Lucy became an enlightened liberal New Yorker and a writer, and somehow came to understand that her parents, though abusive, weren't entirely evil but were in fact locked in a cycle of traumas, and if her father was sometimes a dreadful homophobe, ultimately, the Nazis are to blame. The Nazi thread is one Strout weaves into Lucy's adult life: When she leaves William, she doesn't accept alimony because his wealth was inherited from a grandfather who was a German war profiteer. "I could not stop thinking about the word: Nazi. And for myself, I didn't care about having the money." She has recurring dreams about being killed in the Holocaust. Strout has been praised for her restraint and called "a writer bracingly unafraid of silences." But although she does a lot of withholding — to the point of tedium — My Name Is Lucy Barton is an entirely unsubtle book. At one point, Lucy tells us that she lacks a sense of irony. As in all other things, she's completely right.