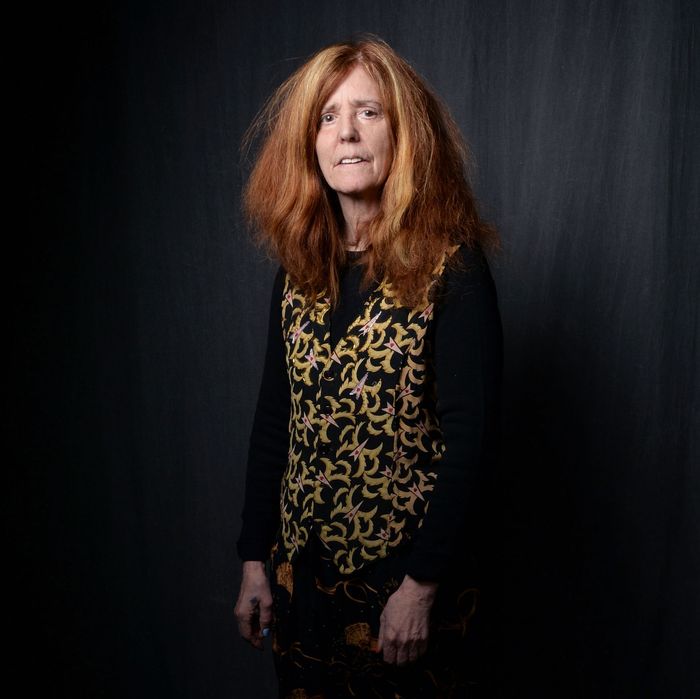 Elizabeth Swados.
Photo: Andrew H. Walker/Getty Images
"'Here in these hands I hold the planet, bigger than the stars and stranger than the moon … when my mama is out looking for a boy/girl to beat, I play basketball …'  words I still know by heart from the play Runaways, created by one of my heroes, Elizabeth Swados. These words and this play spoke to me, inspired me, but most of all made me feel not so very alone."
Elizabeth Swados died on Tuesday, at 64, the result of complications after surgery for esophageal cancer, and these words from Anastasia Traina, posted on her Facebook page, are among the hundreds of tributes that continue to pour in on social media this week.
Swados was only 27 at the time Runaways, which she wrote, directed, and choreographed, moved from the Off Broadway realm of the Public Theater to Broadway in 1978, earning five Tony nominations and winning her an Obie for Best Direction. She was the youngest playwright to ever have a play on Broadway, which was ironic because it was a world that Liz, a self-proclaimed radical and leftist, inherently distrusted. But she had begun making her reputation in the theater world — part of which rested on her fierce insistence of no bullshit and total honesty — long before that, learning from and working with such figures as Peter Brook (you can see her at one of his workshops in the video below) and Andrei Serban and Joseph Papp, coming of age at La MaMa Experimental Theatre Club, and being known as a "badass" long before that term came into vogue.
I first met her in 1985, through the literary agent Charlotte Sheedy. I was separated from my first wife at the time, and Charlotte thought we just might enjoy each other's company. I only knew three things about Liz, all of which I knew from the New York Times: that she was the first undergraduate in America to officially cohabitate with a male student — in student housing at Bennington (of course) in 1969; that she had written and directed Runaways; and that she had recently published a novel, Leah and Lazar, which I had not read. We met around Labor Day in Greenwich Village, not far from her loft on Mercer Street (Liz only traveled above 14th Street if she had to — and she had to, because she constantly had to schmooze and cajole and wheedle in an effort to raise money for the things she wanted to do). She was tiny but forceful — actually, a tour de force is more like it — and all I recall of her outfit that day was that it was striking, colorful and quirkily mismatched. Her charm was unmistakable, nearly unsettling — but so was her don't-fuck-with-me demeanor. My first book, At Mother's Request, had come out a few months earlier, and Liz had already read half of it when we met. Read it, actually, is not the right thing to say. She had studied it. Little did I know, there were elements in that story that resonated with Liz from her own troubled family life in Buffalo.
We found that we shared deep-rooted concerns about social justice and a love of Bob Dylan and Joan Baez and Judy Collins (the people Liz originally aspired to be like, though she felt her voice was simply never going to be what it needed to be), and we began spending a lot of time together — time that was shared with her parrot, her assistant, her endless phone calls, mostly for business (which I honestly didn't mind, being a lover of long and languorous phone conversations myself), and various students who would come by the loft to talk, to audition, to find a gig,  to be consoled. Liz was like Mother Earth that way, modeling herself, I came to realize, on Ellen Stewart, the Mama of La MaMa, where Liz had professionally grown up, as had such other artists as Sam Shepard and Lanford Wilson, Philip Glass and David Sedaris. There was a lot of coming and going, a lot of rat-a-tat-tat, but we managed to carve out time for ourselves. She played her piano and her guitar, and she sang a lot of folk songs and songs from the civil-rights movement.
Liz knew how to do it.
She knew how to transform seemingly ordinary evenings into something else altogether; she made them into campfires, and she made you feel at home. She knew how to make a picnic in Putnam County, where I had a weekend home, into a Public Theater production, one in which various actors she worked with, including Meryl Streep, or even puppets, might suddenly (or so you believed) pop out of the woods and perform at any moment. She knew how to make the Noho Star seem both the most glamorous and most homey restaurant in the world. She knew how to relate to her aforementioned parrot in ways you would never expect.
Anything else? one might ask, knowing there are only 24 hours in any given day. Yes. She knew how to do a mesmerizing shing-a-ling. And she knew how to make one's birthday — in this case, my 34th — into an evening of endless surprise. She was, after all, a composer and a director, one of the most talented the theater world has ever known. And a gifted writer (her 1991 memoir, The Four of Us, about her family life in Buffalo, is clear-eyed and harrowing; she takes no prisoners) and teacher. I vividly recall watching her do just that, teach, sitting in a classroom at Tisch in an inconspicuous corner as she offered up her own brand of tough, often torturous love.
If you had something you were determined to offer to this world from your own crazy, often indecipherable stew-pot of creativity, Liz had the intangible ability, borne in part out of impossible Buffalo winters, and which can not be taught, to zero in on precisely what it was — to find the very best of you — and enable it to become incandescent, to shine, and to last. But you had to be serious, to know what you were in for. No poseurs allowed. These are the people who have been writing tributes, who have been saying, like Dawn Cantwell, that she was "the woman who encouraged me to embrace everything that is nonlinear in myself: to regard it and express it as a strength and not a weakness. Liz Swados and her stubborn, wild, ephemeral spirit touched so many of us. My brother and I had the unique and unforgettable opportunity to collaborate with her together as a unit, which will remain a formative experience for the rest of our lives; as she imbued so wholly to us, the necessity of an artistic community that embraced unbridled, limitless creativity."
Of all the things Liz knew how to do, perhaps this is what she knew how to do best.
Shifting back now, to 1985 and the birthday I mentioned. I had both a dilemma and a not-altogether-unfamiliar sense of what I was facing.  The dilemma was that I had a long-planned trip to England and Italy, which I knew I needed to tell Liz about but was reluctant to bring up. I wanted her to come with me, but I also knew she had commitments in Los Angeles, to a play of hers, The Beautiful Lady, that was running at the Mark Taper Forum until mid-October. The other thing was that Liz was manic-depressive (her mother suffered from depression — as did mine — and had committed suicide a decade earlier; her older brother, Lincoln, was schizophrenic and lived nearby in an abandoned storefront, and they had little to do with each other) and she didn't always take her medication. It flattened her out, and she didn't like that, felt it affected her creativity, curbed her edge. She also realized, much to her astonishment, that despite some profanity-laced tirades (or "episodes," as they are more commonly called), I was planning to stick around and stick by her.
All these years later, I remember the splendid, early evening autumnal light on September 26, 1985 as I made my way down the canyon of Park Avenue in a cab. Liz had said she was in charge of everything that night, and I had no qualms with that. I like surprises, I wanted to be delighted, and she liked calling the shots. Liz looked radiant when she opened the door, even had a slight bit of glitter on her cheek, greeting me as the Birthday Boy, which, for that day, I was. We walked west along Bleecker Street, to an Italian restaurant off Bleecker whose name, sadly, escapes me. (If Liz were still alive, she would remember it instantly.) The owners knew her and had been waiting for us. It was small and it was intimate, and Liz wanted to order for me, so I let her. She knew how much I loved Buffalo mozzarella with sun-dried tomatoes, and knew exactly what else I liked with it. That came out first. I don't remember the courses that followed, but I know we finished with tartufo.
But we weren't finished. That was merely the close of Act One. Liz had something else in store. We walked back along Bleecker, and suddenly we were in front of the Village Gate, a place Liz herself had performed at many times.
"We are going to see Nina," she said. "She might be difficult at times during the performance. She will wonder aloud if she is going to get paid. But you will never forget it." And I never did, seeing and hearing Nina Simone that night, with Liz right next to me.
As we left to walk the few short blocks back to her loft, I quietly told her about my trip, knowing it might spoil the evening, but what choice did I have. I wasn't about bullshit either. She took it in and was silent. Finally, she said, with an intensity I was becoming accustomed to, "You can't just leave town when you are in the middle of a love affair. What the fuck am I supposed to do, wrap myself around that lamppost? I'm coming with you."
And so she did, living her life in the declarative, in the here and now, to the very end, which, as it happens, came far, far too soon.
Jonathan Coleman is the author of five books of narrative nonfiction, three of which have been New York Times best sellers.    
Runaways will return as part of City Center's Encores! Off-Center 2016 season.
You can watch a video of her February 14th memorial concert here.