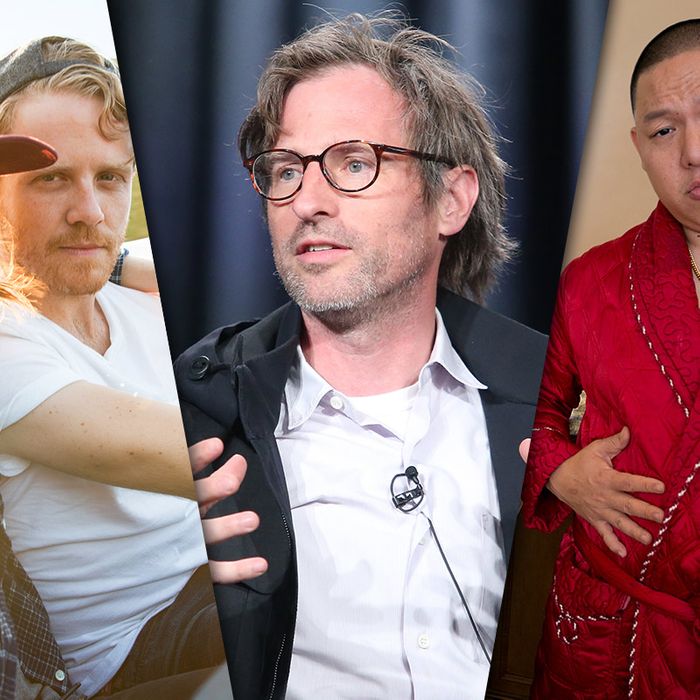 Stills from Gaycation and Huang's Word, with Spike Jonze (middle).
Too much TV, you say? Well, there's a whole new TV channel launching, the result of a joint venture between digital content studio Vice Media and A+E Networks and introduced at the Television Critics Association press tour in Los Angeles on Wednesday. Viceland will launch on February 29 and feature shows created by artists such as Ellen Page and Eddie Huang, who will move his three-year-old online food/travel series, Huang's World, to TV.
Oscar-winning writer and director Spike Jonze, a longtime Vice partner and creative director for the company, has been overseeing the development of the unscripted channel for the past year and said he will continue to focus his energy on Viceland. "This is a different type of movie for me — making a whole channel and working with artists I'm excited about," Jonze said. Viceland will launch in 70 million homes in the former home of A+E Networks channel H2, with each show running between four and eight episodes.
In Gaycation, Page and her best friend, Ian Daniel, travel the world to explore LGBT communities — "the joys and triumphs, the difficulties and the sadness, and hoping to explore what it means to be LGBT all over the world," she said. In the first episode, Page and Daniel go to Japan; in another, Page confronts Republican presidential candidate Ted Cruz (as captured by reporters back in August) at the Iowa State Fair about gay and transgender rights. Their exchange went viral, but Page says there's more to it: "It was wonderful that he spoke to me. You can watch the episode when it comes out and come to your own conclusion about that situation."
Other Viceland shows will include rapper Action Bronson's food show, F*ck That's Delicious; Vice correspondent Krishna Andavolu's marijuana series, Weediquette; model Hailey Gates's Fashion Week guide, temporarily titled Fashion Week International; music docuseries Noisey; Sal Masekela's global sports show, Vice World of Sports; Clare O'Kane's comedy show Flophouse; and Vice correspondent Thomas Morton's "immersive journalism" series, Balls Deep.