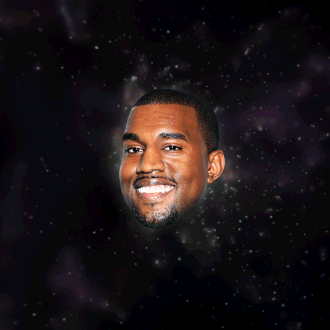 Photo-Illustration: Kelly Chiello and Images by Getty Images
It's early June 2013, and Kanye West is anxious. He's in Switzerland, of all places — not where most expectant fathers are when their nine-months-pregnant fiancées are home in Los Angeles, at least one layover away. But, it's Art Basel, and Kanye has been sufficiently moved to stage an impromptu listening session for his seventh solo album, the then-unreleased Yeezus. So he sends out a few emails and makes it happen.
Before he hits play on the songs (he does so from his custom matte-black MacBook Pro, no MPC), he ambles through a disjointed, staccato monologue: Steve Jobs, the ugliness of the YouTube player, ad agencies, being a "very commercial celebrity boyfriend." But mostly, he wants to talk about the act of appropriating.
"I wanted to make something of impact," he says of his earliest experiences in making music. "I found that when I would drop samples [as opposed to original compositions], my friends would react to it more. I felt that I had a real talent in chopping and appropriating music." He's self-deprecating when he compares himself to Andy Warhol ("I'm a black guy, so I'm gonna name the most obvious artist in the world"), but he means it. Finally he lets the songs — which take the industrial sides of Chicago drill and acid house and molds them into a midlife crisis — do the talking. Two and a half years later, North West has a younger brother, her parents are married, and Yeezus remains perhaps the most divisive album of the decade.
Kanye's career has always been about appropriation, and the moment when appropriation bleeds into synthesis. His best work takes something recognizable and bends it into his orbit. That can be a near-direct lift (Jay Z's "Izzo" sees West add drums to a pitched-around version of the Jackson 5's "I Want You Back") or more oblique–as in "Runaway," where he takes the Backyard Heavies drum loop that Pete Rock famously sampled on "The Basement" and wrapped in salmon-colored silk and antipathy. But there's always value in tracing the source material.
As a producer, he's seen as a visionary. His 2004 debut, The College Dropout, typified the soul-sampling style that made him famous; 2005's Late Registration incorporated broad, baroque orchestrations; Graduation was the siren call for electronic hip-hop; 2008's 808s & Heartbreak moved entire genres into minor keys and made Drake's career possible; 2010's My Beautiful Dark Twisted Fantasy urged rappers to reach for bizarre maximalist heights; 2013's Yeezus stripped the act back down. His albums have marked sea changes in the genre time and time again, but West makes little effort to obscure his influences.
Where Kanye's appropriation behind the boards is a long and complicated story, his work on the microphone is a little easier to trace. His writing is distinct and often autobiographical, but one of its most enduring (and endearing) hallmarks is his obsession with pop culture. Since he established a national profile as a solo artist, he's been eager to shoehorn the contents of your grocery store impulse-buy tabloids into his music. Until now, those scattered references and shout-outs have never been collected in one place. So with his seventh solo album, Swish, due February 11, we combed through each of West's solo albums and one-off singles (plus his half of 2011's Watch the Throne) to pinpoint every single reference he makes to pop-culture figures and properties, and catalogued them all here. If this is your first time hearing this …
Jump to:

Movies & Celebrity
Will Ferrell

"See Me Now," single: "First of all, we all know the beats is / Like a mix between Fergie and Jesus"
For his major return to rap music and the United States after absconding to Europe following 808s & Heartbreak and the Taylor Swift fiasco, Kanye announced his presence with a repurposed joke from Step Brothers, where Ferrell and John C. Reilly make the most of arrested development.

"Niggas in Paris," Watch the Throne: Blades of Glory intro and interlude
When the pair were recording in France — before they moved to a beach estate in Australia — Kanye tweeted excitedly about the simple prospect of making an album with Jay Z. We imagine he pictures himself as the Jon Heder to Jay's Will Ferrell; we also imagine that, in Kanye's mind, that's the highest compliment he can give two people.

Austin Powers

"Heartless," 808s & Heartbreak: "How could you be so Dr. Evil?"
I know what you're thinking: Kanye sure likes Will Ferrell movies — it's odd he doesn't seem as enthusiastic about Mike Myers's collected works. It's coming. Believe me, it's coming.

"Power," My Beautiful Dark Twisted Fantasy: "Colin Powells, Austin Powers"
Kanye famously (and questionably) claimed that more than 5,000 man-hours were spent on "Power." They got a secretary of State's name wrong and reference a Mike Myers movie.

Forrest Gump

"Hey Mama," Late Registration: "Forrest Gump's mama said, 'Life is like a box of chocolates' / My mama told me, 'Go to school, get your doctorate'"
Kanye can talk all he wants about Forrest Gump, but we all know he's partial to Big.

"All Day," single: "Stupid niggas getting money, Forrest Gump right now / Shout out to Jackie Chan I need to stunt right now"
Ah, the classic two-for-one: recalling Tom Hanks as a shrimp entrepreneur and the image of Jackie Chan buying Maseratis. (This author once accidentally elbowed Chan in the stomach as he was turning around. Chan was a good sport about it, but certainly could have killed him.)

A Further Assortment of Cheesy Comedies

"Intro," "Graduation Day (skit)," The College Dropout: The first voice you hear on Kanye West's debut album — and the first verse on his sophomore effort — is that of comedian DeRay Davis, who does a passable Bernie Mac impression.

"Jesus Walks," The College Dropout: "They be askin' us questions, harass and arrest us / Saying, 'We eat pieces of shit like you for breakfast' / 'Huh? Y'all eat pieces of shit?'"
A long-running playground joke and possibly a reference to Happy Gilmore, betraying a limitless love of middlebrow comedies that would come to a head with Kanye's loyalty to lesser Will Ferrell flicks (see above).

"School Spirit," The College Dropout: "See, that's how dude became the young Pootie Tang / 'Tippy tow'"
Pootie Tang is a 2001 movie written and directed by Louis C.K., based off of a sketch from The Chris Rock Show. It's available in full on YouTube for only $3, because the world is good and merciful.

"Wake Up Mr. West," Late Registration: The fake Bernie Mac is back.

"Gone," Late Registration: "Treat me like the Prince and this my sweet brother Numpsay"
The Golden Child, the 1986 Eddie Murphy vehicle that takes place mostly in a fantasy realm, has been frustratingly overlooked in his catalogue. Murphy's character saying "Brother Numpsay" is one of the flick's most iconic lines.

"Good Morning," Graduation: "Good morning and look at the valedictorian / Scared of the future while I hop in the Delorean"
Though Kanye's enthusiasm for the Back to the Future franchise is admirable, the pronunciation of "morning and" to rhyme with "Delorean" is curious at best.

"Good Life," Graduation: "Have you ever popped Champagne on a plane, while getting some brain / Whipped it out, she said, 'I never seen snakes on a plane'"
That Snakes on a Plane was made by a Hollywood studio continues to be one of the strongest arguments that we're living in some sort of Matrix scenario where this is a computer program and we're all being controlled by machines.

"Monster," My Beautiful Dark Twisted Fantasy: "Know that motherfucker well / 'What you gon' do now?' / 'Whatever I wanna do, gosh, it's cool now!'"
In a dramatic break from Austin Powers, West moves on to Napoleon Dynamite.

"Gotta Have It," Watch the Throne: "Imma need a day off, I think I'll call Ferris up"
Kanye probably forged a few sick notes in high school, but it's doubtful he was on Ferris Bueller's level of do-not-give-a-fuckery.

"New Slaves," Yeezus: "I'm 'bout to wild the fuck out, I'm going Bobby Boucher"
Bobby Boucher is Adam Sandler's character from The Waterboy, meaning that Kanye's taste in film is nothing if not consistent.

More Movies

"Jesus Walks," The College Dropout: "They said you could rap about anything except for Jesus / That means guns, sex, lies, videotape / But if I talk about God, my record won't get played?"
Sex, Lies, and Videotape is the 1989 Steven Soderbergh film about a man who tapes women talking about their sex lives. It's often cited as being important to the independent film movement of the '90s, but was the subject of much moralizing hand-wringing when it came out. Nevertheless, it ended up being commercially successful, which speaks to Ye's thesis.

"Through the Wire," The College Dropout: "Look how death missed his ass / Unbreakable — What, you thought they call me Mr. Glass?"
Unbreakable is the second major M. Night Shyamalan movie. Samuel L. Jackson plays Mr. Glass, a man with a rare disorder that makes his bones exceptionally fragile. Kanye West has never tried to kill Bruce Willis.

"Touch the Sky," Late Registration: "Any girl I cheated on, sheets I skeeted on / Couldn't keep it at home, thought I needed a Nia Long"
Long plays the femme fatale in The Best Man, a movie about how Taye Diggs should keep some things to himself.

"Gold Digger," Late Registration: "You would see him on TV, any given Sunday / Win the Super Bowl and drive off in a Hyundai"
Any Given Sunday is that Oliver Stone football movie where "Gold Digger" guest-star Jamie Foxx gives hope to the city of Miami, a truly insurmountable feat.

"Good Morning," Graduation: "You got D's, motherfucker — D's! Rosie Perez"
Though the line is a reference to the Spike Lee classic Do the Right Thing (in which she appeared), Rosie Perez took offense to the name-drop, calling the attention it drew to her breasts disrespectful.

"Champion," Graduation: "We was sort of like Will Smith and his son / In the movie — I ain't talking 'bout the rich one"
It's beautiful to imagine: Kanye, his co-producers and co-writers, maybe head of A&R, some hangers-on, a Thai-food delivery guy. No one in the room can think of The Pursuit of Happyness. The rough mix gets turned in: Everyone at Def Jam knows what he's talking about (it's on the tip of their tongues!) but can't quite remember what it's called. Four days after the album drops, someone finally Googles it.

"Everything I Am," Graduation: "You see how I played a big role in Chicago like Queen Latifah"
In hindsight, if you ignore the fact that the album made him a global superstar, nothing Kanye did on Graduation goes quite as hard as "Cell Block Tango," or even "We Both Reached for the Gun."

"Big Brother," Graduation: "And we know, New Jack City, got to keep my brother / But to be No. 1, I'ma beat my brother"
The 1991 movie New Jack City not only offers a window into cutthroat family relations, but presumably gives Kanye guidance for his sunglasses-wearing strategy.

"Robocop," 808s & Heartbreak: "When did you become a RoboCop?"
I've searched high and low, and the bleakest thing on Wikipedia is the "Plot "section of the Wikipedia entry for the original RoboCop movie. It starts, "In a dystopian near-future Detroit, which is near bankruptcy …"

"That's My Bitch," Watch the Throne: "Twisted love story, True Romance"
We can't even say definitively if Kanye is referring to the Quentin Tarantino–penned, Tony Scott–directed film, but if he is, he'd be right to call the central love story "twisted." Rewatch this when you have a chance, if only for the Christopher Walken–Dennis Hopper scene.

"Black Skinhead," Yeezus: "I keep it 300, like the Romans / 300 bitches, where the Trojans"
Fans have bent over backward in attempts to explain away this line, which incorrectly ties Spartans to Rome. It's probably just a Chief Keef reference, not the movie 300.

"I'm in It," Yeezus: "Time to take it too far now / Michael Douglas out the car now"
This alludes to Falling Down, the 1993 movie where Michael Douglas goes on an increasingly surreal criminal rampage after one bad commute too many. The CunninLynguists, an underground rap group from Kentucky who were a blog favorite in the 2000s, adapted the film to a song of the same name on their album SouthernUnderground.

"I'm In It," Yeezus: "My mind move like a Tron bike"
I don't have much to say here, but it's funny to imagine Kanye imagining the inner workings of his brain as a light-up motorcycle.

"Guilt Trip," Yeezus: "Star Wars fur, yeah I'm rocking Chewbacca"
Do you think Kanye felt personally victimized by new security measures at L.A. theatres that ban costumes from movie premieres?

"Bound 2," Yeezus: "'Walk around always mad' reputation / Start a fight club, Brad reputation"
A little-known fact: Mr. Hudson is actually just a part of Kanye's subconscious.

Tom Cruise As Wealthy Playboy

"Through the Wire," The College Dropout: "Looked like Tom Cruise on Vanilla Sky, it was televised"
Vanilla Sky is a 2001 movie where Tom Cruise plays a wealthy playboy whose face gets destroyed in a car accident and where Penélope Cruz morphs into Cameron Diaz. That's Tom Cruise.

"Clique," Cruel Summer: "That's Tom Cruise"
That's Tom Cruise.

Hollywood Miscellany Unrelated to Tom Cruise

"The Glory," Graduation: "Yeah, at the Grammys, I went ultra Travolta / Yeah, that tuxedo might have been a little guido"
Lest you think he's learned humility, the following line is a hell of a qualifier.

"All Day," single: "You a fake Denzel like the Allstate nigga"
Many have noted the similarities between Dennis Haysbert, the longtime Allstate insurance spokesman, and the Oscar-winning Denzel Washington. Which, if we're being honest with ourselves, is not the worst person to be compared to.

"Facts," single: "Do anybody feel bad for Bill Cosby? / Did he forget the names, just like Steve Harvey?"
After accusations levied by more than 50 women, Bill Cosby was finally arrested on sexual-assault charges the week "Facts" was released. Earlier in the month, Steve Harvey announced the wrong winner at the Miss Universe pageant, which he was hosting.

"Facts," single: "I stuck to my Roots, I'm like Jimmy Fallon"
The Roots are the absurdly beloved house band for The Tonight Show Starring Jimmy Fallon.

Famous Russells

"Illest Motherfucker Alive," Watch the Throne: Simmons, Brand, Crowe, et al.

Ageless Talk-Show Wonder Regis Philbin

"Jesus Walks," The College Dropout: "I'm just trying to say, the way school need teachers—the way Kathie Lee needed Regis / That's the way I need Jesus"
If you're going to talk about your need for religious salvation, the best way to do it is to compare it to Regis Philbin's undeniable onscreen magnetism.

"Through the Wire," The College Dropout: "I've been trying to be signed / Trying to be a millionaire —  How I use two lifelines?"
Are you there, Regis? It's me, God.

Television Judges

"On Sight," Yeezus: "Don't judge 'em, Joe Brown"
The MC Shan to Judge Judy's KRS-One.

TV Shows With Famous Black Cast Members

"Spaceship," The College Dropout: "Lock yourself in a room doing five beats a day for three summers / That's A Different World like Cree Summer's / I deserve to do these numbers!"
Cree Summer played Freddie Brooks on the Cosby Show spinoff A Different World. Kanye is referring to the countless hours he spent honing his drums in sweltering Chicago basements, the result of which left him predicting world-beating sales for his debut. The College Dropout has now sold over 4 million copies and stands as his best-selling solo release; it debuted at No. 2 on the album chart behind Norah Jones, whom Ye name-checks a few tracks later (see "School Spirit").

"Can't Tell Me Nothing," Graduation: "I'm just saying how I feel, man / I ain't one of the Cosbys, I ain't go to Hillman"
The Cosby Show was the first nationally successful prime-time sitcom to depict a black family of significant means. Kanye is the first Beanie Sigel–approved producer to hire Young Jeezy solely to ad-lib his song.

"Flashing Lights," Graduation: "Feeling like Katrina with no FEMA / Like Martin with no Gina"
Comparing the botched response of the Bush administration to one of the worst natural disasters in American history to Martin is a risky move, but if anyone can balance the ledger, it's Kanye "George Bush Doesn't Care About Black People" West.

"The Glory," Graduation: "I'm pop, the Barkers / I'm hood, the Parkers"
To editorialize for a second: I thoroughly enjoy Yeezus. I think it's an album that tries to cut through dark clouds like lust and rage and reconcile them with domesticity. But wouldn't the world be a better place if Kanye were still rattling off the names of short-lived reality shows indiscriminately? It's unfortunate that The Parkers was the only Moesha spinoff available for Kanye to work into a rhyme.

"The Glory," Graduation: "House on the hill, two doors from Tracee Ross / And I'm asking 'bout her girlfriends"
Tracee Ellis Ross on Girlfriends is the one person in this world, fictional or otherwise, who would have the least patience for Kanye West.

"Dark Fantasy," My Beautiful Dark Twisted Fantasy: "Too many Urkels on your team, that's why your wins low"
Steve Urkel has probably transcended his show as much as any other character in the American canon, and certainly more than any other character in the spends-lavishly-on-suspenders canon.

"No Church in the Wild," Watch the Throne: "Thinking 'bout the girl in all leopard / Who was rubbing the wood like Kiki Shepard"
"Rubbing the wood" is a good-luck tradition on Showtime at the Apollo, of which Shepard is the longtime host.

"Otis," Watch the Throne: "I adopted these niggas, Phillip Drummond them"
Phillip Drummond was the dad on Diff'rent Strokes. Is adoption a more humiliating form of rap ownership than biological fatherhood? Stay tuned.

"Who Gon Stop Me," Watch the Throne: "Y'all Steve Urkel, I'm Oprah's circle"
No matter what happens in the election this November, we know that Oprah's contact list is the true seat of power in America.

"HAM," Watch the Throne: "Historically, I'm kickin' bitches out like Pam, nigga"
Some enterprising soul needs to put together the definitive supercut of Martin kicking Pam out of his apartment on Martin. [Ed. note: Of course it exists!]

"Illest Motherfucker Alive," Watch the Throne: "I got my fur on, feelin' like Jerome"
And here we have back-to-back references to Jerome, the character from Martin who taught us all how to dress.

"Bound 2," Yeezus: "Step back, can't get spunk on the mink / I mean, damn, what would Jeromey Romey Romey Rome think?"
You'd be hard-pressed to find a show better-represented in rap than Martin.

TV-Show-Related Beefs

"Gorgeous," My Beautiful Dark Twisted Fantasy: "Choke a South Park writer with a fish stick"
This is at least more lighthearted than the Saturday Night Live vitriol on the next track.

"Power," My Beautiful Dark Twisted Fantasy: "Fuck SNL and the whole cast"
It's hard to believe Lorne let Kanye back into 30 Rock after their long-running feud, but there he was, getting weird at SNL 40.

Ray Romano

"Last Call," The College Dropout: "And I was almost famous / Now everybody love Kanye, I'm almost Raymond"
To be honest, Kanye is more of a Debra.

Sexual Hangups Kanye Has Because of Usher's Confessions and Its Subsequent Tour

"Gold Digger," Late Registration: "From what I heard, she got a baby by Busta / My best friend say she used to fuck with Usher"
This is one of two lines on the album dedicated to love, loss, and Usher, and while Confessions was huge, there might be something going on behind the scenes that's too hot for TV.

"Gone," Late Registration: "Aaron love to raw dog, when will he learn? / Caught something on the Usher tour, he had to let it burn"
There might be something poetic about catching an STD on the Confessions tour. Probably not. But maybe.

Michael Jackson

"Slow Jamz," The College Dropout: "She got a light-skinned friend, look like Michael Jackson / Got a dark-skinned friend, look like Michael Jackson"
The crack about the legendary singer's complexion served as West's first signature moment as a rapper. It wouldn't be the last time he compared himself to Michael.

"Hey Mama," Late Registration: "And you would give me anything in this world / Michael Jackson leather and a glove, but didn't give me no curl"
And in some ways, isn't this the kindest thing a parent could do?

"All of the Lights," My Beautiful Dark Twisted Fantasy: "MJ gone, our nigga dead"
The original version of the song, which leaked earlier in 2010 (and featured a brief appearance from Drake), heard Kanye say, "MJ gone, that nigga dead," but the phrasing was deemed too harsh.

"Lost in the World," My Beautiful Dark Twisted Fantasy: "Mamase Mamasa Mamakusa / Lost in this plastic life"
In early versions of this song — like the one he performed at the Facebook offices the summer before the album dropped — his echo of the coda to Michael Jackson's "Wanna Be Startin' Something" ended, "Mamase, mamasa, mama Donda's son."

"Don't Like (Remix)," Cruel Summer: "The media crucify me like they did Christ / They wanna find me not breathing like they found Mike"
A reference to Michael Jackson's 2009 death, officially the result of respiratory failure. Many supporters attribute the singer's demise more broadly to the scrutiny he faced and the toll it took on his health.

"I Am a God," Yeezus: "The only rapper compared to Michael"
Kanye's fixation on Jackson is well documented, and the rapper is on record saying one of his greatest regrets in life is that he'll never be in the audience at his own shows. The Yeezus tour was a spectacle to behold, but Ye has a ways to go until he does Thriller numbers, or has the iconic stage show Jackson did.

Dead Idols Who Aren't MJ

"Never Let Me Down," The College Dropout: "But I can't complain about what the accident did to my left eye / 'Cause look what an accident did to Left Eye / First Aaliyah, now Romeo Must Die? / I know I got angels watching me from the other side"
As is detailed in "Through the Wire," Kanye's career and life nearly ended in an October 2002 car crash. Lisa "Left Eye" Lopes, from TLC, had died that April in another auto accident. Romeo Must Die was a 2000 film starring the famous singer Aaliyah, who died the following year in a plane crash in the Bahamas.

"New God Flow," Cruel Summer: "'Til we drown all these haters, rest in peace to Whitney Houston"
The legendary singer's cause of death was technically drowning in the bathtub, though cocaine and heart disease were contributing factors.

"Facts," single: "So let's celebrate the life of Timbuck2"
The innovative Chicago DJ passed away after a battle with cancer the month "Facts" was recorded.

Roc-A-Fella

"Last Call," The College Dropout: "Brains, power, and muscle like Dame, Puffy, and Russell"
In August of 2005, the month Late Registration hit stores, Sway asked Kanye if he felt he had been disloyal in siding with Damon "Dame" Dash over Jay in the then-fresh Roc-A-Fella split. He paused for a second, considered the question, then said, "Yeah," in light of the fact that Dash had supported Kanye's rapping career early on. More recently, Ye's confessed that he feels more similar to the hotheaded co-founder and hopes to learn to emulate Jay's collectedness.

"Crack Music," Late Registration: "Dreams of being Hova / Went from being a broke man to being a dopeman / To being the president — 'Look, there's hope, man!'"
For as effortlessly cool as he has often seemed, Jay's stint as the president of Def Jam was laborious and generally disappointing. Of course, fewer than 18 months after Late Registration dropped, Jay was back in the booth with Kingdom Come. (A few songs later, Nas will rap, "'Cause rappers be deprived / Of executive 9-to-5s.")

"Diamonds From Sierra Leone," Late Registration: "You know the next question, dawg: 'Yo, where Dame at?' / This track the Indian dance to bring our reign back"
In 2005, there were plenty of observers who believed that the Jay-Dame rift was temporary and would eventually be forgotten.

"Big Brother," Graduation: "I told Jay I did a song with Coldplay / Next thing I know, he got a song with Coldplay"
Kanye might have set up the studio session first, but it was Jay and Bey who became best buds with Chris and Gwyneth, at least until the conscious uncoupling.

West Coast Rappers

"Last Call," The College Dropout: "The 'All Around the World' Digital Underground 'Pac"
Before he went to prison in 1995, 2Pac was known largely for his politically and socially conscious works: "Keep Ya Head Up," "Brenda's Got a Baby," et al. But before 2Pacalypse Now, starting in 1990, Pac worked as roadie and backup dancer for the Oakland group Digital Underground. It was on their "Same Song" that he made his recorded debut.

"Bring Me Down," Late Registration: "Since 'Pac passed away / Most of you rappers don't even deserve a track from me"
Kanye produced "Bonnie and Clyde '03," the single from Jay's The Blueprint 2 that's a spiritual successor to Pac's "Me and My Girlfriend."

Southern Rappers

"Last Call," The College Dropout: "Nice as Bun B when I met him at the Source Awards / Girl he had with him, ass could've won the horse awards"
Bun B is widely known as one of the most gregarious figures in hip-hop, and has made an effort to work with up-and-comers from the southern states and beyond.

"Drive Slow," Late Registration: "See back (back) then (then) if you had a car / You was the Chi-Town version of Baby"
"Baby" is in reference to Bryan Williams, the founder and still-CEO of Cash Money and the most famous living person who has an oil derrick tattooed on his skull. In the years since Late Registration, an old Chicago-based collaborator of Kanye's named Mikkey Halsted has told the story of Kanye nearly signing to Cash Money. Halsted would seem to be the rapper Ye references on Dropout's "Last Call," who signed directly with another label (Cash Money) without cutting his old collaborator in on the deal.

"The Glory," Graduation: "I'm like Gnarls Barkley meets Charles Barkley"
If CeeLo and Charles Barkley ever meet each other, no one in a half-mile radius will be able to get a word in edgewise, and the kitchen staff at every Cheesecake Factory within driving distance will be put on notice.

"The Glory," Graduation: "The hood love to listen to Jeezy and Weezy / And oh yeah, Yeezy!"
The fall of 2007 was nearly the top of the crescendo for Wayne, who would see his commercial peak the following June with Tha Carter III.

"Blood on the Leaves," Yeezus: "Fuck them other niggas 'cause I'm down with my niggas"
The hook (and a version of TNGHT's original beat, and Taylor Swift's "Shake It Off," for what it's worth) is derived from C-Murder's "Down 4 My Niggas."

New York Rappers

"We Don't Care," The College Dropout: "And they DCFS, some of 'em dyslexic / They favorite 50 Cent song '12 Questions'"
Kanye and 50 Cent are forever tied together due to their 2007 sales battle (see: "Good Life" from Graduation). But when West's solo debut dropped, 50 had been a massive mainstream star for over a year; the Nate Dogg–assisted "21 Questions" had been one of the signature songs from the Queens rapper's breakthrough album, Get Rich or Die Tryin'.

"Breathe In Breathe Out," The College Dropout: "I gotta apologize to Mos and Kweli / Is it cool to rap about gold if I told the world I copped it from Ghana and Mali?"
Kanye was hardly the first rapper to examine the ethics of his flossing, but he was the first to do it from inside the system, and at such a commercial platform. He also helped make Common, Kweli, Mos, and their ilk fashionable during the mid-2000s. Bless Dave Chappelle.

"Through the Wire," The College Dropout: "If you would feel how my face felt, you would know how Mase felt"
Mase was famously punched in the jaw by Ghostface Killah's associate I-Cham, after Mase allegedly dissed the Wu-Tang Clan during a concert.

"Last Call," The College Dropout: "The fans want the feeling of A Tribe Called Quest / But all they got left is this guy called West / That'll take Freeway, throw him on tracks with Mos Def"
It's interesting that after West moved on from his original mission statement (to bring the New York and Chicago undergrounds' conscious ranks to the mainstream), he's continued to put seemingly disparate collaborators together. Freeway and Mos are one thing, but Justin Vernon and Chief Keef — really?

"Champion," Graduation: "Lauryn Hill said her heart was in Zion / I wish her heart still was in rhymin'"
In what was pitched as a clash of two diametrically opposed stars, Graduation and 50 Cent's Curtis went head-to-head on September 11, 2007. While West won the sales battle (sadly, 50 reneged on his promise to quit rap if he lost), the Queens-bred 50 has the better — or at least more plaintive — line about missing the old Ms. Lauryn: "Used to listen to Lauryn Hill and tap my feet / Then the bitch put out a CD, it didn't have no beats."

"Good Life," Graduation: "50 told me, 'Go 'head, switch the style up / 'And if they hate, then let 'em hate, and watch the money pile up"
Those who remember 50 Cent's 2003 breakthrough hit "In Da Club" (which should be all of us) remember that it was actually Lloyd Banks who gave 50 this advice. Rap's wisest game of telephone.

"The Glory," Graduation: "I hear people compare themselves to Big a lot / You know: Big and Pac, you to get it hot / I guess after I live, I wanna be compared to Big / Anyone — Big Pun, Big L, or Notorious"
Before Lil was the prefix du jour, you couldn't rap in the five boroughs without a "Big" in front of your name. Maybe that explains how a certain Sean from Detroit keeps getting release dates.

"Dark Fantasy," My Beautiful Dark Twisted Fantasy: "I'm just a Chi-town nigga with a Nas flow"
Kanye has gone from a goofy producer-rapper to one of the most important and innovative artists of the last few decades; he does not, in any sense, rap as well as Nas.

"Devil in a New Dress," My Beautiful Dark Twisted Fantasy: "Don't leave while you're hot, that's how Mase screwed up / Throwing shit around, the whole place screwed up / Maybe I should call Mase and he could pray for us"
The first line here is an important credo for anyone in any walk of life. That said, it might fall short as the best Mase reference in rap, at least in comparison to Cam'ron's "You get jammed with them jammers, blammed with them blammers / It's hot here, ask Mase, he ran to Atlanta."

"Send It Up," Yeezus: "This the craziest shit in the club / Since 'In Da Club'"
It's unfortunate that "Send It Up" didn't chart better, because King Louie's verse is one of the decade's slickest concoctions of fear and gloating.

Miscellaneous Hip-Hop

"Last Call," The College Dropout: "My money was thinner than Sean Paul's goatee hair / Now Jean Paul Gautier cologne fill the air"
This is after Sean Paul and Beyoncé filmed the video for "Baby Boy," and after Jay Z reportedly felt the singer was getting a little too friendly with his wife-to-be.

"Roses," Late Registration: "Feel like Amerie, it's just one thing / When they say that she made it, you see they eyes gleam"
Amerie's "1 Thing" peaked at No. 8 in 2005, and while it's a great song in its own right, it has one of the most wonderfully bizarre remix histories: Aside from the official redux with a razor-sharp contribution from Eve, there's the Fabolous version (because this was 2005 and New York is going to be New York), and one that pairs her vocals with B.G. from the Hot Boyz. Then Juelz Santana tried his hand at the song, and it was bronzed forever.

"Everything I Am," Graduation: "Common passed on this beat, I made it to a jam"
Kanye has said that while he was making Late Registration, he kept the tracklist for Common's Be taped on a studio wall to keep him motivated. Now using an album you helmed as your bar for success is a distinctly Kanye thing to do, but it also speaks to where his head was at in 2007, and how drastically he had shifted two years later – Graduation aims at nearly every turn for the back rows of stadium seating.

"Illest Motherfucker Alive," Watch the Throne: "Feelin' like Hype Williams shooting a nigga"
Hype Williams was not only the premier rap video director at the turn of the century — he's famous for his photography and his lavish setpieces — but helmed the classic film Belly.

"Facts," single: "Facts" serves as a de facto cover of "Jumpman," from Drake and Future's joint album What a Time To Be Alive. Metro Boomin produced both songs; Michael Jordan has commented on neither.

Music Your Parents Listened To (That You Should Listen To, Too)

"I'll Fly Away," The College Dropout: Kanye enlists a series of vocalists to reinterpret the Albert E. Brumley gospel standard.

"Slow Jamz," The College Dropout: This song, which was included both here and on Twista's Kamikaze, shouts out a litany of soul and R&B stars, including, well: Marvin Gaye, Luther Vandross, Anita Baker, Ready for the World, New Edition, Minnie Ripperton, Gladys Knight, Smokey Robinson, Freddie Jackson, Nickolas Ashford, Valerie Simpson, Al Green, the Isley Brothers, Evelyn "Champagne" King, the Whispers, the Spinners, Earth Wind & Fire, Keith Sweat, Maze, the Temptations, Jodeci, Teddy Pendergrass.

"Heard Em Say," Late Registration: "So this is in the name of love like Robert say"
A reference to R. Kelly, the now-embattled R&B superstar from West's hometown.

"Drive Slow," Late Registration: "Al. B Sure! nigga with the hair all wavy"
Do you realize that "Nite and Day" was Al B. Sure!'s only No. 1 hit? That and three others topped the R&B charts, but as for the overall honor, yeah, now you can win your office pool.

"Champion," Graduation: "I guess I cleaned up my act like Prince would do"
When Prince found religion as a Jehovah's Witness in 2001, he would occasionally sanitize some of his older songs when he played them live.

"Stronger," Graduation: "New gospel, homie, Take 6"
Take 6 is a gospel group, not a discontinued candy bar.

"Stronger," Graduation: "You know how long I've been on ya / Since Prince was on Apollonia / Since O.J. had Isotoners"
What do you think Johnnie Cochran thought of Purple Rain? The classic Prince film is set in the O.J. lawyer's native Minneapolis, doesn't sample Daft Punk.

"Everything I Am," Graduation: "I'll never be picture-perfect Beyoncé / Be light as Al B or black as Chauncey / Remember him from Blackstreet? He was black as the street was"
The latter half of this line is quintessentially goofy, but the real story is that Al B. Sure! makes an appearance on his second consecutive West record.

"Dark Fantasy," My Beautiful Dark Twisted Fantasy: "Look like a fat booty Celine Dion / Sex is on fire, I'm the King of Leon-a Lewis"
Kanye has taken to referring to Dark Fantasy as an apology of sorts to his fans, a play for the middle after 808s and the Taylor Swift incident at the 2009 VMAs alienated him to many. Playing fast and loose with the radio dial is one way to do that. Also, shout-out to "Sex on Fire," one of the few great Kings of Leon songs.

"Guilt Trip," Yeezus: "I hit her with Jamaican dick, I'm the new, Shabba!"
Shabba Ranks is the dancehall pioneer with indeterminate dick skills.

"Send It Up," Yeezus: "It's so packed I might ride around / On my bodyguard back like Prince in the club"
Prince used to ride around on his bodyguard because he's a national treasure.

Norah Jones

"School Spirit," The College Dropout (2004): "I got a Jones like Norah, for your soro"
Perhaps the only half-successful abbreviation of sorority in recorded history. Norah Jones had won the 2003 Grammy for Best New Artist; two years later, West would lose to Maroon 5.

Politics and World Affairs

"Diamonds From Sierra Leone (Remix)," Late Registration: "Good morning, this ain't Vietnam still"
As great as the "Diamonds" remix is, the best remix of a Kanye West–produced single that includes a Jay Z verse and opens with a rapper shouting the line from is actually the reprise of Talib Kweli's "Get By."

"Diamonds From Sierra Leone (Remix)," Late Registration: "Little was known of Sierra Leone / And how it connect to the diamonds we own"
The story goes that Kanye recorded the original "Diamonds From Sierra Leone" before he was aware of the conflict that gave it its final title. The time gap explains the lack of reference to the African diamond trade in the song's lyrics, but the allusions to it in its Prague-based video.

"Power," My Beautiful Dark Twisted Fantasy: "They say I was the abomination of Obama's nation"
You know you've made it when the president repeatedly calls you a "jackass."

"So Appalled," My Beautiful Dark Twisted Fantasy: "Donald Trump, taking dollars from y'all"
We imagine the 2015 primary-season update of the song would play a little differently.

"Niggas in Paris," Watch the Throne: "Prince William ain't do it right if you ask me / If I was him I would've married Kate and Ashley"
The idea here is to shoehorn in the first names of the Olsen twins, which is a linguistic problem we all wrestle with from time to time.

"New Day," Watch the Throne: "I might even make him be Republican / So everybody know he love white people"
Kanye's hypothetical fathering strategy stands as pretty accurate demographic research, considering how badly the GOP is butchering the push for immigration reform.

"Clique," Cruel Summer: "I'm talking George Tenet, I seen him the other day"
Kanye imagines that the CIA director turned Wall Street honcho rents his Maybach despite his enormous wealth.

"All Day," single: "Just talked to Farrakhan, that's sensei, nigga"
The religious and civil-rights leader Louis Farrakhan was in the news in 2015 for organizing the 20th-anniversary redux of the Million Man March. He met with several rappers to garner their support.

Race in America

"Through the Wire," The College Dropout: "And just imagine how my girl feel / On the plane, scared as hell that her guy look like Emmett Till" Kanye has a long history of making regular (or at least semi-regular) references to Civil Rights icons. Till was the 14-year-old boy who, in 1955, was brutally murdered (and whose body was dumped in a river) for the crime of whistling at a white woman. His mother famously insisted on an open-casket funeral; pictures of Till's dismembered face made national headlines.

"Good Morning," Graduation (2007): "I'm like the fly Malcolm X: Buy any jeans necessary / Detroit Red cleaned up"
As utterly eye-rolling as the first half of this line is, throwing X's pre-prison Harlem nickname in the mix helps even things out.

"Everything I Am," Graduation: "So say good-bye to the NAACP award / Good-bye to the India Arie award"
Kanye is often at his best when he's wrestling with his own competing impulses: to wild out on national TV, or to do right by his community.

"Gorgeous," My Beautiful Dark Twisted Fantasy: "Got caught with 30 rocks, the cop look like Alec Baldwin"
Speaking of Nas flow, you could make a convincing case that 30 Rock star Alec Baldwin could rap more like the Queens legend than Kanye does. I've never heard him, but it's probably a safe bet.

"Gorgeous," My Beautiful Dark Twisted Fantasy: "I treat the cash the way the government treats AIDS / I won't be satisfied 'til all my niggas get it — get it?"
Along with "And I know the government administer AIDS" (from Late Registration's "Heard Em Say"), this betrays a deep distrust of government that is hardly unique to Kanye among rappers. (See: Pharoahe Monch's "I believe they put the virus in the latex / Condoms that they sell us, call it 'safe sex.'")

"Gorgeous," My Beautiful Dark Twisted Fantasy: "What's a black Beatle anyway, a fucking roach? / I guess that's why they got me sitting in fucking coach"
What do you think Kanye and Paul McCartney think flying commercial is like? Regardless, this stands as perhaps Kanye's most iconic line from the album, outside of the "Runaway" hook.

"On Sight," Yeezus: "And I know she like chocolate men / She got more niggas off than Cochran"
Kanye's then-fiancée, Kim Kardashian, is the daughter of Robert Kardashian, the entrepreneur who dusted off his law license to assist with Johnnie Cochran's defense of O.J. Simpson.

"Black Skinhead," Yeezus: "My leather black jeans on / My 'by any means' on"
A more fittingly militant Malcolm X reference than the one on "Good Morning."

"Black Skinhead," Yeezus: "They see a black man with a white woman at the top floor they gon' come to kill King Kong"
An undeniable truth about how black Americans are treated in our national conversation, especially with respect to when white men feel romantically threatened by black men.

"New Slaves," Yeezus: "Meanwhile the DEA teamed up with the CCA / They trying to lock niggas up, they trying to make new slaves"
I was at both of the Yeezus tour dates in Los Angeles in 2013. After the second show, I was milling around on the floor as people filed out of Staples Center, when a man approached me, maybe sensing I was a reporter. (I only go outside in thrifted His Girl Friday costumes.) He was in his 40s, seemed to be on his own, and — despite the imposing figure he cut — looked ecstatic. He asked me what I thought of the show, then he asked me what I thought of "New Slaves." I told him I thought it was the best and most powerful song on the record, and that the criticism of the private prison industry in particular was refreshing to hear. The man grabbed me by the shoulders and shouted, "YES!" It turned out he was a corrections officer from a federal prison in the western United States (he asked me that night not to identify him) who had traveled to L.A. for the show. Over his decade in prisons, he's seen exponentially more nonviolent offenders broken and demoralized by their time than he's seen actual criminals rehabilitated. The rest of our conversation wouldn't fit in this space, but suffice it to say that the second verse of "New Slaves" is one of the most important moments of Kanye's career, and continues the political bent he developed studying song craft under Dead Prez.

"Blood on the Leaves," Yeezus: "Strange fruit hanging from the poplar trees"
For all the controversial moving parts on Yeezus, the one that raised the most eyebrows was the sample of the Nina Simone version of "Strange Fruit." For all his talk of artful appropriation, repurposing a song about lynchings in the American South for a molly-fueled breakup bloodletting pushed the envelope too far for many listeners.

Suburban Restaurant Chains

"School Spirit," The College Dropout: "This nigga graduated at the top of our class / I went to Cheesecake, he was a motherfucking waiter there"
At least, that's what the song intended to say. Every official version of The College Dropout features a censored version of "School Spirit," because that was Aretha Franklin's condition for clearing the "Spirit in the Dark" sample. Perhaps the most iconic reference to the Cheesecake Factory since Outkast's "We Luv Deez Hoez."

"Gone," Late Registration: "Says she want diamonds, I took her to Ruby Tuesdays / If we up in Fridays, I still have it my way"
The love for mid-level chain restaurants is matched only by Kanye's deep, unbridled passion for the Will Ferrell canon.

Other Food and Drink

"The New Workout Plan," The College Dropout: "What's scary to me / Is Henny make girls look like Halle Berry to me"
In many ways, The College Dropout — and Kanye's rapid rise as a solo artist — can be attributed to careful editing. Lots of songs from his pre-album mixtapes (and even from the advance that leaked months early) presented a brasher, harsher West, who moved in and out of the Benz-and-a-backpack mold. "I Need To Know" features a crasser version of the line: "Henny make hoes look like Halle Berry to me."

"Through the Wire," The College Dropout: "I drink a Boost for breakfast / An Ensure for dessert"
When my very healthy grandfather's body suddenly fell apart due to esophageal cancer, he only drank Boost and Ensure. Ye made that a little easier to swallow.

"Last Call," The College Dropout: "Killin' y'all niggas on that lyrical shit / Mayonnaise-colored Benz, I push Miracle Whips"
As he details during the song's extended toast of an outro, this is the first line that made Jay's ears perk up.

"Addiction," Late Registration: "Roll up the doja / Henny and the Coca-Cola"
The three vices: drugs, alcohol, and name-brand capitalism.

"Celebration," Late Registration: "So go 'head, pop some Cristal for my newborn child"
Now that Kanye and Kim's second child, Saint, has been born, fans are probably encouraged to toast — only not with Cristal, which Jay Z and hip-hop at large disowned after the owner of its parent company scoffed at his product's popularity in hip-hop. (There's also Wayne's "Don't drink Cristal no more, just pour it on white bitches' heads," from Da Drought 3.) Hopefully a flute of Ace of Spades can distract from that uncomfortable tangent about Kanye's future son being well-endowed.

"Late," Late Registration: "We about to get real unprofessional / Like them Eskimos — 'What would you do for a Klondike? / 'Or two dykes that look Christina Milian-like?'"
It would be interesting to see if those Klondike commercials were resurrected for Christina Milian's reality show on E!, but no one will ever know.

"The Glory," Graduation: "Off that Bacardi Limon and Corona, I'm zonin'"
This is up there with "I'm beasting off the Riesling" from Jay Z's "Run This Town" as the most threatening thing you can say about the least threatening alcoholic beverage.

Nightclub Owners With Whom Kanye Is Apparently Trying to Curry Favor

"On Sight," Yeezus: "Took her to the 'Bleau, she tried to sip the fountain / That's when David Grutman kicked her out / But I got her back in and put my dick in her mouth"
Here, Kanye falls just short of the standard Cam'ron set on "Bout It Bout It Pt. 3": "Bouncin' through, an ounce or two / Crib look like the Fountainbleau / A fountain, too — no water, strictly pumpin' Mountain Dew."

The World of Fashion


"Last Call," The College Dropout: "I'm Kan, the Louis Vuitton Don / Bought my mom a purse, now she Louis Vuitton Mom"
Kanye's love for Donda was well-documented even by this point — a demo version of Late Registration's "Hey Mama" was available before Dropout hit stores.

"Touch the Sky," Late Registration: "Back when they thought pink Polos would hurt the Roc / Before Cam got the shit to pop / The doors closed, I felt like Bad Boy's street team / I couldn't work the LOX"
A brief history of bright clothes in New York rap: When Kanye started hanging out around Baseline Studios at the turn of the century, the Roc uniform was relatively simple: jerseys, army jackets, a dress tie, and a fitted cap if you promised not to mention Young Chris. Bright colors were mostly out, as were any other collars. But Cam's post–Come Home With Me fashion choices indirectly opened some doors for the Louis Vuitton don.

"Touch the Sky," Late Registration: "Back when Gucci was the shit to rock / Back when Slick Rick got the shit to pop"
Slick Rick was rapping about Gucci boxers all the way back on "La Di Da Di," a full decade and a half before "This Can't Be Life" put Kanye on the national map.

"Gone," Late Registration: "You sweat her, and I ain't talking 'bout a Coogi / You a big L, and I ain't talking 'bout Cool J"
Coogi sweaters have long been synonymous with your uncle who is simultaneously the best- and worst-dressed person at your parents' Christmas party. Also, duh, Biggie.

"Diamonds From Sierra Leone," Late Registration: "Vegas on acid, seen through Yves St. Laurent glasses"
The earnest first few bars of "Diamonds" — which was the album's first single, remember — has perhaps the first high-fashion name-drop that isn't at least a little bit self-effacing.

"Stronger," Graduation: "Let's get lost tonight / You could be my black Kate Moss tonight"
As outlandish as West has been throughout his public life, very few of his non-telethon quotes rival "Nothing tastes as good as skinny feels" or "I won't get out of bed for less than $10,000."

"Stronger," Graduation: "The Christian in Christian Dior"
Three years later, Kanye would tap Pusha T, Lloyd Banks, Kid Cudi, Ryan Leslie, and John Legend for "Christian Dior Denim Flow," from the G.O.O.D. Fridays series that served as an extended bit of promo for My Beautiful Dark Twisted Fantasy.

"Stronger," Graduation: "Especially in my Pastel, on my Bape shit"
In 2007, Bape was the go-to choice for rappers who wanted clothes that were both gaudy and obviously expensive. At the time, Kanye was designing a clothing line called Pastel, all while he was donning a series of increasingly garish Technicolor dream fits. In an interview with the New York Times in 2013, Kanye says "kill self" when asked what he would say to his 2007 counterpart.

"Can't Tell Me Nothing," Graduation: "So if the devil wear Prada, Adam, Eve wear nada / I'm in between but way more fresher"
Please tell us on Twitter whether Kanye would relate to Emily Blunt or Anne Hathaway more.

"Everything I Am," Graduation: "I'll never rock a mink coat in the wintertime like Killa Cam / Or rock some mink boots in the summertime like will.i.am"
Just because Kanye didn't have the courage to dress like Cam'ron doesn't mean you should be discouraged. Buy that $70 Dipset hoodie. Buy it.

"Dark Fantasy," My Beautiful Dark Twisted Fantasy: "And my chick in that new Phoebe Philo / So much head I woke up in Sleepy Hollow"
I suppose Sleepy Hollow is its own fantasy world of sorts; Philo is the Paris-born fashion designer and creative director of Céline.

"Gorgeous," My Beautiful Dark Twisted Fantasy: "I need more drinks and less lights / And that American Apparel girl in just tights"
Between this and the line about meeting at Borders on "All of the Lights," Kanye is really taking it to now-insolvent companies.

"Devil in a New Dress," My Beautiful Dark Twisted Fantasy: "The Lyor Cohen of Dior Homme / That's Dior Homme, not Dior, homie / The crib Scarface, could it be more Tony?"
Is there anything flossier than clarifying your last bar to make sure people understand how expensive your life is? Lyor Cohen is the record executive who headed up Def Jam before jumping to Warner and eventually to his new venture, 300 Entertainment. He was largely responsible for breaking artists like DMX, Ja Rule, and the Roc-A-Fella roster as a whole.

"Hell of a Life," My Beautiful Dark Twisted Fantasy: "What party is we going to on Oscar day? / Especially if she can't get that dress from Oscar de / la Renta"
One has to imagine that Kanye's future wife-to-be being turned down by a famous designer spoke to his feelings as an outsider in the fashion world.

"Niggas in Paris," Watch the Throne: "What's that jacket, Margiela?"
For his "Niggas in Poorest" remake, the then-newly-minted Yasiin Bey asked, "Who the fuck is Margiela?"

"I Am a God," Yeezus: "But everybody know you brought real rap back / Nobody had swag, man, we the Rat Pack / Virgil Pyrex, Don C snapback / Ibn Diamond, Chi-Town shining"
By contrast, this is Kanye putting himself in the company of friends and members of his entourage. Which is somehow more surreal, because then you have to imagine trying to design a sock collection while Kanye keeps showing 'em clips from Step Brothers on his laptop.

"New Slaves," Yeezus: "Spending everything on Alexander Wang"
I was recently in Barneys with my girlfriend, who pointed to an Alexander Wang display at the front of the store and said that it would have been at the back before "New Slaves." I have no idea if this is true, because I didn't know Barneys existed until four minutes before that conversation.

"Hold My Liquor," Yeezus: "Yeezys all on your sofa / These the Red Octobers"
The Red Octobers never got their proper rollout, which was probably the last straw in his relationship with Nike (see: "Facts").

"Bound 2," Yeezus: "Rock Forever 21 but just turned 30"
We would like a comprehensive list of Kanye's cutoff ages for all mid-level fashion retailers.

"Facts," single: Most of "Facts" serves as a screed against Nike, the company he partnered with to make the first few runs of Yeezys. In it, Kanye lambasts Nike for relying on cheap, exploitative labor sources, a practice Adidas wouldn't dream of.

Basketball

"Heard Em Say," Late Registration: "From the Chi, like Tim — it's a harder way"
Tim Hardaway is the Chicago-bred former NBA point guard who caused tremendous controversy in 2007 with some violently homophobic remarks. (He's since atoned, even publicly campaigning for a 2014 midterm election ballot initiative to allow same-sex marriage in Florida.)

"Drive Slow," Late Registration: "Bulls jacket with his hat broke way off"
Kanye is 38, which means he graduated high school 20 years ago. That would mean that the events of "Drive Slow" probably take place right in the middle of the Bulls' first three-peat.

"The Glory," Graduation: "Two years, Dwayne Wayne became Dwyane Wade"
Going from the goofy guy on A Different World to running the backcourt in Miami isn't the worst thing a kid from Chicago could do.

"Devil in a New Dress," My Beautiful Dark Twisted Fantasy: "Hood phenomenon, the LeBron of rhyme / Hard to be humble when you stuntin' on a Jumbotron"
If you saw Amy Schumer's Trainwreck, you know that LeBron James is a bizarrely talented actor. If you've seen Kanye's shelved faux–Curb Your Enthusiasm pilot, you know he isn't.

"New God Flow," Cruel Summer: "Went from the most hated to the champion God flow / I guess that's a feeling only me and LeBron know"
When LeBron James announced that he was taking his talents (via free agency) to the Miami Heat, some Cavs fans burned his jerseys in the streets of Cleveland. King James would go on to win back-to-back titles for South Beach before returning to his native northeast Ohio. Similarly, Kanye returned from a self-imposed exile in Europe after Swiftgate and the divisive 808s & Heartbreak with My Beautiful Dark Twisted Fantasy, the most acclaimed record of his career. (A note: It seems now that the vocal sample on "New God Flow" of Ghostface Killah's "Mighty Healthy" was inspired by the Madlib beat on Kanye's new song "No More Parties in L.A.")

"Don't Like," Cruel Summer: "Shout-out to Derrick Rose, man that nigga nice"
…and we've now arrived at the single most dated reference in this list.

"I'm in It," Yeezus: "They be ballin' in the D-League"
In the same Times interview cited earlier, Kanye laments the time he "hit every free-throw, every lay-up" in try-outs but was still cut from his eighth-grade basketball team. So if we're going to get technical, Kanye wasn't even balling in high school, never mind the NBA's developmental ranks.

"All Day," single: "Got a middle finger longer than Dikembe"
People remember Dikembe Mutombo as the towering NBA center famous for his finger-wagging after he blocked an opponent's shot; since he hung it up, however, he's become a world-class humanitarian.

"Facts," single: "James Harden, Swaggy P, runnin' up the budget"
Nick "Swaggy P" Young, the eccentric guard for the Los Angeles Lakers, cited "Facts" as the reason the woeful Lakers would beat the Golden State Warriors to extend a rare, brief winning streak. It didn't pan out.

Magic Johnson as a Barometer for Socioeconomic Self-Image

"Roses," Late Registration: "You know the best medicine go to people that's paid / If Magic Johnson got a cure for AIDS / And all the broke motherfuckers passed away"
When Magic Johnson announced that he was HIV-positive and would be retiring from basketball in November 1991, the diagnosis seemed to many Americans like a death sentence. More than two decades later, Magic's thriving as a philanthropist and commentator.

"Can't Tell Me Nothing," Graduation: "And you can live through anything if Magic made it"
It's interesting to contrast this reference to Magic Johnson's HIV diagnosis to the one on "Roses": Here, the Lakers great is a source of inspiration, where he was once the symbol of a broken health-care system.

Other Sports

"Gold Digger," Late Registration: "My psychic told me she'll have an ass like Serena / Trina, Jennifer Lopez, four kids"
As impressive as it is that Kanye's been relevant for so long, consider that Jennifer Lopez and Serena Williams have just as much cultural import today as they did in 2005.

"Barry Bonds," Graduation: "Fresh off the plane, 'Konnichiwa, bitches'"
Graduation was the height — the entirety, really — of Kanye's public interest in Japanese art and culture. As for the song's title: Earlier this month, Ken Griffey Jr. was voted into the Baseball Hall of Fame with near-unanimity. You'd be hard-pressed to argue that the still-unenshrined Bonds — even pre-steroid, Pittsburgh-dwelling Bonds — has a less impressive résumé.

"Who Gon Stop Me," Watch the Throne: "Got a little freaky like Marvin Albert / 'Yes!' tell Howard Cosell"
The news that Marv Albert engaged in some questionable and likely illegal sexual behavior with a girlfriend definitely ruined the image of the sportscaster as a chaste fixture in your living room.

"Facts," single: "On the field I'm overreckless, I'm like Odell Beckham"
Shortly before "Facts" was released on New Year's Eve of 2015, the New York Giants' All-Pro receiver Odell Beckham Jr. was suspended for his Week 16 game against the Minnesota Vikings for an on-field incident.

Famous Boxers Who May or May Not Have Revolutionized Grilling Techniques the Whole Family Can Enjoy

"Family Business"," The College Dropout: "You ain't gotta get heated at every housewarmin' / Sitting here, grilling people like George Foreman"
One of the greatest punch lines in hip-hop history that hinges on health-conscious meat preparation.

"Gorgeous," My Beautiful Dark Twisted Fantasy: "Remind me: When they tried to have Ali enlisted / If I ever wasn't the greatest, nigga, I must've missed it"
Can you imagine if Muhammad Ali's interviews took place in an era when they could have been livetweeted?

References to Geico, the Insurance Firm Owned and Operated by a Gang of Geckos

"Through the Wire," The College Dropout: "It's been an accident like Geico / Thank God I was burnt up like Pepsi did Michael"
Perusing the age-old question of the insurance liability in the infamous Michael Jackson Pepsi commercial catastrophe that set his hair on fire.

"Gold Digger," Late Registration: "She walk around, looking like Michael with your money / Should've got that insured Geico for your money"
Just imagine how labyrinthine the West-Kardashian prenup is.

Possibly Corrupt Watch-Vendors

"All Falls Down," The College Dropout: "But I ain't even gon' act holier than thou / 'Cause fuck it — I went to Jacob with 25 thou / Before I had a house and I'd do it again / 'Cause I wanna be on 106 & Park, pushing a Benz'"
A long, long time ago, BET's 106 & Park and MTV's TRL were the chief barometers for the viability of commercial rap songs. Similarly, Jacob Arabo, better known as Jacob the Jeweler, was once the go-to accessory adviser for any rapper worth his advance money. He would later serve two years in prison after a money-laundering scheme involving the Black Mafia Family came to light. The recession hit everyone, y'know?

"Diamonds From Sierra Leone (Remix)," Late Registration: "These ain't conflict diamonds / Is they, Jacob? Don't lie to me, man"
Ironically, "Is they, Jacob? Don't lie to me, man" is lifted directly from the transcripts of the jeweler's money-laundering trial.

Kanye's Tumultuous Relationship With Toyota

"Holy My Liquor," Yeezus: "When I park my Range Rover / Slightly scratch your Corolla / Okay, I smashed your Corolla"
Kanye's relationship with Toyota is probably beyond repair, between this and "What you think I rap for? To push a fucking RAV4?" on Jay's "Run This Town."

Books

"Hey Mama," Late Registration: "Maya Angelou, Nikki Giovanni / Turn one page and there's my mommy"
Before she left to dedicate her time to Kanye's career and charitable efforts, Donda West was — though not one of the leading African-American literary voices of her time — the head of the English department at Chicago State University.

"Robocop," 808s & Heartbreak: "Who knew she was a drama queen / That would turn my life to Stephen King"
Though surely unintentional, saying your ex turned your life into a story by the most celebrated horror author of our time might actually be drama queen 101.

"All of the Lights," My Beautiful Dark Twisted Fantasy: "Public visitation, we met at Borders"
Borders closed for good in 2011, which dates Dark Fantasy in a way that not even Fergie can.

Misuses of Cellular Technology

"Power," My Beautiful Dark Twisted Fantasy: "Motherfucker we rollin' / With some light-skinned girls, and some Kelly Rowlands"
I can only assume this means Kanye is trying to text people from the Microsoft Excel app on his Sidekick.

"Blood on the Leaves," Yeezus: "She Instagram herself like, Bad Bitch Alert / He Instagram his watch like Mad Rich Alert"
A more with-it Rap Dad line than when Nas rapped, "The social network said Nas, come and get your kid."

Social Networks That Aren't Really a Thing Anymore

"Get Em High," The College Dropout: "Now, who the hell is this? / Emailing me at 11:26 / Telling me that she 36-26 / Plus double-D — You know how girls on Black Planet be, when they get bubbly"
References to the proto-social-networking site Black Planet do almost as much to date the song as Kanye does when he tries to pull girls by claiming to know Talib Kweli.

Diseases That Aren't Really a Thing Anymore

"The New Workout Plan," The College Dropout: "Oh, girl, your breath is harsh / Cover your mouth up like you've got SARS"
Just think — what if you had invested in face-mask futures like Cam'ron did?

A Very Kanye Khristmas

"Through the Wire," The College Dropout: "Look back on my life like the ghost of Christmas past /  Toys-R-Us, where I used to spend that Christmas cash"
Kanye is not noted for his Dickens scholarship, but alas.

"Last Call," The College Dropout: The Rudolph the Red-Nosed Reindeer of the Roc
As has been covered ad nauseam, Kanye — and The College Dropout in particular — was responsible for a significant shift in the archetype of the male rap star. (Remember, Dame Dash is rumored to have once thrown Just Blaze out of the studio for wearing a fake jersey.)

-