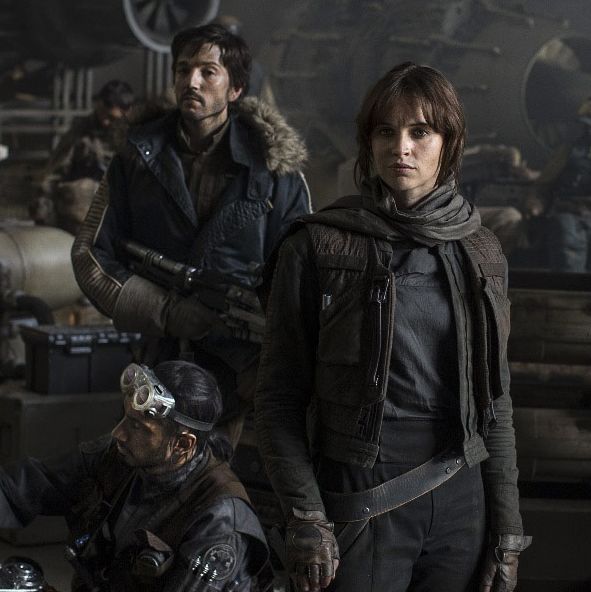 First look at Rogue One.
Photo: Lucasfilm
Given that The Force Awakens brought in approximately eleventy bajillion dollars over the last month, it's no surprise that at least four other theatrical films are in the works, and they're being made at a breakneck pace. We'll be inundated with Star Wars hype through at least the end of the decade, alternating between the ongoing saga that began with The Force Awakens and side-stories that give heretofore unknown details about some of the universe's more well-known characters and events. Here's everything we know so far.
Episode VIII
• Rian Johnson (Brick, Looper) will write and direct the film.
• According to a casting sheet, much of the Force Awakens cast will return. Daisy Ridley, John Boyega, Oscar Isaac, Gwendoline Christie, Mark Hamill, and Carrie Fisher are all listed. (Harrison Ford is also listed, though that's likely a fake-out.) Producer Kathleen Kennedy confirmed this info at Episode VII's premiere.
• Kennedy has also hinted that Gwendoline Christie's Captain Phasma will have an expanded role, saying, "She's an important character, a baddie in the best sense of the word."
• New names in the cast are Gugu Mbatha-Raw as an unannounced character and, as first reported last summer, Benicio Del Toro as the villain.
R2-D2 is being played by actor Jimmy Vee, replacing franchise mainstay Kenny Baker.
• The casting sheet also says that production will take place in Iceland and London.
• Sources said in September that the casting short list also included Tatiana Maslany (Orphan Black), Gina Rodriguez (Jane the Virgin), and Olivia Cooke (Me and Earl and the Dying Girl).
• According to frequent J.J. Abrams collaborator Greg Grunberg, Abrams called the Episode VIII script, "'so good' that he wished he had written it."
• Daisy Ridley also liked the script a lot. She said, "It's very good; very good," and then expanded on that statement in interesting and specific ways (haha, just kidding).
• That said, John Boyega gave up the tiniest descriptive tidbit, calling the Episode VIII script "much darker."
• Johnson has said that the crew has been screening other films to prepare, including the 1949 classic Twelve O'Clock High — famous in part for using actual World War II footage — as well as the 1960 Russian survival film Letter Never Sent.
• Mark Hamill appeared at a local bar in England following a day of shooting Episode VIII. He appeared without the beard that he is seen sporting at the end of The Force Awakens.
• The film comes out on May 26, 2017.

Episode IX
• Rian Johnson will write the film.
• Colin Trevorrow (Jurassic World) will direct.
• Daisy Ridley will reportedly carry over to this film as well, though this is unconfirmed.
• The film comes out in 2019.

Rogue One
• The film is the first Star Wars "anthology" film — stand-alone stories set within the larger universe. They'll be released in between main sequel installments.

• Rogue One centers on "a band of resistance fighters unite for a daring mission to steal the Death Star plans," so it's set between Episodes III and IV.
• The idea for the film was pitched by John Knoll, a visual-effects supervisor at Industrial Light & Magic, Lucasfilm's effects company.
• When the film was revealed in mid-2014, Gareth Edwards (Godzilla) was announced as the director and Gary Whitta (After Earth, LOL) as the writer. Whitta left the project after completing a first draft and was replaced with Chris Weitz.
• The film stars Felicity Jones, and the cast includes Forest Whitaker, Diego Luna, Ben Mendelsohn, Donnie Yen, Jiang Wen, Mads Mikkelsen, Alan Tudyk, and Riz Ahmed. None of the characters have been named.
• According to casting information, one of the characters — possibly Jones's — is named Lyra Erso.
• Ahmed's character is supposedly named Bodhi Rook.
• According to an autograph, Mikkelsen's character is named Galen. In the noncanonical expanded universe, Galen Marek was the name of a Vader apprentice with Force powers. Current rumors say Galen is a Robert Oppenheimer–esque "scientist that took over the Geonosian Death Star project," whose daughter is Felicity Jones's character.
• The short teaser trailer for the film (which is not officially online, but there's a cam verison here) reveals the Death Star as viewed from a nearby planet and features reused audio from Obi-Wan Kenobi in A New Hope.
• Part of the reason little information has come out about the film is that Disney was temporarily blocked from marketing it, due to the name's similarity to Mission: Impossible — Rogue Nation.
• Members of the British armed forces were reportedly used as extras during filming.
• Alexandre Desplat is scoring the film.
• To nobody's surprise, the film will be released in 3-D.
• Peter Cushing's Grand Moff Tarkin is reportedly being re-created via CGI for the film, though there is some difficulty in re-creating his legs. Cushing declined to wear the uncomfortable boots that the costume required and was often shot from above the knee.
• The man who sculpted Darth Vader's helmet is working on the film.
• Spy photos from the movie's filming location in England suggest that X-Wings will be featured.
• The film comes out on December 16, 2016.

Han Solo project
• The film follows a younger Han Solo, but it's unclear exactly when it's set.

• Phil Lord and Chris Miller (The Lego Movie) will write and direct the movie
• Thousands of nearly indistinguishable actors have been considered for the part. Among the well known who have auditioned are Dave Franco, Aaron Taylor-Johnson, and Miles Teller.
• The new Marvel Star Wars comic book has retconned Han and given him a wife, Sana Solo, but it's unclear if that factors into the film. (In the comics, Han denies that he is married to Sana.)
• It has been rumored that the film will be Lawrence Kasdan's last Star Wars credit. He told a German tabloid, "I have now made four Star Wars movies. That's more than enough."
• The film comes out on May 25, 2018.

Other stuff
• A film about bounty hunter Boba Fett is probably happening? There's no official confirmation on this, but it's been rumored for a while.
• An unauthenticated photo reportedly leaked from a Lucasfilm meeting lists untitled films referred to as the "Fett/Solo Anthology Film" and "Kenobi: The Balance of the Force."
• A persistent rumor is that though the Anthology films are technically stand-alone, they might connect in some larger way, à la the Marvel movies.
• Josh Trank (Fantastic Four) was set to direct an unspecified anthology film but has since left the project. He is reportedly difficult to work with.
• A comic book explaining how C-3PO acquired his new red arm will be released early next year.
• No word on the status of Jar Jar Binks.