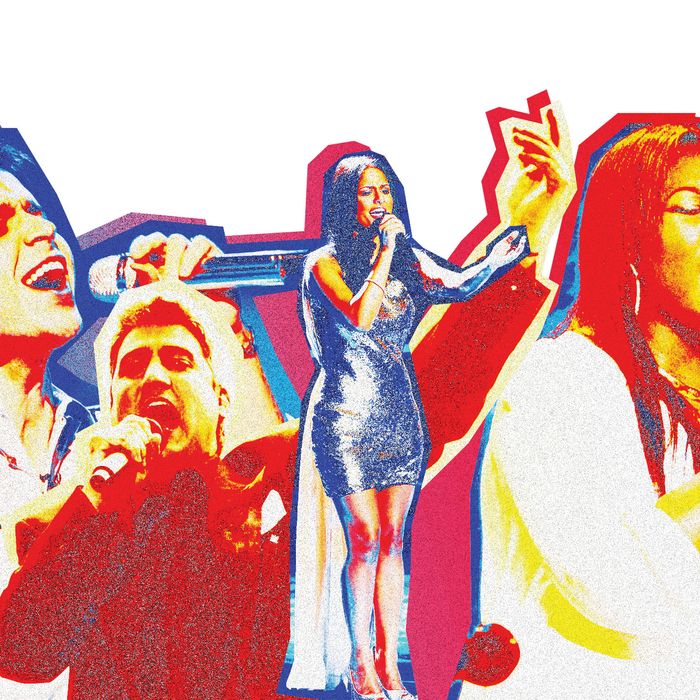 From left: Kris Allen,Taylor Hicks, Pia Toscano, Candice Glover, Justin Guarini
Photo-Illustration: Photos: Courtesy of FOX
Since 2001, we've seen the rise of streaming music and TV, the decline of physical record sales, and the arrival of Adele, to name just a few massive cultural upheavals. But throughout that period of sea change, Fox's musical-talent competition show American Idol — created by Simon Fuller, with a rotating cast of judges and its mainstay host, Ryan Seacrest — kept plowing ahead, churning out one big-voiced hit-maker after another (to gradually declining ratings). So as a goodbye chorale ahead of the show's 15th and farewell season (premiering tonight), we canvassed former Idol contestants for their reminiscences about a 21st-century television institution.
A Contestant Who Deserved to Win But Didn't
Kris Allen (season-eight winner): One of the most talented singers I saw was Joshua Ledet. Every time he sang, it was so genuine, so heartfelt. Maybe his voice isn't for everybody, but I always felt something when he sang. Adam Lambert obviously is incredible, too.
David Cook (season-seven winner): I remember being shocked when Pia Toscano went home. That girl has a powerhouse voice.
Candice Glover (season-12 winner): Katherine McPhee. What struck me was the purity in her voice and the ability to convey emotions. When she sang "Somewhere Over the Rainbow" — that was my favorite.
Scotty McCreery (season-ten winner): Listening to Lauren Alaina, it's like, "Holy moly." She definitely had the chops to win and to make it in country music. You remember Big Mike Lynche? He also had that personality and the voice to go with it.
Pia Toscano (season-ten finalist): Allison Iraheta came out balls to the wall every freakin' time.
Justin Guarini (season-one runner-up): I remember really rooting for Carrie Underwood, but at the same time, Bo Bice was so fantastic and brought a rock flair to Idol that hadn't been there. That was the year when I was like, "Man, I wish both of these people could win, 'cause they're both so wonderful, yet they're so very different."
Fantasia Barrino (season-three winner): I loved LaToya London. She reminds me of Anita Baker and Vivian Greene. And Camile Velasco — she was my favorite and we hung out [when they were both contestants] and were really tight. I wouldn't mind signing them both to my label.
What Viewers Don't Know
McCreery: I made it through to the top 24, and they told us then that whoever ends up winning the show, you're going to have one day off between now and Easter. I kind of laughed it off, like, "There's no way we just have one day off." But literally, it was seven days a week, all hours of the day.
Cook: Being on the show you learn more about how to navigate the moments of being in the music industry than I ever thought I would want to.
Barrino: I think a lot of watchers, in the beginning of a season, focus on the funnier parts and some of the people who — bless their heart — want to be singers and are not so good. But it's hard work for those young people who leave their families and go out and sing. They're sacrificing a lot, being judged, being criticized, and they're still trying to get up with this beautiful smile on their face.
Toscano: The viewers don't understand the pressure we're under. We're putting ourselves out there for millions of people to watch and judge and like you or hate you. You go up there and sing these songs that aren't yours, and that doesn't always translate to your artistry. It's a very vulnerable situation.
Glover: Fans don't really know how much time is put into putting on a good show. We wake up super early, and we're spending the day rehearsing and making sure we have enough footage, and then we get back to the hotel at night. It was very hard. Very scary.
Guarini: At first you have the full contingent of [contestants] onstage that can cover being in all the [show sponsor] Ford commercials, the interviews, the extracurricular interviews, and the hour-and-a-half show is evenly spread among them all. But when you get down to two or three contestants, you still have to cover all the commercials, the interviews, traveling to do taped packages, singing more songs. You are part of a brand, and you are responsible for promoting that brand.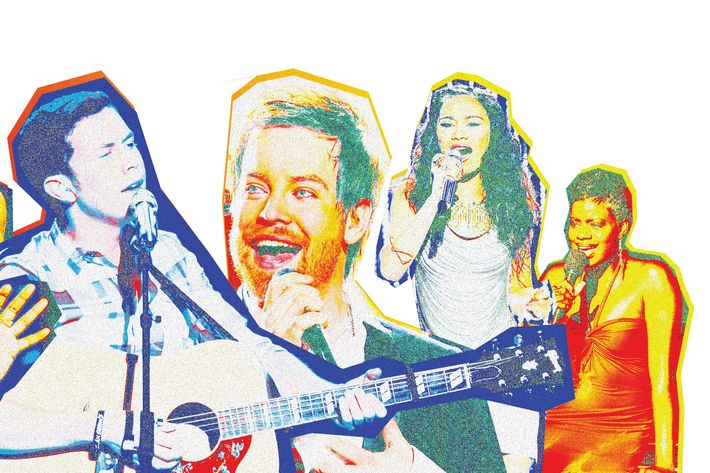 What Happens When You Leave the Show
Jessica Sanchez (season-11 runner-up): You want it so bad in the beginning and you'll sign whatever, and then the show is over and you're in this contract. I think that's where people get confused sometimes. But you just got to push through all that legal stuff.
Guarini: On the show, you're so well taken care of. You have a huge team of people around you all working for the same goal. When you come off the show, either you're the winner, and that team continues to do what it can to create success for you, or you have to rely on your own experience.
Taylor Hicks (season-five winner): The winner and the runner-up are locked into record contracts and managerial contracts. You need to utilize your time reading how to be successful in the music business.
Barrino: Coming from a show like American Idol, you have to prove to the world that you are a real artist, not just a part of a show. But sometimes if you try and go in a different musical direction than what people saw, it can fail.
Toscano: As the years went with that show, it became a little more about the show and less about buying the records. And Interscope — I don't know if they put as much marketing behind us as they should have to make sure we were successful. I think they just assumed that all those viewers are going to translate into record sales, and it's not like that.
Allen: When you get off the show, you expect to be given a lot, and man, you're not. Did I have problems with the label? Yes. I mean, you are given a record deal, a management contract, and all this kind of stuff, but it's a lot that you have to work for. I was so green.
If It Weren't for Idol…
Glover: I would probably be going to school for psychology and working on Fripp Island, South Carolina, renting out golf carts to people on vacation.
Hicks: The show was such a juggernaut. I saw myself — with hard work — in the process of building a touring fan base, but a show like American Idol completely opened doors. I just don't believe I would've toured Indonesia without it.
Barrino: I'm a dreamer. As a little girl, I'd dream I would always sing. And with Idol, my dream came true. It put me on a platform where I was able to share my gift with the world.
Allen: I don't know if I have a real grasp on it. Before I was on the show, there was no thought of "This is going to be my career for the rest of my life." Music was a hobby. Now I can make it my living.
Guarini: My drive and my passion for entertainment would have landed me somewhere — I think theater.
Toscano: I'd be singing in a wedding band.
*This article appears in the January 11, 2016 issue of New York Magazine.