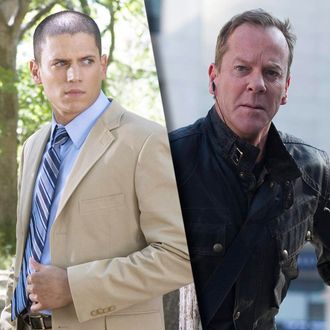 Only one of these guys is coming back.
Photo: FOX
NBC isn't the only network trying to make it 2006 again through science or magic. At the TCAs today, Fox announced it would be bringing back two of its biggest Bush-administration hits in new forms. 24 will be revived as 24: Legacy, a new pilot the network has ordered that follows a new generation of agents at the Counter Terrorism Unit. The series will continue the same real-time format as the original 24, telling the story of "a military hero's return to the U.S. and the trouble that follows him back." According to Fox head Dana Walden, the sequel series will explore contemporary themes like "sleeper cells and [terror organizations] radicalizing Americans." No leads have yet been cast, and the network says that, should the pilot go to series, characters from the first 24 may pop up eventually.
Prison Break, meanwhile, will return as an "event series," with original leads Wentworth Miller and Dominic Purcell reprising their roles for a new ten-episode run. The series was pitched to the network by Miller and creator Paul Scheuring, and much of the original producing team will return as well. It is unknown if the new event series will be titled simply Prison Break or if it, too, will get a colon in its title.