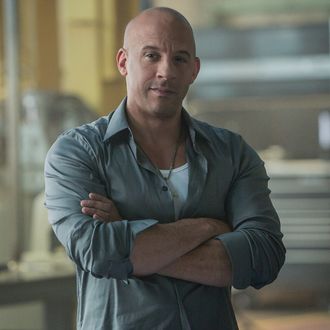 You smoke those Cubans, Dom.
Photo: Universal Pictures
Expanding its Grand Theft Auto travel dreams, the Fast and Furious franchise has set its sights on a new, long-banned destination: Cuba. THR reports that Furious 8 is looking to film parts of the sequel in Cuba, making it the first major movie to shoot in the previously restricted island since President Obama lifted its decades-old embargo last year. Director F. Gary Gray has reportedly already traveled to Cuba for professional research, and Universal says it's in the process of getting approval from both the U.S. and Cuban governments to film there.
On Wednesday, Showtime announced that House of Lies would become the first American scripted show to film in Cuba, with plans to film its fifth-season finale in Havana. Last March, Conan O'Brien became the first late-night host to film in Cuba since the embargo was set in the '60s, while Bob Yari's indie Hemingway biopic Papa was the first movie to film there since diplomatic relations were restored. The Fast and Furious series is no stranger to racing throughout the world — it's filmed in Tokyo, London, and, most recently, Abu Dhabi — but this might just be the first time you'll get to see Dom and his crew smoking Cubans on the beach after a long day of ass-kicking, as you do.