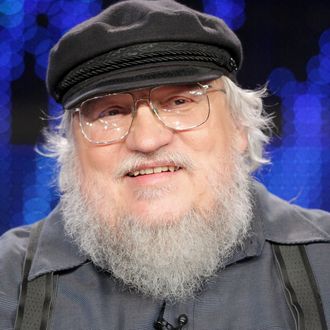 Photo: Frederick M. Brown/2011 Getty Images
In an emotional year-end post on his LiveJournal, George R.R. Martin revealed that Winds of Winter won't be completed before the release of the next season of Game of Thrones, despite rumors that it would be coming soon. "For months now I have wanted nothing so much as to be able to say, 'I have completed and delivered THE WINDS OF WINTER on or before the last day of 2015,'" Martin wrote. "But the book's not done. Nor is it likely to be finished tomorrow, or next week."
Martin went on to detail his publisher's original plans for the book's release, which were structured around a series of deadlines to insure the book reached the public before the next season of the show. "I blew the Halloween deadline, and I've now blown the end of the year deadline," Martin wrote. "And that almost certainly means that no, THE WINDS OF WINTER will not be published before the sixth season of GAME OF THRONES premieres in April (mid April, we are now told, not early April, but those two weeks will not save me)."
The Winds of Winter's release date has been a point of speculation for some time, though most signs indicated that it would be released sometime in the winter of 2016. At this point, Game of Thrones, the TV series, has caught up with Martin's A Song of Fire and Ice book series, which means that the television show will start to pioneer new ground for the world of Westeros. And, according to Martin, this means that the two may start to deviate from each other even more.
So when you ask me, "will the show spoil the books," all I can do is say, "yes and no," and mumble once again about the butterfly effect. Those pretty little butterflies have grown into mighty dragons. Some of the 'spoilers' you may encounter in season six may not be spoilers at all… because the show and the books have diverged, and will continue to do so.
So then when will get The Winds of Winter? Whenever George R.R. Martin gets to it, thank you very much. The guy's been under a lot of stress. So put away those shame bells and give him some breathing room.
I tried, and I am still trying. I worked on the book a couple of days ago, revising a Theon chapter and adding some new material, and I will writing on it again tomorrow. But no, I can't tell you when it will be done, or when it will be published. Best guess, based on our previous conversations, is that Bantam (and presumably my British publisher as well) can have the hardcover out within three months of delivery, if their schedules permit. But when delivery will be, I can't say. I am not going to set another deadline for myself to trip over. The deadlines just stress me out.