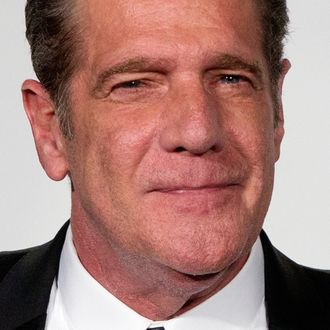 Glenn Frey.
Photo: Carlo Allegri/Reuters/Corbis
Eagles guitarist Glenn Frey has died at age 67, the band's official web site reports. According to a statement from the group, Frey died of complications from rheumatoid arthritis, acute ulcerative colitis, and pneumonia. Frey got his start as a musician in Detroit in the 1960s alongside Bob Seger and Jackson Browne, and one of his earliest recordings came as a session guitarist on Seger's "Ramblin' Gamblin' Man." Frey moved to Los Angeles in 1969, where he became part of the Laurel Canyon music scene. His first band was a short-lived folk duo called Longbranch Pennywhistle with J.D. Souther, who was dating Linda Ronstadt. The connection got Frey a job playing in Ronstadt's backing band, where he met his future bandmates Don Henley, Randy Meisner, and Bernie Leadon. After Frey and Henley finished touring with Ronstadt, the four men decided to form their own band, which quickly became the best band in the world.
As an Eagle, Frey wrote and sang lead on many of the band's greatest hits, including "Take It Easy" (written with Browne), "Tequila Sunrise" (written with Henley), and "Heartache Tonight" (written with Henley, Seger, and Souther). The band was formed in the style of Crosby, Stills, and Nash — as Frey recalled to Vanity Fair, "I watched them carefully — what they did right and what they did wrong" — but their careerist ambitions earned disdain from critics and peers alike. (In the case of the latter, this was mixed with a healthy amount of jealousy.) It didn't matter: The band was a commercial juggernaut, with five No. 1 singles, a greatest-hits album that is the second-best-selling album of all time in the U.S., and six Grammys over the course of their career. They were inducted into the Rock and Roll Hall of Fame in 1998.
After the band's breakup in 1980, Frey went solo, earning two top-5 hits with "The Heat Is On" and "You Belong to the City." The latter was on the soundtrack to Miami Vice, where Frey had a memorable guest role as a lovable smuggler. Frey reunited with the Eagles in 1994, releasing the album Hell Freezes Over, inspired by one of his and Henley's dark jokes. He is survived by his wife, Cindy, and three children.